Make more time with the extremely flexible, powerful, and easy-to-use VueMinder Calendar.
It is one of the best Calendar desktop apps for Windows operating system.
VueMinder is a desktop application which can help you to manage your time effectively.

Unlike other calendar applications, this VueMinder is embedded with various features such as taking control of your schedule, get reminded wherever and, however; you want, instantly access your appointments, tasks, and notes and much more.
There are a lot of calendar applications out there, and most people must have chosen their favorites till now like some may be devoted to Outlook, others may be using the online Google Calendar, or something else. But still VueMinder can prove to be a better option. The Calendar app is blessed with exceptionally, powerful functionalities. For example, this flexible calendar app fills a niche that other calendar programs don't.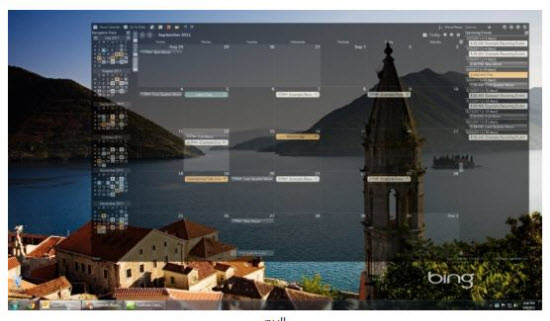 Moreover, it's also extremely easy to learn and use. The set up process is absolutely easy. Just download the app and run the installation wizard. Once it is installed and set up, you are ready to add your calendars. On the customization front the app scores full marks and stands out among the crowd of Calendar Apps. Its rich customization allows you to change calendar properties. You can even set event defaults; can set reminder preferences, configure email reminders, update hotkeys, and much more. You can also set different colors for individual tasks as well as for Calendars. So, reminders can be set up in a different color as compared to a To-Do Task.
The application's translucent interface is sleek and attractive. It has all the typical features that you expect from a calendar: you can schedule programs and get reminded wherever and, however,; you want, create different categories to organize events and appointments, set reminders with alarms, and so-on.
The best part of this application which will attract you the most is its interactive abilities. You can Share calendars and reminders in your home, office, or online. You can subscribe to any calendars that follow the standard iCalendar format and synchronize with Google Calendar and Outlook. This translucent calendar can be moved around the screen and easily adjusted, allowing you to have a seamlessly integrated calendar readily available.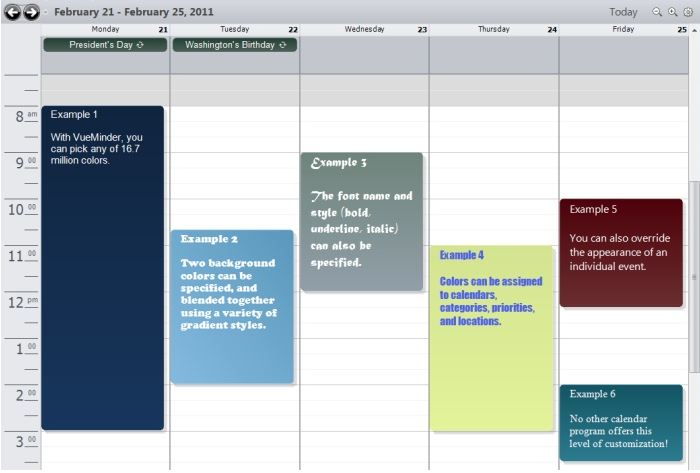 And that's not all as VueMinder is loaded with more powerful features, which make it stand out among the rest of the Calendar App. The App is capable of handling reminders and repeat events. The app allows you to set default reminder settings for each of your calendar. You can even set event reminders in various ways such as desktop alerts, text message, pop up, phone call, etc. The reminders can be customized. You are allowed to add images, music, or embedded webpages, as well. The Calendar App also offers Snooze Options, as well. You even get to display recently snoozed as well as dismissed reminders. With VueMinder, you can even set recurring events.
The calendar also shows Popup reminders containing descriptions, pictures, video, music, or embedded web pages which can be set to automatically snooze and to play a sound when displayed. Reminders can be sent via email and SMS text messages, both to yourself as well as any other people you'd like to receive your reminder.
There is a lite version which is free of cost and a premium version of VueMinder. Premium version also gives you fully functional 60-day trial and after that you need to purchase it at $39.95 USD price.
The Pro version includes much functionality, which you will not find in the lite version like:
Flexible Reminder option
Google calendar synchronization
Microsoft outlook and excel integration
Sending Calendars or events via emails
Publishing your Calendars
Appearance themes and some others.
On the whole, VueMinder is fully featured and well designed calendar and is a highly recommended tool that can help you more effectively manage your time.
Price- Lite version: Free – Download
Pro version: $39.95 USD