Internet surfing can be a pleasure if you are getting great speed.
But what if your Internet connection is slow?
Well, you can solve this problem for ever with a super app named as Connectify Dispatch.
With Connectify Dispatch, you can merge different internet connections to get lots of additional bandwidth so as to increase the speed of your internet access. Connectivity Dispatch utility has been built by Connectify Incorporation who have also developed Connectify Hotspot.
So if you are using Connectify Dispatch there is no problem if you have internet connections that provide you slow connectivity. Connectivity Dispatch can merge your home internet connection with the free Wi-Fi connection together with your phone's 4G connection to give you megabytes of additional bandwidth. You can use multiple connections at the same time with Connectify Dispatch.
That what's Connectify Dispatch accomplishes for you to give you fast internet connectivity. It simultaneously leverages high speed USB ports and multiple network adaptors so as to increase the bandwidth and reliability.
Connectify Dispatch was initially released in beta version and has gotten tremendous response from testers. The results have been simply impressive. Connectify Dispatch can combine several available internet connections around your system into a single super pipe to boost the bandwidth. The app provides you a combined throughput of all the available networks. It can even accelerate your BitTorrent Downloads. With Connectify Dispatch, you can connect multiple Wi-Fi networks together, your Smartphone 3G/4G connection, and you can even connect a wired Ethernet connection.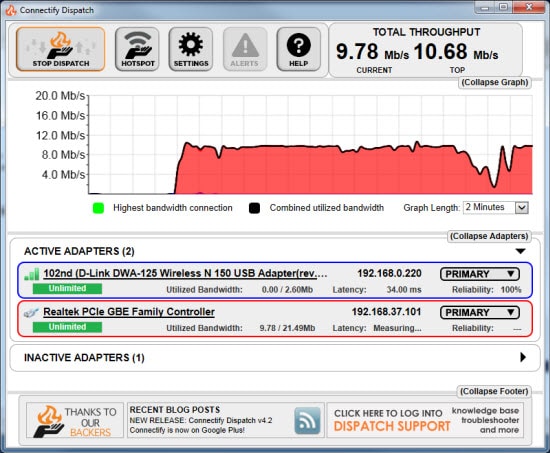 Connectify Dispatch comes with automatic failover feature. So if one of your connections goes down, the traffic is automatically routed to another network. This feature becomes extremely useful if you have open Wi-Fi system around your computer system and your cable goes out. With Connectify Dispatch, you can even prioritize the available internet connections. So depending upon the speed and reliability of your network connections you can rank them one after the other. Thus, when one of the internet connections is not available, Connectify Dispatch will switch to the next highest level.
Connectify Dispatch is easy to set up and is largely automated. It presents a window to users that list down the available adaptors. It outputs a graph chart that displays the combined bandwidth. It provides settings so that you can do customized application routing, can have bandwidth caps, and can follow different routing strategies, as well.
You need to have multiple internet connections to test its capability in augmenting your internet access speed. You require having Wi-Fi, Ethernet, 3G/4G, or Dial-Up connection with you. So, for example, you have an Ethernet Connection giving you speed of around 30 Mbps down / 5-10 Mbps up and Wi-Fi connection averaging 10-20 Mbps down / 5-10 Mbps up, then using Connectify Dispatch you will be able to manage a combined throughput averaging 40-50 Mbps down / 15 Mbps up. So if you move to a place with access to more internet connections, then the combined throughput will be much better than the one that has been listed above.
With Connectify Dispatch, you can also get Connectify Hotspot Pro with which you can share the combined Internet Speed (that is created by Dispatch) with other systems in your home. Connectify Hotspot Pro makes sharing connections between your systems really easy.
All-in-all, if you wish to boost the speed of your internet connection and have multiple connections, then you can use Connectify Dispatch so that you can merge the connections to get tons of added bandwidth and increase your surfing, gaming, video streaming, and downloading speed tremendously. Connectify Dispatch App provides you an opportunity to use multiple internet connections at the same time.