Big companies and factories having vast infrastructure, number of employers and heavy turnover often use inventory management software. Not only these big guns but today even small scale companies prefer these software over manual record to get accuracy, time saving and cost reduction. There are lots of programs that are designed for business use, but they don't come up as per requirements. But, ABC Inventory Software, developed by Almyta System is a fully featured FREE inventory tool with great functionality.
As an inventory management software is required to track product levels, orders, sales and deliveries. ABC is designed to handle aspect of inventory management, providing the ability to track each step in the inventory life cycle from the time you create a purchase order for your supplier to the moment you ship the product to your customer.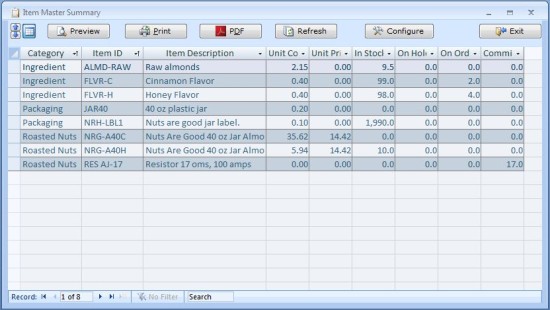 The program's interface is stylish and attractive and runs on Microsoft Office Access with a familiar look of an Office application. There are tabs across the top for orders, inventory, assets, and reports, and each of these is jam-packed with features.
Features: ABC Inventory Software allows storing unlimited data of multiple companies, with company backups. You can easily customize your reports and screens with add-in functions, reports, and forms technology and can Export data to Microsoft Excel, Word, HTML.
There are tools for creating purchase orders and work orders, scheduling warehouse appointments, and managing sales and shipping, as well as databases for suppliers, customers, and carriers. You get automatic purchase order generation and quick price quotation based on historical data.
There are inventory options, which track the receipt or transfer of inventory and also manage repair orders and leasing of every Inventory unit in detail using filters. It also contains the feature of barcode scanning at receiving, loading and shipping.
You can set default suppliers and warranties of different products, and the program generates huge variety of reports, including daily checklists, asset summaries, sales quotations and mailing labels.
The software contains many other features related to asset management, billing, work orders and others. ABC is fully featured software which requires a lot of learning. The program also guides you with ample documentation and tutorials.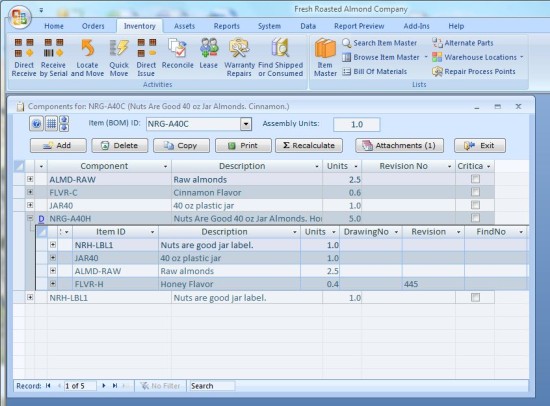 Have a look at some of the new features of ABC Inventory Software:
Sales quotes
Multi-level pricing
Internal PDF writer
Foreign currency rates auto-updater
Attachment location restrictions
Geo location shortcuts (double-clicking an address field on any screen to find it on the map)
Customer Part numbers
Purchase order auto-create supports multi-supplier, multi-currency catalogs now
Overall, ABC Inventory Management Software is a great choice for anyone who wants to manage inventory, wishing every work in his business to be accurate, auto generated and cost effective.
Download ABC Inventory Software