If you have AVCHD (Advanced Video Coding High Definition) videos in your camera or camcorder and are not able to share it with your family and friends or are not able to enjoy the AVCHD files on other devices such as DVD Player, Laptops, Mobiles, then Aiseesoft has come out with a smart solution for you.
Now you can enjoy your AVCHD video files using Aiseesoft AVCHD Video Converter. The Aiseesoft Video Converter can convert AVCHD files to other compatible and popular video and audio formats. You can also convert other video formats to AVCHD format. Thus, you can convert your normal videos to high definition videos. As an added advantage Aiseesoft video converter also lets you edit your converted videos for better viewing experience.
Aiseesoft AVCHD Video Converter has been loaded with powerful key features that you would be interested in knowing. It lets you play your AVCHD files on DVD players and other players by converting to AVI, MPEG, MP4, 3GP and other formats. It can convert audios and can extract audio from video to popular formats such as MP3, M4A, MP2, OGG, AC3, AAC and other formats, as well. AVCHD converter has an add on the feature that lets you convert video to capture your favorite pictures.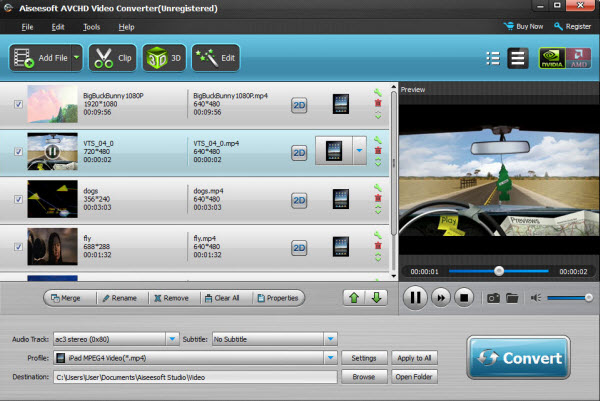 Aiseesoft AVCHD video converter has a powerful video editing feature. You can set your own video quality by altering brightness, contrast, saturation, hue, and volume. You can also apply the altered settings to all the videos. It has been embedded with "Trim" and "Crop" functionalities which let you cut any clip from the original file and get any playing area of your choice. You can also combine and join many FLV or YouTube together. Besides trim and crop editing functions, Aiseesoft AVCHD Video Converter lets you merge many videos in one file. You can also have video effects and can watermark videos.
With the Aiseesoft AVCHD Video Converter, you can remove the unevenness from the interlacing videos to get better viewing. You can select your audio track and subtitle for a better experience and can also watermark your videos in the form of pictures and text. You can convert your AVCHD videos to different file formats simultaneously at the same time; see the video effects while managing the files by having the original and output video preview. AVCHD video converter also gives you a great conversion speed by using the advanced acceleration technology such as NVIDIA, CUDA and AMD APP.
Aiseesoft AVCHD Video Converter supports input file formats in the following categories. It supports input video file formats such as 3GP, AVI, MPEG, MPEG4, DV Files, Flash Files, MJPEG, MKV, MPV, MOD, QuickTime Files, TOD, Video Transport Stream Files, Real Media Files and Windows Media Files. Many HD video formats are supported such as MPEG2 HD Files, MPEG4 HD Files, WMV HD Video Files, QuickTime HD Files, HD M2TS, HD TS, HD MTS, HD TP, HD TRP. Audio input file format supported by Aiseesoft includes AAC, AIFF Files, FLAC, CUE, M4A, MPEG Files, Ogg, Raw AC3 Files, Monkey's Audio Files, Real Audio Files, WAV, SUN AU Files, WMA.
Aiseesoft AVCHD Video Converter supported output file formats include among others format such as Video: Advance Media Video, ASF, AVI, DivX Video, Flash H264 Video, FLV, SWF, H.264 AVI etc.
Aiseesoft AVCHD Video converter is available for Windows and Mac operating systems and has a hardware requirement of 512 MB RAM, Super Resolution of 800×600 and graphics card of 16 bit or higher.
Talking about the new features in Aiseesoft AVCHD Video Converter, you have a more user-friendly interface, now support DE, CUE, and WebM file formats, has improved the "Merge" feature. It has adopted AMD APP and NVIDIA-CUDA GPU Processing acceleration technology which has speeded up the video converting process. Other new features include optional aspect ratio settings and Zoom mode, supports 5.1 channel audio, supports outputting video without audio track and also supports adjusting output file volume.
As we can see the Aiseesoft AVCHD Video Converter comes with a host of features. It's easy and intuitive user interface, fast converting speed and low pricing will surely make it a preferred choice in the AVCHD Converter market. On the whole, Aiseesoft AVCHD Video Converter is a thoroughly professional, high class, powerful and advanced AVCHD Video Converter.