Do you plan to start your own car rental business? Well, you would be happy to know that a car rental software can help you to manage your business easily.
It helps to streamline your day-to-day activities, and therefore proves a vital resource in increasing your profit margins.
In fact, lots of car rental companies find it difficult to purchase a car rental software, whether it's the first time or not.
So, today we share with you the list of 10 Best Car Rental Software based on cost, features, and support.
Now, you don't have to keep searching for car rental software anymore. Here, you get as many as 10 best car rental software, and you can choose the most suitable one based on your requirements.
Well, a car rental software is a program that helps you to manage the operations of your car rental company.
It allows you to manage your fleet, rental agreements, reports, customers, agents, planner, traffic fines, and much more.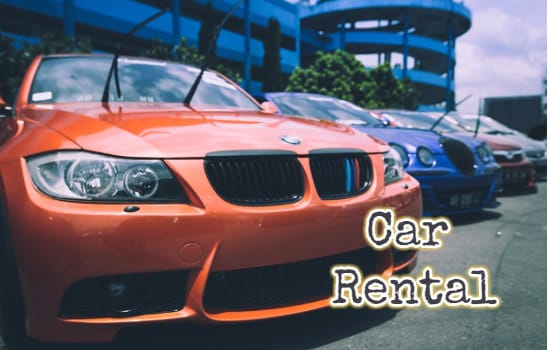 It goes on to automate your daily operations and avoids lots of paperwork.
Moreover, they are easy to use, easy to launch, decked with promising features, and offer a splendid user experience.
In fact, a car rental software offers a lot many advantages.
For example, a car rental software helps to boost your effectiveness and efficiency. It avoids paperwork and prevents errors due to lost papers.
Using a car rental software, you face no problems with invoices. Payment processing becomes easy.
It offers tools to run your day to day operations smoothly. It even guides customer interactions. It comes with features such as car inventory management, vehicle history reports, customer databases, GPS tracking, payment processing, and accounting.
They can even locate and communicate with garages and auto repair shops for repairing damaged rental cars. They help you to connect with car dealers for the sale of new rental vehicles.
It is used by office managers and sales representatives to oversee rental car inventories, and manage back-office tasks.
Here, we list out some important points that you should keep in mind when evaluating a car rental software:
The software should be easy to use.
It should fit your budget.
Look the security of the software.
Research the features of the software.
Find out if they offer a Demo or Free Trial.
Do they charge any additional fees for purchasing?
Well, we have made your task a lot easier by featuring the list of 10 best car rental software.
So, let's take a look.
Here's the list for you:
Top 10 Car Rental Software
Rental Car Manager is a complete car rental management software with an amazing set of features. It provides your business immediate benefits and success in this competitive marketplace.
It comes with a web-based booking software that offers functionality, ease of use, and flexibility to your car rental business.
Most importantly, it's affordable and suits well for all sizes of car rental businesses.
It has a simple user interface allowing you to control different features such as selecting locations, managing rates, discounts, fees, etc. directly from its control panel.
It offers daily reporting, as well as monthly reporting, and Sales Analysis in the graphical representation.
Its system controls allow you to add and change features on the fly. It also offers the facility of electronic signatures to enable customers to sign their rental agreement before they pick up the car.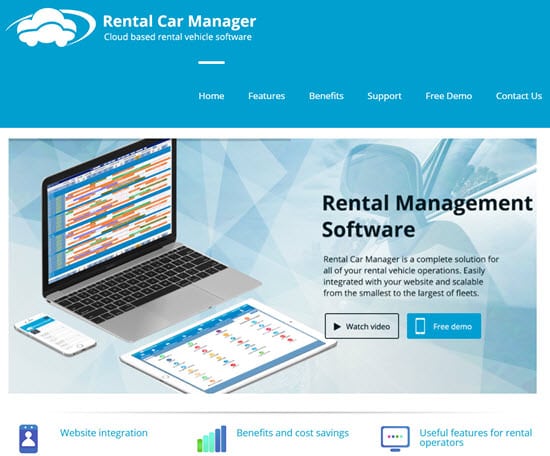 Navotar is a powerful car rental management software capable of all necessary aspects of managing ratings. It offers a great user interface that is sleek and easy to navigate.
Moreover, Navotar is easy to deploy and learn. Everything is self-explanatory. You can even check tutorials or ask for assistance. It helps to organize things and increase the business revenues.
It is an easy to use Cloud Solution managing car rental business. It offers status of vehicles and customer reservations 24/7. It simplifies current tasks and reduces workload. It aids in reservations and tracking.
It also provides accurate billing and invoices. It offers great customer support too. Best of all, you don't have to spend time on the learning part. They offer a free trial version. And Navotar is an affordable software.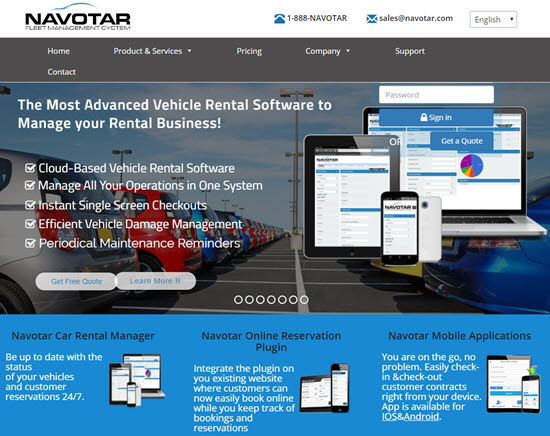 Easy Rent Pro is a powerful car rental software that helps you in managing your car rental business. It is equally suitable for small, medium, as well as large car rental companies. It comes with QuickBooks integration, rate management, and the ability to manage an unlimited number of cars.
It is available in three versions – Easy Rent Pro Standard, Easy Rent Pro Cloud, and Easy Rent Pro Online.
The set up is fast and easy. It offers quick look up and Reports, Easy Rent Pro supports multiple languages and can serve multiple locations.
Moreover, the integration with QuickBooks allows easy creation of invoices and payments. Rental activities and vehicle reminders can be viewed, including tax, insurance, and inspection dates on the planner.
It can easily calculate mileage rates. It even comes with detailed documentation to help you to understand how it works. The pricing starts from USD 299 which is affordable for start-ups. It even offers a free demo and a free trial of 30 days.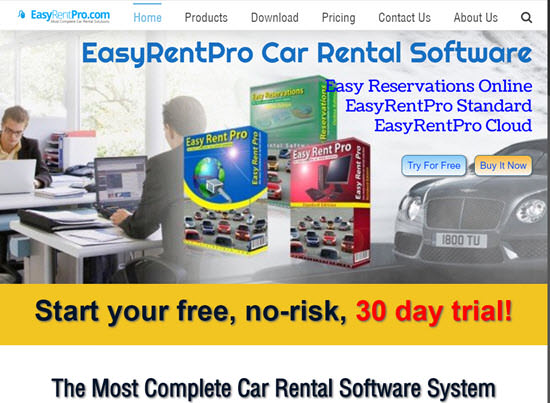 Car Rental Solutions is an online car rental software and reservation system for car rental agencies. The system is user-friendly, fast, and easy to use and has been structured to the specific needs of car rental agencies at affordable prices. It also offers continuous support, improvements, and upgrades.
Car Rental Solutions offers you the opportunity to accept online reservations. It can manage your entire fleet from one single control panel. It offers highly-customizable booking system. Your customers can get exact quotes, see vehicle availability, and make online reservations from your website, with just a few clicks.
Salient features
PayPal Integration
Multi-language support
Single-Click quoting for your entire fleet
Rent by the Hour, daily, weekly and monthly
Real time availability
Control Panel user and role permissions
Login for agents and recurring customers
And much more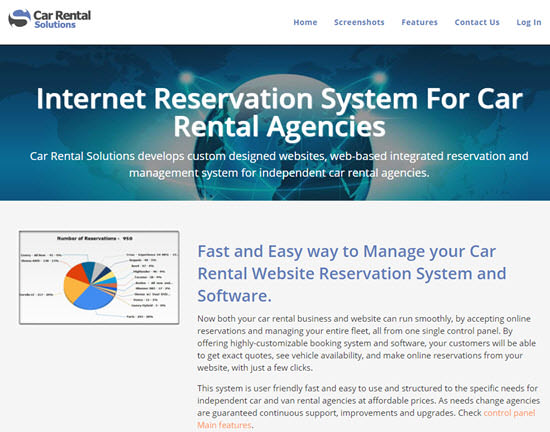 Bluebird Auto Rental Systems is a pioneer in car rental systems software. It offers Internet Reservation and confirmation capability together with vehicle rental and car loaner dealerships.
It can run on any Windows Server operating system, and also on the Web. It is much suitable for medium to large companies simply because it offers lots of features. It even provides training for its customers. However, you need to invest some time to understand the software and its multiple features fully.
Salient Features
Fleet tracking
Internet Reservations
Rate Management
Vehicle Maintenance
Accounting Interfaces
Credit Card Processing
And much more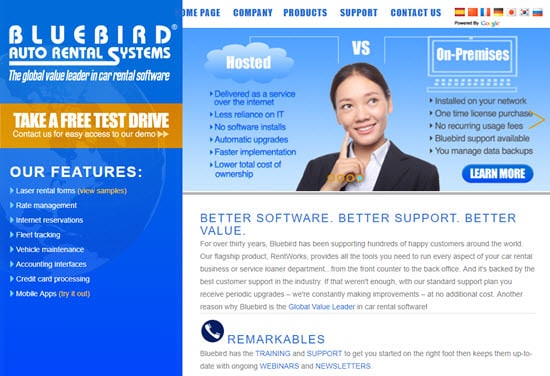 Rent Centric is a powerful (on-demand) car rental software with advanced tools for managing your car rental operations. It's a complete solution for managing your vehicles, customers, employees, and revenue.
Moreover, the technology is reliable and accessible to server instantly. Plus, its cost-conscious pricing makes it suitable for start-ups to well-grown businesses.
Rent Centric comes with fleet management options. Its user-friendly system enables you to offer better customer services. Plus, the web-based reservations interface can be added to your website.
It provides customized rental agreements and invoices compatible with any printer. It also offers comprehensive reporting tool for summary and detailed reports.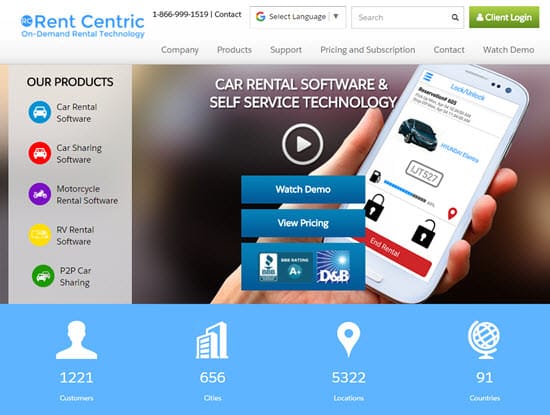 Thermeon is an online car rental system that has a powerful database and fleet management system for individual, corporate, and franchisee. Some of its prime features include vehicle disposal, rate engine, robust and comprehensive reporting, affordable pricing, and more.
Thermeon offers you the capability to manage a fleet, reservations, and more. Plus, it has a simple, and user-friendly design.
Moreover, it is highly customizable. It supports many currencies and languages. It has integrated accounting tools like the invoice management module, accounts receivable, documents emailing, and more. You get great customer support via email or phone call.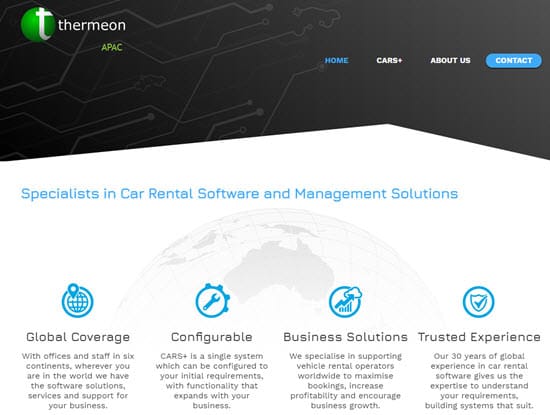 ASAP RENT is a reliable and well known rental fleet management software. It is powerful, integrated, and easy to use.
Moreover, ASAP RENT has won numerous awards and has gained worldwide industry recognition. It can manage the entire range of the vehicle rental business process.
It has earned the trust of thousands of clients worldwide. It has been designed keeping the needs of car rental industry. ASAP RENT helps your company to get better results, guaranteed.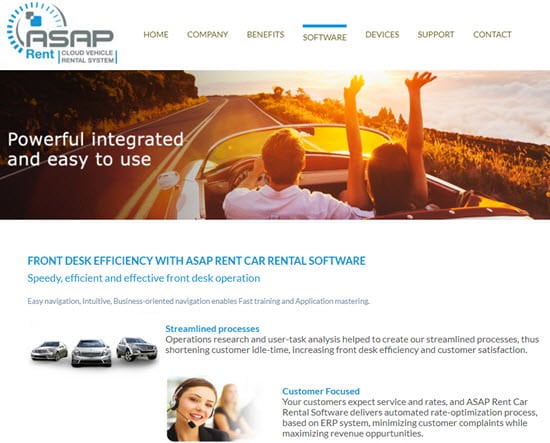 HQ Car Rental Software is a vehicle rental management and booking system.
It is a complete and user-friendly rental software on the web.
It helps you to manage all your bookings, your fleet maintenance, and your customers.
It offers a free set up together with integration with your website, standard configurations, and training.
The plans start at USD 49.99 per month that ensures support and updates.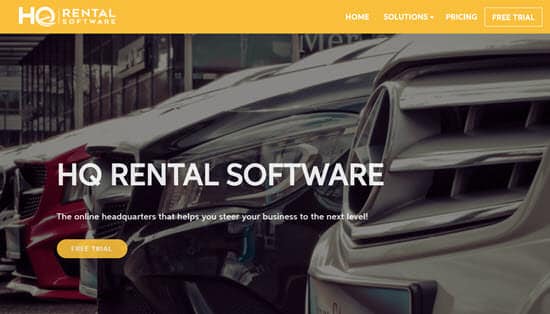 Carhire Manager Web is a web-based car rental software. It is easy to use and suitable for any car rental company of any size.
It is an innovative car rental software that uses the latest technology to offer a comprehensive car hire system together with a user-friendly interface.
It offers vehicle tracking facility through Google Maps. It comes with embedded CRM module. You get powerful reporting tools. It also has an XML interface for receiving data from agents automatically.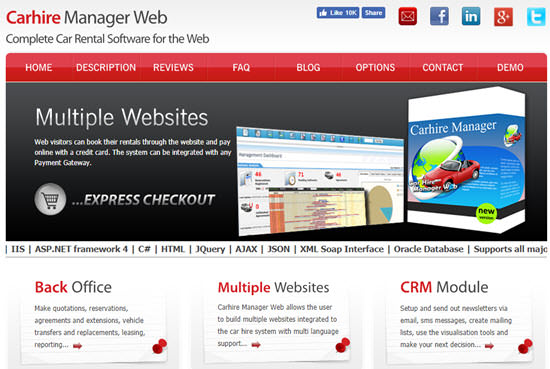 That's all in this presentation on 10 Best Car Rental Software. We hope it proves immensely beneficial to you. Please share the post on Facebook, Twitter, and Google Plus. We welcome your comments and suggestions.