Kaspersky Anti-Virus 2017 is software in the personal and family security segment. Now you can protect your PCs from all kinds of viruses, malware, spyware, Trojans and other malicious programs through the cutting edge, advanced and award-winning anti-malware technology of Kaspersky.
Kaspersky "hybrid protection" encompassing "cloud-based technologies" delivers one of the most advanced and all-round protection to your PC. Kaspersky Anti-Virus is an effective answer to your system security issues and dangerous online threats.
Why Kaspersky Anti-Virus 2017
System security is one of the key concerns that has always been on the top of the mind for any user whether at home, office or business. In the present interconnected and "www" environment, online threats are always present that have high potential to harm your system workings. These online "intruders" or malicious programs are such that they can completely halt your system.
They can prove threats in various dimensions such as they can slow down your system, delete or remove or damage files, can disrupt the performance of any application and even damage the operating system and hardware device functioning. The security threats are many and varied in nature. Thus every time you need a perfect protection for your system.
Kaspersky security solutions can be a perfect answer to your system security concerns. Kaspersky Anti-Virus 2017 is one of its superb anti-virus software applications.
Kaspersky Anti-Virus Cutting Edge Features
Kaspersky Antivirus is loaded with fantastic security features and is very easy to operate and administer. It has innovative core protection technology that is fast, proactive, absolute and real-time.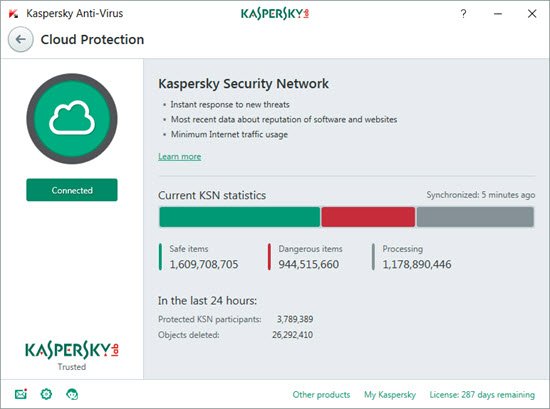 Advanced Security Technology
Kaspersky Antivirus gives you the "Hybrid Protection" security technology. With this hybrid technology, you get effective, efficient and prompt security responses without slowing down the performance of your PC.
Fast and efficient
It delivers the "power of the cloud" to your PC's security. You get great speed and volumes of security data from the cloud together with the capability to detect and analyze any suspicious behavior present on your computer and the ability to catch any malware in offline mode also.
Excellent Malware Scanning Engine
It comes with an excellent malware-scanning engine that gives you all round protection against viruses, spyware, malware, Trojans and other malicious programs. The engine monitors for behavior and suspicious code that may indicate any infection. A copy of new malware infection is automatically uploaded to Kaspersky Research Lab for analysis.
Kaspersky Antivirus 2017 has been empowered with intuitive user interface and has a moderate to low performance impact on a computer. So, it's easy to use and does not slow down your computer.
Easy and Fast Scan
Scans can be started with just two clicks from the home page. It provides Full Scan as well as Quick Scan. It even allows you to scan individual files. Full scan just takes few minutes which is fast when compared to other systems which take nearly an hour.
If you insert an SD Card or USB Drive, Kaspersky will offer to scan it. Kaspersky Antivirus protects your system from any "real world" malware.
Offers Best Protection at Affordable Price
If budget and security needs are the factors which influence your decision for buying an Anti-Virus Software, let me tell you that Kaspersky Anti-Virus 2017 will not disappoint you at all. Moreover, using Kaspersky Antivirus 2017, you get the best protection for your PC.
Real-Time Protection
Kaspersky Anti-Virus provides real-time protection to your system from the new threats presents on the internet. It empowers you by issuing latest protective updates that are capable of encountering new threats. It comes with "Anti-Phishing" Defense cloud technologies so that you can proactively check, control and catch any phishing attack.
"Advance Protection" Features
Kaspersky Anti-Virus also provides "Advance Protection" features to your PC. "Advance Protection" gives you the benefit to proactively detect any unknown malware, instantly check the safety level of a website, and undertake one-click security check for any applications, files or scripts.
High Performance
Kaspersky Anti-Virus delivers high performance as it does smart and intelligent scanning of only files that are have been used or modified. Kaspersky specialty is that it invariably delivers small updates so that you get maximum protection with the minimum use of the resources. It comes with a feature called System Watcher to guard against encrypted Ransomware.
User-Friendly Interface
Kaspersky Anti-Virus 2017 retains the same interface that was used in its previous versions. It has the familiar white, gray, and green interface. A green check mark indicates that your computer is safe. A yellow check mark shows that your computer requires attention while a red check mark means danger.
It even provides a Report section for reviewing infections. The main screen has links for starting the scan, password manager, backup, protection for all devices, and update. It also has a link to Kaspersky support website with forums and knowledge base of answers.
Easy to Use
You get an instant sight to the protection status, one-click usage for the most used features and a detailed user guide on the working of the cloud technologies. Kaspersky trademark "Desktop Security Gadget" helps you to know your system security is up-to-date or any security scan is needed. Kaspersky also provides you with Anti-Virus Installation CD to detect and remove any infections present on your operating system. Its installation process is quick and just takes few minutes.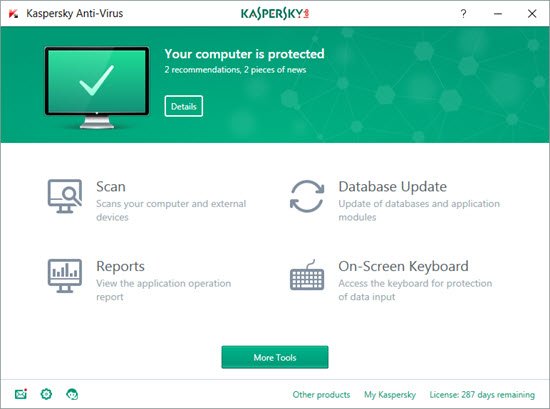 Wrapping it up
On the whole, Kaspersky Anti-Virus 2017 is a great addition to the list of Kaspersky protective suite. It's user-friendly layout, use of advance cloud technologies, real-time detection and removal of threats, offline protection capabilities, smart and quick updates, minimum resource utilization, hassle free and fast installation and many other unique features gives Kaspersky Antivirus a great advantage over other anti-virus software applications.
It has all the capabilities and features of becoming a preferred Anti-Virus Security Solution.
Discount Offer on Kaspersky Anti-Virus 2017
Moreover, now you can get Kaspersky Anti-Virus 2017 at a discounted price. It gives you a fantastic opportunity to get the best anti-virus software at a never before price. The offer gives a heavy discount on Kaspersky security products. So, you can save your money and get the best anti-virus security solution for your computer. However, the discount offer is only valid for a limited period. So, Hurry and avail this discount offer on Kaspersky Anti-Virus before it closes. To get the discount offer, simply click on the link below:
Save 50% on Kaspersky Total Security 2017