Passwords help to solve the problem of digital identity on the World Wide Web. They are a unique combination of numbers, letters, or characters that help us to cater to the online verification. It's the tool that is used to verify that it is you and nobody else. You prove yourself in the online world by entering your password.
However, the thing could become quite messy with security breaches and online identity theft. Moreover, it is hard to remember multiple passwords for various website logins and accounts. Having said that, there's a silver lining to this whole issue. You could use a Password Management App and get over the mess of remembering your various passwords.
In this context, 1Password App for Windows, Mac, Android, and iOS users come as a fabulous solution.
With 1Password you could securely store all your various passwords. In fact, 1Password is a multifaceted Password Management App. It comes with an extensive list of features, robust security, support for browser extensions, together with cross-platform compatibility that makes it a powerful password management app.
1Password enables users to create login information. They can create random and secure passwords. Users can store the login information and need to remember only a single password with which they access the app. The app enables users to check the strength of passwords, generate stronger passwords, and can even change them if they feel like.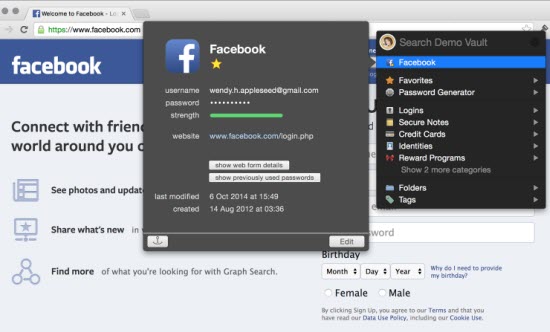 1Password employs 256-bit Authenticated Encryption technology to keep all your data safe and secure. So you don't need to worry about the safety and security of your data. It not only stores login information, but you can even store credit card details, bank information, secure notes, personal info and lots more. The app has been studded with rich tools for organizing this information. The app comes with beautifully designed and easy to use interface. Moreover, 1Password is available across a wide gamut of mobile and desktop platforms.
Upon installing 1Password you are required to choose a strong "master password" which is used to access the app. Upon entering the master password, the vault resembling doors slide apart, revealing the contents inside. 1Password saves all your login credentials in a neatly organized manner. It organizes the items in the form of categories which includes logins, secure notes, identities, credit cards, and software licenses.
Once the master password is created, you then need to install a browser extension, which is available for Chrome, Firefox, Safari, and Opera. Once this is done, you can then save user names and passwords. Each time you log into a website, 1Password's browser extension will provide you with the opportunity of saving your username and password that you enter.
Upon saving the passwords, you get the opportunity of using them as you browse the web. You are required to click the browser extension once you approach the login screen of a website. Once you choose a login, 1Password then fill your username and password.
All-in-all, 1Password is a powerful, easy-to-use, secure and feature-rich app for password management.