How many passwords can you remember? In the present scenario, there are numerous websites, and you had to remember numerous passwords to manage their accounts. Remembering many passwords can become quite difficult while keeping same password for all may be risky. To solve this problem, there are software now available which are capable of remembering your passwords. Avast one of the top computer security providers launched their own password manager 'Avast EasyPass' which costs just $9.99.

Avast EasyPass is for encrypting passwords, important documents, as well as personal documents. You just need to do a single click for immediate login. Moreover, you can use it from anywhere in the world, and it comes without any regional restrictions. You don't have to remember passwords when you are using another system. So you can easily save time on recovering different passwords.
It integrates with browsers such as Chrome, Explorer, Opera, and Firefox. Avast EasyPass gives you military grade encryption AES 256 in the context of password protection. It even allows you to save more than one passwords for a single website. Basically, Avast EasyPass is excellent encrypted password management software. It incorporates robust encryption technology and stores personal information and passwords.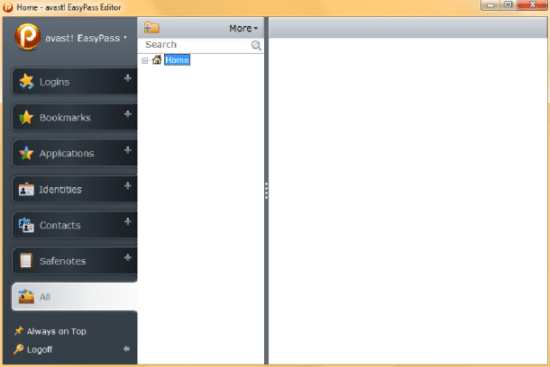 So, with Avast EasyPass you can login to different websites with just a single click. The password manager basically remembers your various passwords.
You just need to know one password of the software, and that's it. It will automatically fill the password form along with the ID on a button click and you do not require entering the password again and again.
Avast EasyPass stores and manages passwords, user names, and other data and is the safest tool for one-click completion of online forms. It saves your time and effort to provide you the most efficient use of your time online. The main work of this password manager is to store and encrypt your passwords and basic personal info and recognizing common field types, it puts data in the convenient place. It just takes one click to log in or complete entire forms.
It is password security software par excellence. EasyPass enables you to access your secret passwords with any system. It provides you convenience, protection as well as saves your valuable time. It identifies usual field types so that you can fill out forms easily with a single click. The software is Windows ready which includes Windows 8, 7, XP, and Vista.
EasyPass is built on a core licensed from Roboform and comes with Blowfish and AES-256 password encryption. EasyPass integrates easily with the major browsers.
The detailed features are listed below:
Access from anywhere: Just by remembering your EasyPass password you can access your password manager from any computer.
Secure, one-click verification: Prevent log-in distractions caused by having to change your focus.
Increased productivity: Saving the list of various password and forms will definitely save your much time and EasyPass does it very easily.
Smart technology: Recognizing common field types, it knows what data to put where
Password Manager can be a very useful utility for those who have a lot of work in the internet. Besides saving your time, it also provides secure means of communication. EasyPass possessing all such qualities is worth spending the money and proves it purpose very much.