Hereunder I showcase to you 5 Best Brainstorming Software.
If during your project execution, you need to organize your ideas, and share with your colleagues this Brainstorming Software will help you a lot.
A Brainstorming Software is very much essential if you want to present your ideas in a collaborative manner. Lots of times, it happens that you get lost in your thicket of ideas, and don't know what to do next during your project execution. Organizing tasks becomes difficult as well as you don't know what tasks are to be allocated to different people.
If you too are faced by such scenarios, then a Brainstorming Software is a must for you. Project management becomes simple and easy with a Brainstorming Software. Innovation becomes a scientific process with a Brainstorming Software. They help you to stay on top of projects, stay organized, and to collaborate on tasks.
This collection of Brainstorming Software showcases some of the most popular Brainstorming Software in use today. Using these Brainstorming Software you can produce mind maps easily and quickly. Moreover, you can include images, links, diagrams, graphics, and icons in your mind maps. You can export and print your mind maps. They are flexible and easy to use as well. They help your business innovate better.
So, have a look at the 5 Best Brainstorming Software, and I am sure you would get a suitable one matching your requirements.
5 Useful Brainstorming Software
Mindjet comes as a complete project management and collaboration suite for brainstorming. Its complete set of application and tools has been designed to help you and the people you work with brainstorm. It is much more than just mind mapping software. Mindjet rightly provides the platform for enterprise innovation. Mindjet helps your business innovate better. It has the capabilities of providing enterprise innovation at scale. Mindjet keeps innovators involved. It helps to create a totally transparent innovation process where people are assured that their ideas are heard and counted. The platform has been so designed that it makes innovation a scientific process through its patented algorithms. It provides a level of engagement that you just can't expect from other platforms. Mindjet helps you to stay on top of projects, stay organized, and to collaborate on tasks. Moreover, its powerful and advanced brainstorming tools help you to organize your projects.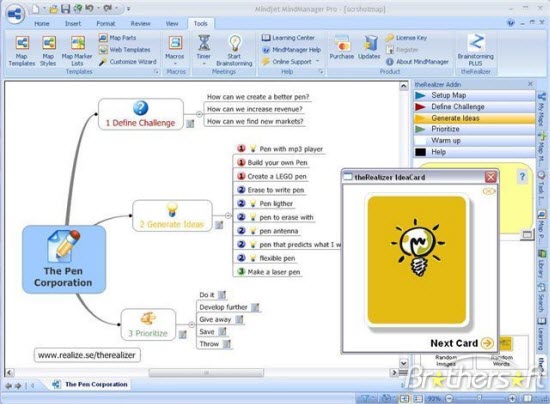 Coggle comes as a simple to use mind mapping software. It is completely free and moreover easy to get started with. You need to sign in with your Google account, and you are ready to get started with it right away. Coggle helps to unleash your creativity intensively. It has been designed so that you can produce notes quickly and easily. Operating Coggle is super easy. You need to double click on any item to edit it. When you click on the plus signs, you can add branches to your mind map. It automatically assigns different colors to your branches. However, when you click on a branch a color wheel pops up which provides you an opportunity to personalize it yourself. You can click and hold the branches to drag them so as to design your mind map the way you want. When you have finished designing your map, you can download it in the form of a PDF or PNG. You can even share your map with others, and if you allow them, they can edit as well. It even provides for auto saving and revision history, as well. You can also drag and drop images from your desktop to your diagrams. Plus: there is no limit on the number of images you can add.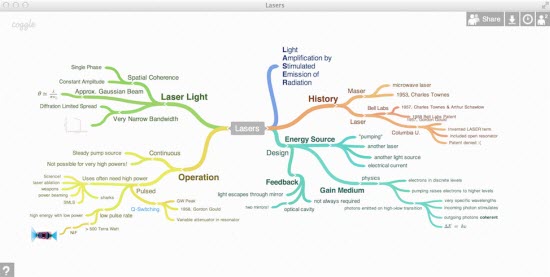 FreeMind comes as a premier free mind mapping software built in Java. The software works on Windows, Mac as well as Linux. It is flexible, and its features and performance are consistent regardless of the operating system you use with it. FreeMind is a powerful mind mapping tool. It offers complex diagrams, tones of branches, graphics, and icons. It even provides the option to embed links and multimedia in your mind maps if you want them for quick reference. FreeMind provides various options for exporting your mind map in the form of PDF, HTML, XHTML, OpenDocument, PNG, or SVG. It may look a little dated as compared to newer tools but if you are after functions, it's really a powerful mind mapping tool.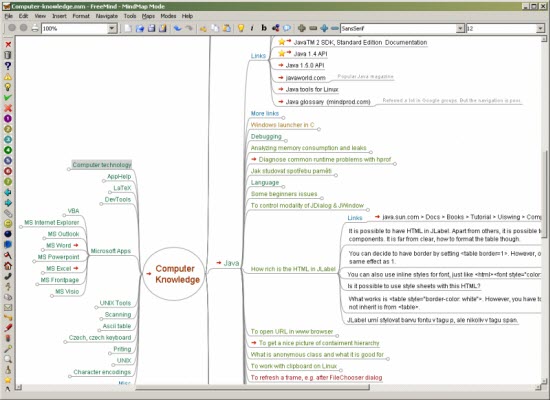 Become more creative, productive, and organized with this brilliant Mind Mapping Tool from the inventor of Mind Maps, Tony Buzan. iMindMap helps you to create vibrant and interesting maps so that your creative juices are ever flowing. It is available in a variety of formats for different operating systems. iMindMap utilizes the concept of Cloud Computing. It is a great tool for easy brainstorming. iMindMap lets you export and printout your maps as well. Its flexible canvas lets you quickly draw flowcharts and organic Mind Maps. You can add images, notes, links, files, comments, on its easy to navigate canvas. iMindMap has been empowered with creativity enhancing features such as Branch Art and 3D View. You get seamless task management as iMindMap has been integrated with visual task management app, DropTask.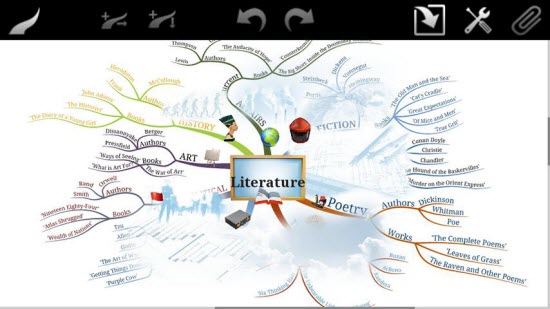 XMind is one of the most popular Mind Mapping Tool. With XMind you can manage complex information, run brainstorming, and can get work organized easily. XMind comes as an easy-to-use Mind Mapping Tool. Moreover, as it is an open source project, it is freely downloadable and free to use forever. It is thoroughly flexible and works on almost any desktop operating system. With XMind, you can easily organize your ideas, in a variety of styles, designs, and diagrams. It lets you add images, icons, links, and multimedia to your mind maps.