Maintaining hard drives is one of the most important actions in Windows as it allows users to keep their files organized and prevent any potential data loss.
Partition management software helps you to maintain hard drives. It enables you to create, shrink, delete, split, expand, or merge partitions on your hard drives.
Here, we have listed 8 Best Windows Disk Partition Manager which helps you to partition a hard drive in Windows easily.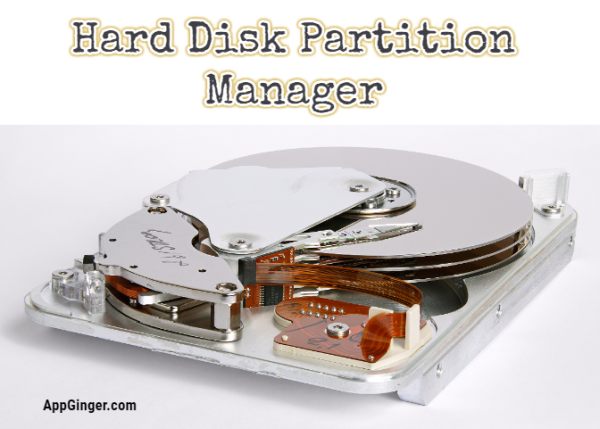 Although Windows allows you to partition a hard drive, you cannot do things such as resize the partition or combine partition easily without any extra help.
It's precisely where disk partition tools come in handy.
They are useful in expanding your Windows system partition, help you to combine media partitions, or shrink it to give room for an operating system dual-boot setup.
However, safe and easy to use partition management software are not readily available.
Sometimes they can be too expensive.
You need a disk partition software program that is safe, easy to use and should not be expensive. This is where this list of 8 Best Windows Disk Partition Manager will prove immensely useful to you.
Partition management software helps you to easily add, alter, and merge partition in hard drives. With the help of disk partition tools, you can manage partitions located on externally connected drives and those which exist in a virtual environment.
They can also be used to remove and alter factory-installed partitions. Plus, they can clean data from hard drives. They also include data backup tools like disk and partition cloners and operating system migration tools. They can manage different file types such as NTFS, FAT, HFS+, etc.
All in all, Windows Disk Partition Manager Tools prove indispensable in managing your drives and for backup strategies.
What to Look for in Windows Partition Manager Software
Following are the criteria we used to evaluate Windows Hard Disk Partition Manager Software:
Partitioning
Partitioning speeds up defragmentation and divides your hard drives into several compartments for storing data files. It is used to separate your operating system, personal files, as well as media files.
Partitioning optimizes the ability of your hard drives to find information efficiently. Using the best disk partition software, you can easily create, resize, delete, and merge partitions. You can also hide or unhide partitions.
Data Backup & Restore
Good disk management software lets you copy your information from disk to disk. You can also backup information onto several storage devices including USB devices or memory cards.
It helps in recovering any lost or damaged data and goes on to restoring it onto your hard drive.
Features
Good disk management software will enable you to install more than one operating system on a single computer. It comes with a boot manager helping you to manage and operate several operating systems. It helps to maintain your hard drive and keeps it clean.
Ease of Use
Best Windows Disk Partition Manager Software is easy to use and can be used even if you have little knowledge or experience working with hard drives.
They walk you through step-by-step processes, and you can preview the changes you make before it is applied to the hard drive. The user interface is organized neatly so that you can find each feature easily.
Technical Help & Support
Technical help and support are all useful when you are in need of assistance. Best Windows Partition Manager Software provides telephone, email, as well as live chat support. You can easily connect to customer support representatives and get immediate answers to all your queries. Online help in the form of FAQs section, user forums, and user manuals are also provided on their websites.
We have considered all these factors while compiling this list of 8 best Windows Disk Partition Manager Software. With these partition manager software, you can handle all your basic and advanced hard disk needs easily. They help you to keep your hard drive in perfect condition and your data safe.
So, let's move on and see the list of 8 Best Windows Partition Manager.
Here's the list for you:
8 Free & Paid Windows Disk Partition Manager
MiniTool Partition Wizard is a feature rich Windows Partition Manager that's highly suitable for users. It comes with a clean, well-designed user interface, and functions as a versatile program.
MiniTool Partition Wizard allows you to create, resize, move, delete, format partitions, and more. It comes with Data Protection Mode which helps to keep your files safe while you go on and edit partitions. So, with MiniTool Partition Wizard, you don't have to worry about losing a single file.
It supports all major disk types such as SATA, IDE, SCSI, and all USB external drives. It can also be used as a recovery software as it can completely recover data from previously created partitions. MiniTool Partition Wizard comes as a free partition manager tool.
Save 10% on MiniTool Partition Wizard Pro. + Lifetime Upgrade Service with this link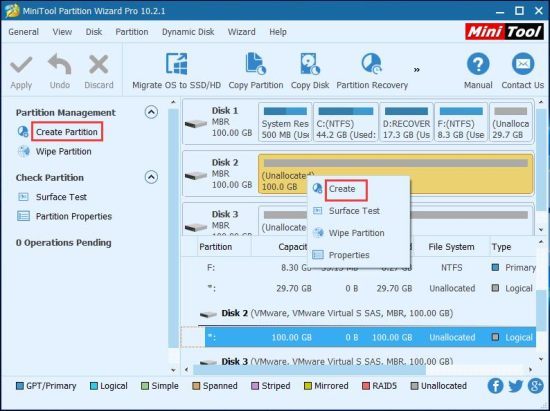 EaseUS is a well-known software company that is successfully developing various powerful utilities for Windows. Its Partition Master Software lives up to the expectation and comes out as one of the best disk management tools for Windows. It has all the features you need to keep your partition in a perfect shape.
EaseUS Partition Master Free allows you to create, delete, explore, format, and convert partitions easily. It also enables you to resize, move, and hide/unhide existing partitions, without losing any of your data. It supports hard drives with up to 4TB of space. So, it can be used to manage any partition. It can also move the OS to SSD. EaseUS Partition Master comes as a free partition manager tool.
Save 30% on EaseUS Partition Master Professional Edition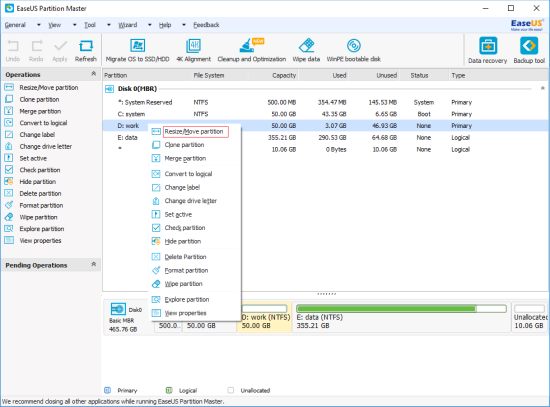 Paragon Hard Disk Manager provides an assortment of valuable disk-management tools in one easy-to-use utility software suite. It provides a single interface for assessing the partition manager. Paragon Hard Disk Manager comes with over 20 premium disk-management tools, including a partition manager, data-wiping tools, an operating system migration wizard, and backup tools.
It has everything you need to take control of your hard drives. With Paragon Hard Disk Manager Suite, you can manage and control every aspect of your hard disks, including partitions, data security, backup strategies, and operating system migrations.
Its simplicity and functionality make it one of the top Windows Partition Manager Tools. Paragon Hard Disk Manager is compatible with all Windows operating system. It can work with various HDD interfaces including SSSD, SATA, SCSI, IEEE, and USB 3.0. It supports all popular system file types, including NTFS, FAT, HFS+, etc.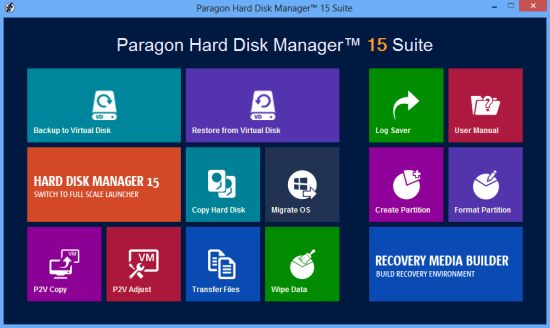 AOMEI Partition Assistant is another very popular disk partition software for Windows. AOMEI Partition Assistant comes as a free partition manager software. It has all the regular features of a disk partition software such as extending partition, resizing partition, merging two partitions, moving the partition to another location, splitting a partition, and more.
You can create a bootable drive or CD with data from your partitions. It also has conversion features. AOMEI Partition Assistant can convert disks from GPT to MBR, and reverse. Plus, AOMEI Partition Assistant can be used to migrate partition to another drive.
Save 30% on AOMEI Partition Assistant Professional Edition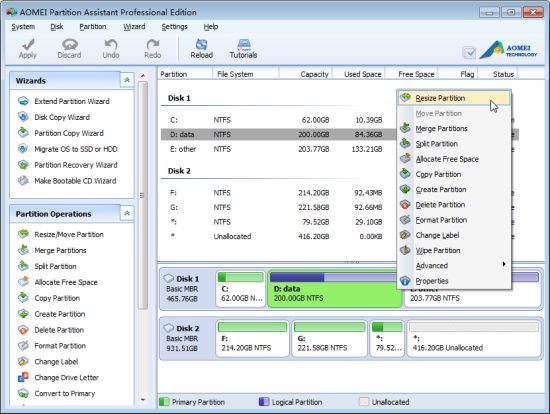 GParted Disk Partition can create, delete, resize, move, format, copy, explore, convert, hide, and unhide partitions easily. It is considered a GNOME editor and is available as a free disk partition tool to all users.
GParted Disk Partition supports a wide variety of formats, not only for Windows but also for other operating systems. GParted Disk Partition supports NTFS file system for Windows, FAT file system together with ext2, ext3, and ext4 file systems used on Linux.
GParted Disk Partition has the data recovery option and allows retrieval of data from lost partitions.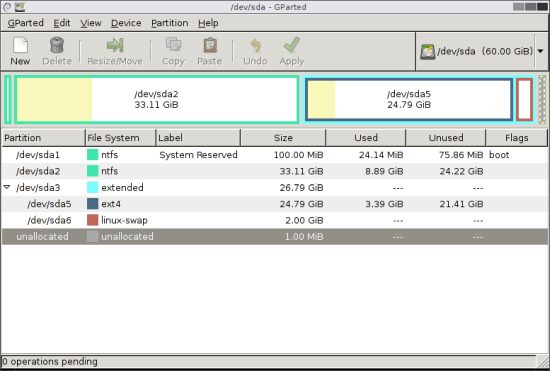 Acronis Disk Director is a paid disk partition manager software. It is available at a price of $49.99 only. Acronis Disk Director comes equipped with all the essential features so as to optimize your computer speed and organize your hard drive.
You can use Acronis Disk Director to divide your hard drive into partitions, for recovering and restoring lost data, and also for installing new operating systems. It excels in its feature set. However, Acronis Disk Director is ideal for more advanced users who possess prior experiencing working with computers.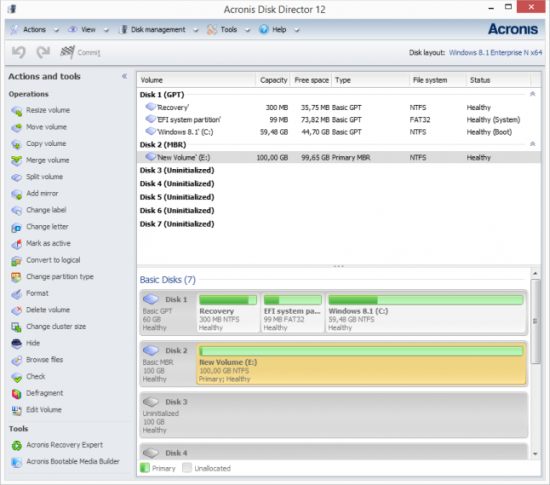 Active@ Partition Manager can be used for managing existing partitions and also for creating new partitions out of unallocated space. It provides simple wizards which make it easy for you to do these tasks. Active@ Partition Manager can handle almost all the popular file systems including FAT, HFS+, NTFS, and EXT2/3/4.
It includes other features too, such as imaging a whole drive for backup purposes, converting between MBR and GPT, editing boot records, creating FAT32 partitions, and much more. However, it can't resize locked volumes. So, you cannot change the size of system volume.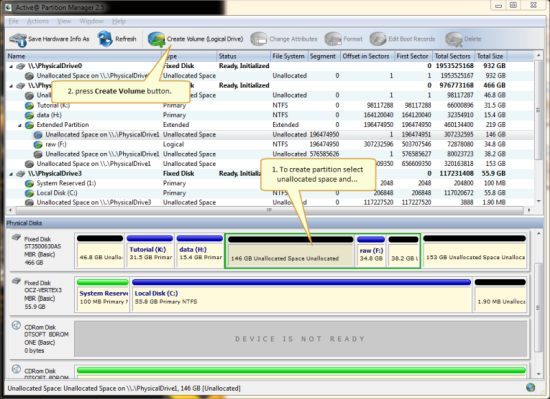 Macrorit Disk Partition Expert is one of the most powerful yet easy to use disk partition management software. It sports a clean, uncluttered, easy to use user interface with all the available options being listed out on the side of the software, and none of the options are hidden away in menus.
With Macrorit Disk Partition Expert, you can resize, delete, move, copy, and format partitions easily. All the changes to the partitions are applied only when you hit the Commit button. However, Macrorit Disk Partition Expert doesn't support dynamic disks.
Save 50% on Macrorit® Disk Partition Expert Professional Edition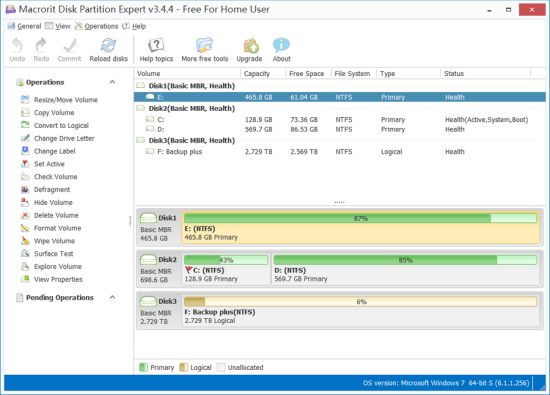 We hope that this compilation on 8 Best Windows Disk Partition Manager proves immensely helpful to you in selecting the most suitable disk partition management software. If you liked the post, don't forget to share it with your friends and colleagues. We welcome your comments and suggestions.