Laplink PCMover is a Windows based upgrade assistant and data migration application that can transfer your custom settings, files, applications and various other programs from one computer to another. You can also transfer data from an old version of Windows to a new one, like moving data from Windows 2000 to Windows 7. It is a consumer-friendly application which can move programs to a new computer. With Laplink PCMover in place, you can easily move from one computer to the other without worrying about losing files, applications and other user settings and configurations.
Why PCMover?
At times it becomes necessary to upgrade from an old version of operating system to a new one. Sometimes you do add up to your system to include a new one or maybe your workplace gets transferred to a new location.
Then just think what will happen to your favorite applications and programs, frequently used files and also custom user settings that are so important to you and moreover you cannot just work without them be it at home or at the office. You simply require them.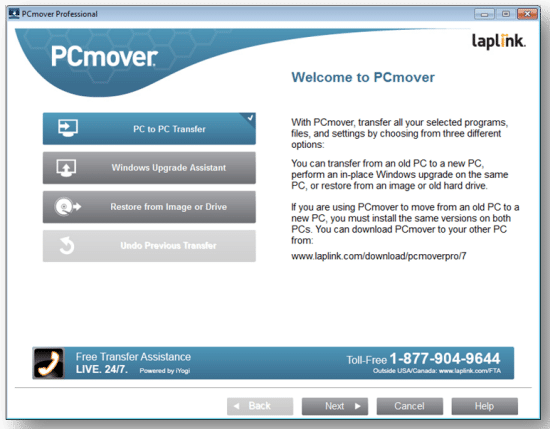 Normally it would consume lots of time in moving data from one PC to other and the process is too cumbersome. Also one cannot rule out the chances of losing out data in the migration process. Now with Laplink PCMover you don't need to panic and worry about upgrading to a new computer system as it will help you in moving programs to a new computer. Laplink PCMover makes the entire data migration and upgrade process extremely easy and simple for everybody.
Who Can Use it?
Laplink PCMover can be used by anyone who wishes to avoid the cumbersome, risky and time-taking process of data migration and upgrading from one PC to another. Laplink PCMover lets you easily move your old PC settings, files, and configurations to a new one.
Laplink PCMover Variants?
There are presently six variants of PCMover software for the offer. Each of the versions has been developed according to the different degree of data migration requirements of home, personal use, business, and enterprises. Each has different settings and features. The various versions of PCMover include starting from the standard "Upgrade Assistant", "Image Assistant", "Home", "Netbook Edition", "Professional" and "Business/Enterprise Edition".
How to Use Laplink PCMover?
The whole data migration process through Laplink PCMover is basically a three step procedure. First, you have to install the Laplink PCMover software on both the related machines. The second step requires you to connect both the machines, whether through LAN, Wireless Network, high-speed USB 2.0 connection or Laplink data transfer cable and follow the wizard-guided instructions to start the transfer process. You can even choose which programs you would copy over to the new machine. You have to follow step by step instructions given in the wizard and perform few button clicks to complete the transfer process. For the third step, you have to restart the new PC on which you wanted to migrate the data. And that's it; this would complete the data migration process to the new computer. All programs, files, and settings would then automatically get transferred to the new PC.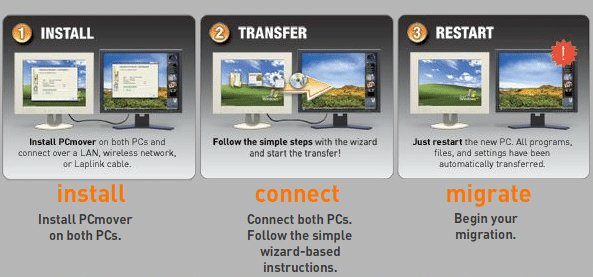 Conclusion
Laplink PCMover software with its various versions can fulfill the requirements of a whole range of users working in different environments right from personal users up-to-the Enterprise level. It can save a huge amount of time as far data migration is concerned. It just requires you to operate the transfer wizard and select the applications and settings you want to transfer which can be done by clicking only in few buttons. And you can do all this with Laplink PCMover without any or just little hassles. Thus it is extremely simple to use. So Laplink PCMover can be perfect software for moving programs to a new computer.