It may happen that your PC might get slow in speed and give you start-up problems. This usually happens due to the presence of various unwanted programs and files which hampers the performance of your PC. If this is the case, then you need the help of an uninstallation application which can get rid of those unwanted programs and traces of files that are choking the speed of your PC. You need not worry as you can have a perfect solution to these types of PC problems in the form of Advanced Uninstaller Pro.
Advanced Uninstaller Pro is one of the most complete uninstaller application for Windows. It is capable of removing even those traces of programs which are left by most other uninstallers. Advanced Uninstaller Pro is a free uninstallation software application which removes all detectable traces of the programs uninstalled by you and can also clean any type of traces present in the Windows Registry. So it helps your PC to give optimum and speedy performance output. It also helps in freeing up the vital disk space by detecting and removing the duplicate files present on your PC.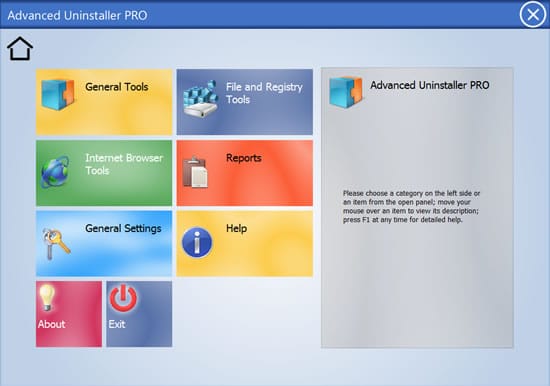 Advanced Uninstaller Pro has a unique Installation-Monitoring feature which helps to keep track of any changes happening to your computer during installations, thereby letting you uninstall any program later. It also helps in diagnosing installation problems and has a wide array of system maintenance tools and tweaks at its disposal as well.
It is designed to be an uninstallation application which is easy to handle, fast in performance, pleasant with its functionalities and intuitive in its operation. Advanced Uninstaller Pro features are categorized its functions in the form of General Tools, Registry Tools and Internet Browser Tools. It can repair broken registry entries, can delete the web browsing and document opening history, uninstall annoying browser toolbars, plugins and hijackers, can get rid of the startup programs, protect your privacy and can do lots more of other functions as well to speed up your PC.
So with Advanced Uninstaller Pro you get all the tools so that you can fix up, clean up, speed up, protect and uninstall programs so that you can get a totally optimized performance from your system. It can detect and remove even those traces which are left by most other uninstallation applications. So you can definitely utilize the free application of Advanced Uninstaller Pro to improve the speed of your computer.
Advanced Uninstaller Pro latest version is compatible with Windows 8.