We are living in the age of cloud computing.
In fact, cloud computing has transformed the way we store and access all our important data and files including videos and music files. Using Cloud Computing technology you can save a lot of your valuable time as you can easily access your media files wherever you go.
Air Playit is one such powerful free app which perfectly implements the cloud computing technology so as to enable you to watch all kinds of video and music files wherever you go.
Air Playit is an audio and video app which acts as your personal cloud and streams your audio and video collections from your PC or iTunes Library to your iOS devices such as iPhone, iPad, etc. The Air Playit App allows you to set up communication between your iDevice and Computer System (desktop or laptop).
So with Air Playit free app you can easily stream videos to Apple iPhone, iPad, iPod touch and as well as other mobile devices.
Let's see how Air Playit is a cool App to have for all the Apple fans like you.
Now suppose your favorite videos are stored your PC then you have to use iTunes so that the videos can be transferred to iPhone or iPod.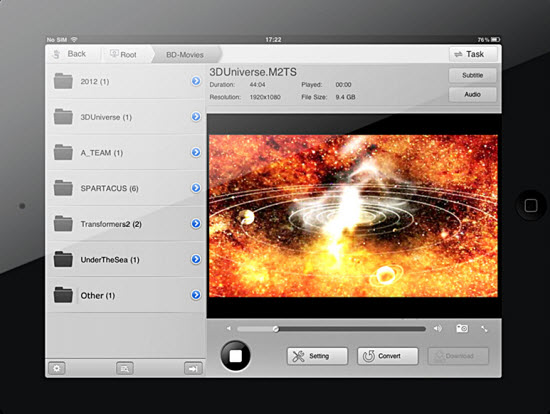 Moreover, if the videos are not complaint with Apple approved formats, then you have to spend extra hours to convert them into such formats that can be sync into iPhone or iPod.
However, if you download Air Playit, you never have to get annoyed with tedious conversion process or sync procedure. Air Playit lets you remotely watch videos that have been stored on your computer. So, whether you are at a shopping mall, dining out, or at a club party, you will never miss your favorite videos.
It comprises of two parts that are the Air Playit Server and Air Playit Client. With Air Playit server for Windows and Mac, you can access videos and audio file on your mobile device. Air Playit supports built in 320 different video and audio codecs. As such, it is capable of streaming almost all videos to your mobile devices via Wi-Fi, 3G/4G network.
So with Air Playit app you can listen music and watch videos of almost any format on your mobile device. Air Playit supports live converting and streaming almost all formats of the movie and music files. Air Playit also offers remote video conversion with built-in offline task manager.
To view videos offline Air Playit offer download on your device without having sync. With built-in HTTP server, you can access the audios and videos stored on your PC or Mac via any web browser. Air Playit supports M3U8/M3U playlist format. Air Playit can stream videos over local Wi-Fi, remote Wi-Fi, 3G and 4G. It is available for both Windows as well as Mac users.
The Working of Air Playit
Once the download and installation are complete, launch the Air Playit Server on your PC or Mac. Using the Air Playit, you can add video and audio files from folders or even from iTunes Playlist to "Shared Folder". It is also for video streaming and as well as live and offline Conversion.
You are also required to download, install and run the Air Playit (App) Client on your iPhone or iPad device. The App Client enables you to remotely play and watch videos and audio files on your iOS device. For this, you have to add the server. Then go onto browse the folder under the server and play the video or audio by clicking "Play" on your iPhone. The played music will be automatically downloaded to your iDevice.
All-in-all, Air Playit is free and powerful video and audio streaming software for iDevices.
Features of Air Playit:

It enables streaming of audio and video files to iDevices through Wi-Fi, 3G and 4G.
Has built-in HTTP Server
Functions as remote video converter to offline convert videos
Support for Apple TV
Live convert video and audio streaming to iDevices without using video converter
It can automatically list the recently played video
It lets you Air Download Video to iDevice without using iTunes to sync
Adjust video/audio quality for each of the videos individually
Support multi-audio tracks video
Adjust resolution and FPS for different network connection type including local Wi-Fi, remote Wi-Fi,  3G/ 4G so as to have the highest video viewing effect
You can remotely power off your computer once you have finished watching