Are you an ardent follower of music?
Or had a fantasy of being a drummer and hosting a live show in front of the audience?
If all that not happened in reality, then you can try for the virtual drum kit. There is a fun app called 'Drum Kit' for the drummers and non-drummers both. It is a FREE app for the Android phone user.

So, if you are a drummer or simply love drumming, then the fantastic, free Drum Kit App will fill your life with music, fun and enjoyment. It's a real music app that you will surely love to play. The music app will transform your Android Smartphone into a fully functioning wholesome drum kit. With this Drum Kit App, you will get to play an enhanced, multi-touch enabled and fully functioning drum kit. So let the drums dance to your tunes and make a thunderous racket with the fantastic and fabulous Drum Kit App.
Drum Kit is a fully customizable multi-touch Drum app with virtual collection of drums and cymbals. You just need to tap the phone to play music, and you are ready to impress your friends with your chops. If you are a true drummer, then it proves the best option for practicing and playing while being away from the real set. You can also play along while listening to songs.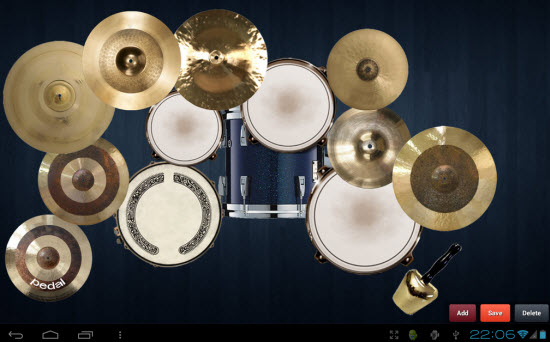 The Drum Kit app contains 6 piece kit (3 toms, snare, a kick drum, bass, hi-hat (open and closed), crash, splash, and ride cymbals), and you can further add the drums as per your choice. So Drum Kit provides you with all the basic drums you need to come out with a cracking beat.
In fact with Drum Kit you get real drum sounds. The graphical representation of the Drum Kit App is similar to a real drum kit. Moreover, the interface is refreshingly simple, so even if you are a novice, you will simply look forward to trying your hand at this wondrous, smart music app – Drum Kit.
The Drum Kit has been arranged in a top-down format which is perfectly right for drumming. However, the music app provides the freedom to arrange the drums and cymbals in your own peculiar fashion. You can drag the kit around and arrange the drums according to your choice, and once you get the perfect arrangement you simply have to hit menu>lock when you are done.
The app features repeated cymbal taps blending in like real cymbals with visual feedback on tapping the drum head. With this app, you can play your favorite beat at any time at any place, and you get a high quality drum sounds as sound samples are taken from real drum set in a sound room. You can also play multiple drum heads simultaneously with extra long bass drum touch area for double bass (alternate index and middle fingers rapidly).
The new update also enables you to buy new drum elements if you are a real professional. Overall, this is quite a fun gaming app for your phone, and you can also play it while listening to songs. Just get installed it on your Smartphone and impress your friends with the new music. So if you want a fun drum app then Drum Kit App will be just perfect for you. All you need is an Android Smartphone which supports multi-touch functionality. Moreover, as Drum Kit is a free music app, you can always try it out.