Air Combat Games are immensely popular with people from all across the globe.
Every time a new Air Combat Game is launched it is heartily welcomed by people from all across the world.
In fact, there is a huge market for Air Combat Games and so you will find lots of such games for Android as well as various for iOS devices.
The characteristics features of Air Combat Games are the stunning 3D graphics display, together with great game-play as well as awesome audio effects. All these features make Air Combat games the evergreen choice of millions of gamers all around the globe.
Here, we showcase one of the most widely acclaimed and award winning air combat shooter game known as Air Attack HD.
Air Attack HD was previously available only for iOS devices (such as iPhones and iPad) are now also available for Android users. The game app has already received over 1,000, 000 downloads on iPhone/iPad. So, you see that it is one of the most played 3D Air Combat games for iOS and Android users.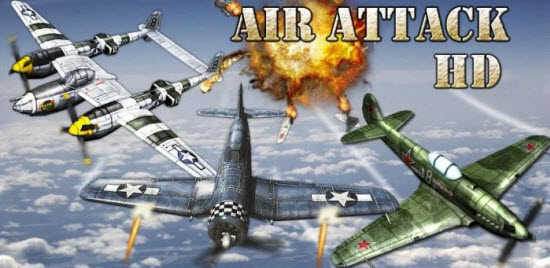 Talking about the Air Attack HD, it is a dynamic shooter game depicting air combat scenarios of World War II. It showcases magnificent special effects, dynamic and magnificent 3D Graphics, band music, excellent sound, and a thrilling game-play. The game has two parts. You just need control a fighter plane along a straight path which is being attacked by enemy aircraft, tanks, battleships, and trains.
In Air Attack HD you get to have as much as 8 fascinating missions, 58 types of enemies, a set of weapon, 2 unique planes, 4 types of control system, 3 modes of difficulty, 8 huge bosses, and lots of other things, as well. This top down air combat shooter game is simply stunning and its Nazi-like battle style and huge steel robot men that fire lasers out of their eyes make it really exciting. The 3D graphics and great audio effects add glitters to the gold.
Air Attack HD is developed by Art in Games and is an award winning next-generation game of fighting planes. It Over 1,000,000 Downloads on iPhone / iPad, Art in Games has Air attack HD for Android phones too. The game has two parts. Air Attack can be downloaded for FREE from Android market and Air Attack Part 2 cost $1.88.
Summing up the striking and awesome features of the Air Attack HD air combat game (combining both Part 1 and 2) are:
2 Unique Planes
As much as 8 Great Missions
you get to have Orchestral Music Effects
58 Different Types of Enemies
It employs Realtime Physics
It has many Amazing Lighting and Special Effects
3 Difficulty Modes
Various Upgrades and Special Weapons
Shmup with Amazing 3D environments enhanced with SpecularMaps as well as Light Maps
Destructible Bridges and Buildings
Xperia PLAY optimized
App2SD support
8 Huge End Level Bosses
4 Control Types: Relative, Touch, Tilt, and Joypad
Device support using NVIDIA Tegra – THD