Thousands of videos are available online which you might want to download to your computer or mobile. If such is the case, then look no further as YouTube Downloader is here for your help. Now the online video fans can download and convert the non-copyrighted videos for viewing it later on their PCs or mobile devices by using the wonderfully easy to use, popular and free software application YouTube Downloader.
So now watch your favorite videos and other entertainment stuff at your leisure time, share them with your friends and family members or view them on other portable devices by downloading and converting the online legal video content easily through YouTube Downloader application.
YouTube Downloader is a software application which enables you to download videos from YouTube and other supported sites including Facebook and Vimeo. YouTube Downloader also allows you to convert the downloaded videos to other popular video formats such as MOV, WMV, AVI, MP3, MP4, 3GP and watch them on your iPhone, iPod, PSP, Cell phones and other devices. YouTube Downloader advantage comes from the fact that it supports an extensive and wide net of additional sites through which you can download the videos of your choice. So you need not worry that it only supports YouTube.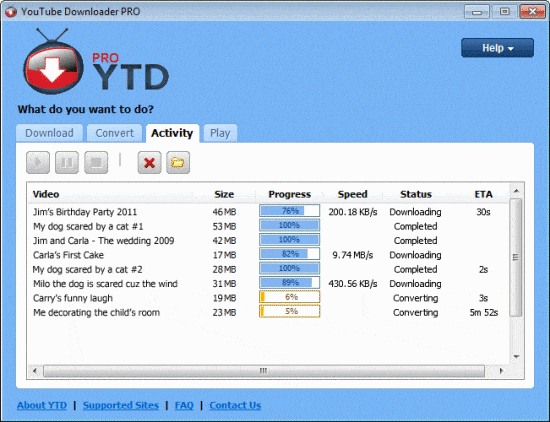 YouTube Downloader has an elegantly designed interface and is extremely easy to use. The interface has a "Tabbed Format" which makes downloading, converting and playing really easy for you. You just have to specify the URL of the video which you want to download, choose the desired download quality, choose the folder where you want to save the video file and click the download button. Once the download is finished, you can then watch the video through the Play Tab. It is as easy as that.
Besides the Download and Pay Tabs, this software also has Converter Tab and an Activity Tab. With the Converter Tab you can convert the downloaded video to a different file format and can play it on other portable devices. It also provides you with a Mini-Editor to make alterations before you export the videos. The Activity Tab enables you to keeps track of downloads and conversions. YouTube Downloader also gives you the facility to download full playlists as against a single video. It is available in different languages of the world such as English, French, Dutch, Arabic, Chinese, Italian, Swedish, Russian and many more.
YouTube Downloader also has a premium version to offer you if you are looking to upgrade and wish to unlock the enhanced functionality. "Pro" is the upgraded and paid version. With Pro you get one step download-and-convert function, multiple concurrent and faster downloads.
So get the ease of downloading your favorite online videos through YouTube Downloader freeware. Now play the videos at your own convenience and export them to a suitable format so that you may watch them on other devices as well. Its ease of use and smooth functioning makes YouTube Downloader a top quality choice in its category.