Now a day's Internet has been transformed into a source of a wide variety of media content; it can be a video, audio or an image.
All kinds of media content are not supported by every PC, so there is a need to convert your files into various formats.
For this, you need to use a competent file converter which can convert between various audio, video, or image formats.
To solve this problem, there is freeware software available named Format Factory.
Using Format Factory you can easily and efficiently convert between various media file formats.
Format Factory is multifunctional freeware software which easily converts your video, image, audio file format to the required file format. The main feature of this converter is that it supports almost all the formats ranging from MP4 to ICO. It also reduces the size and quality of the multimedia file without any damage to the file. Format Factory has been empowered with a straightforward, easy-to-use and intuitive interface which makes perfectly easy to convert between various media formats.
Format Factory comes with 4 skins, with a collection of new age icons and color combination for its skins. The interface has a sidebar menu to convert audio, video and images to different formats. Using the menu you can select audio, picture, video or even ROM Device, CD, DVD, ISO. It is very easy to use and uses very little memory of 25MB in comparison to its competitors.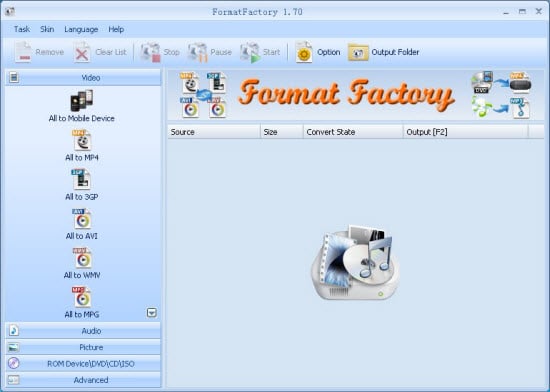 Once the conversion starts you can start and stop it at any time, and its speed is quite impressive. You can convert an image from one format into another in just few seconds. Audio and video files conversions are much faster than with other similar tools. Other than working as a media file converter, Format Factory can also be used to join files together by accessing its Advanced Menu Option. Using Format Factory is easy as a feather. You simply have to select the files which you want to work with. Then need to browse to the source folder and confirm the files which you need to convert and have to click on Start.
Some more important features of format factory are that it repairs the damaged audio and video files. It even supports iPhone and iPod multimedia formats, and you can zoom, rotate, flip, and tag the converting picture. It can also Rip DVD to video file Rip Music CD to audio file with this it also supports 60 languages. MP4 file supports for blackberry and PSP also. Moreover, Format Factory comes with a built in Help file containing screenshots to help users navigate its features.
Format Factory is a widely recommended converter to convert all types of audio, video and images. It is popular because it is absolutely free nothing is charged. The only drawback with this software is that it sometimes installs hidden browser tool-bars otherwise its perfect software to convert various file format.
So if you need to convert, merge, and split media files between various formats, Format Factory is definitely worthy software to consider.