NPR One is an Android and iOS App that makes public radio personal to you.
It is a new audio app which connects you to a stream of public radio news and stories curated for you.
With this web service, you can connect to your local NPR station and listen to local, national, and international news and stories.
Moreover, with this new-digital listening app you can blend NPR and member station news reporting into a localized and on-demand experience. So download it and experience the rich world of public radio made personal to you.
NPR One brings to you the latest local, national, and international news in a customized and curated form to you. NPR One gives the control to you. You can pause, skip, and can even spend more time on entertaining stories and news that you would have missed otherwise.
There's one great feature of NPR One. It remembers your history. So you do not have to listen to the same story twice. NPR One enables you to search for podcasts and stories. You can even review to your listening history and can also look ahead at the upcoming stories. NPR One is a vastly developed app, and now it's your turn to experience its magic. NPR One gives the control to you and you never happen to miss an interesting story or news.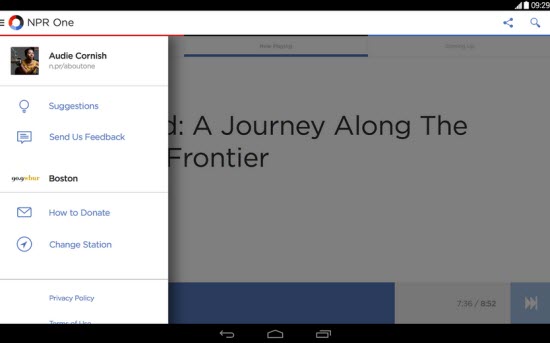 Talking about its layout, NPR One comes with a simple and clean layout. The interface is rather simple with white screens and light blue playback controls. It even lets you swipe back and forth so that you can go between your history, present story and upcoming stories as well. NPR One lets you mark a story interesting just by tapping it. NPR One is a simple yet sophisticated Android and iOS APP, which plays your local NPR station according to your choice. NPR One brings in a whole new way to listen to public radio. It is responsive to your tastes, and to your local interests and even to your routines.
NPR One delivers latest headlines and then flows to more stories in detail. The stories are interesting and enrich your life. And all these are thoughtfully curated by hand, each day. It's simple to use. Just pop-in your ear buds, tap your phone and NPR One starts playing. And if you want to pause, and rewind, or share a story with a friend, you can do that as well. It even lets you search for your favorite stations, shows, and podcasts. It delivers local, regional, national, as well as international content to you.
So with NPR One you can play stories that you actually want to hear. The app works on iOS and Android devices and can even play through web browsers as well. With NPR One, you get more engaging listening experience that you instantaneously want to tune in.
Download NPR One App for Android
Download NPR One App for iOS