Are you sick of buzzing the same old ringtone on your iPhone?
Now you can have Aiseesoft iPhone Ringtone Maker software that can make ringtones which you love to set on your iPhone.
In spite of being recognized as, the best Smartphone ever iPhone does not have the functionality that gives you the flexibility to set a customized ringtone from your iPod songs gallery. Although others have a ringtone of your favorite song, but your iPhone do not let you share it via Bluetooth and set it as ringtone. You want a custom ringtone, but it is not available in iTunes, or you neither want to buy it.
Now as a solution you only need an Aiseesoft iPhone Ringtone Maker, which will create your custom iPhone ringtone from any audio, video or DVD files.
This superb Aiseesoft iPhone Ringtone Maker supports almost every video and audio format and is able to convert them into .M4R Audio format (iPhone ringtone). With Aiseesoft iPhone Ringtone Maker, you can make a customized ringtone compatible with your iPhone using various types of audio and video files. Using the software you can rip DVD disc and can convert almost all the popular audio and video files into M4R ringtone. You can then directly transfer the ringtone to your iPhone.
So now you don't need to buy any ringtone or listen the same old tune again and again. Also with Aiseesoft iPhone Ringtone Maker you can even add ringtones to iPhone directly that makes it even more useful. Just create a custom ringtone and send it to iPhone. Even you can also export ringtones to iTunes so that it can remain there in your iPhone ringtone directory, and it will not delete in future synchronization from iTunes.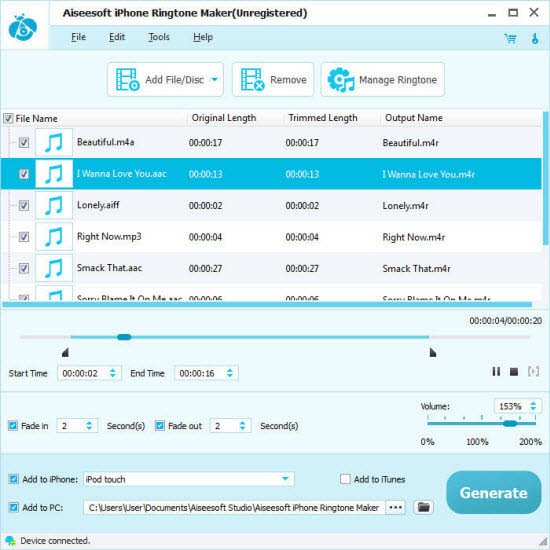 The Ringtone Maker gives you the freedom to set the entire song as a ringtone, or you can even select a part of the song and make it as ringtone. With Aiseesoft iPhone Ringtone Maker, you can adjust the ringtone volume and can also add the fade-in and fade-out effects. You can even trim your existing ringtones and support the pre-listen feature which means that you can listen to your created ringtone first and then if you want to add it as your ringtone you can.
Using Aiseesoft iPhone Ringtone Maker you can add as much ringtone as you want to your iPhone ringtone directory. It lets you export iPhone ringtone to iTunes for future synchronization from iTunes and can export .M4R Files to PC, as well. Aiseesoft iPhone Ringtone Maker can support all iPhone devices perfectly including iPhone5 and as well as iOS 7 and also the latest iTunes, as well.
Key Features of Aiseesoft iPhone Ringtone Maker
It supports almost all the audio files including MP3, AAC, OGG, M4A, RA, RAM, WMA, AC3, MP2, WAV, etc., to M4R(iPhone ringtone)
It supports the video formats too including ASF, AVI, WMV, DivX, MP4, MPEG, MKV, XviD, MOV, RM, 3GP, RMVB, H.264/MPEG-4, M4V, VOB, FLV, 3G2, H.264, QT, MPV, etc., to iPhone M4R ringtone.
It also supports DVD. You can import files direct from the DVD and cut the clip and creates it ringtone
Identify several iPhone devices simultaneously that means you can connect more than one iPhone and at the same time you can add ringtones to all the connected devices.
Support other languages too. Users can change the interface language to English, French, German, and Japanese.
The Aiseesoft iPhone Ringtone Maker lets you edit the existing iPhone ringtones. For example, you can rename or remove iPhone ringtone and can even export the iPhone ringtones to iTunes.
The program supports pre-fade listen functionality which enables you to pre-listen the sound of the converted audio before generating the ringtone.
Using Aiseesoft iPhone Ringtone Maker you can directly transfer a ringtone file to your iPhone without using iTunes.
Its interface is extremely easy to use.
So you see that Aiseesoft iPhone Ringtone Maker makes it remarkably easy to create ringtone format compatible with iPhone using other types of audio or video formats.