Looking for a system optimization tool for your Mac OS X operating system?
Does speed issues hampering your performance on your Mac OS X device?
Tuning your Mac is a problem for you?
If any of the above issues plaguing your Mac OS X performance, then you surely deserve a system optimization tool that enhances your Mac OS X performance.
Well, there is a solution for you in the form of MacBooster, which helps you to speed up and fine tune your Mac OS X.
You can speed up your Mac with MacBooster.
The utility and usability of MacBooster springs from the fact that it helps to increase the processing speed of your Mac. The duplicate files are identified, malwares are detected and removed, and you can easily uninstall unwanted applications.
Using MacBooster, you get a fast Mac with login optimization and performance boost. Moreover, with its super performance, MacBooster has set standards for system maintenance and performance tools. It comes with standard-looking generic interface. It has been specifically designed to take care of your Mac. This application is not available on the Mac App Store but can be downloaded from its official website.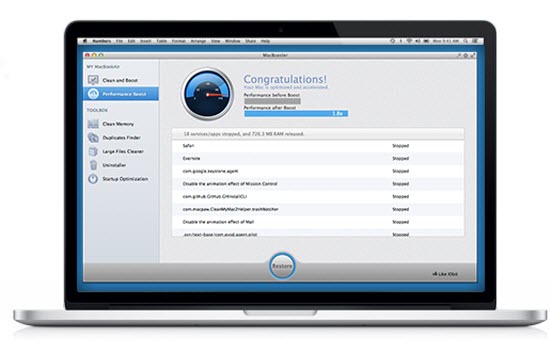 Talking more on its usability and utility, it would be apt to say that you get larger hard drive space on your Mac with its disk cleaner feature. It is a general scenario in Macs that its hard drive space is taken up by various unnecessary files which includes binary files, log files, cache files, etc. There are system files, large movie files; .dmg files which consume much hard drive space.
So you need to cleanup your hard drive space and keep things which you actually need as all Macs provide limited storage space.
MacBooster comes with the ability to scan and remove the files which clog your hard drive space so as to free up lots of hard drive space for you. With available free hard drive space, you can put in lots of content into your Mac.
With MacBooster, you would never have a slow performing Mac at your end. It generally happens that when you are multitasking, the RAM gets occupied by all kinds of apps which make your Mac utterly slow. Moreover, it may happen that the system might stop responding. However, with MacBooster at your end you would never face such issues. With its RAM organizer, it fixes up any such issues that might hamper your Mac performance. It reorganizes your login items so that your Mac OS X starts faster. MacBooster helps you to get a fast system for superb performance.
MacBooster protects your Mac OS X from virus attacks, phishing attacks, malware, spyware, as well as from various online threats. Hackers and phishing websites are kept at bay and you get an all round protection to your personal data. You get complete peace of mind with privacy and security related issues. This is a big plus with MacBooster system optimization tool.
MacBooster even helps to manage all your apps. With MacBooster, you can solve the issue of unwanted apps. You get full control on apps on your Mac. It removes duplicate files which are a common feature on Mac devices. Duplicate files are detected and removed further to maximize your hard drive space. MacBooster tunes up your machine and optimizes performance out of your Mac operating system. It brings forth advanced system care for your Mac OS X operating system.
One of the things you would certainly like about MacBooster (apart from its system optimization capabilities) is its intuitive design. MacBooster comes with clean layout and menus that are easy to navigate. It provides fast scans and is able to detect malware files within just few minutes. The only down side is its limited trial period which is only for 14 days. Its pricing might be a concern for you as they are other cheaper options available to you.
Apart from this, MacBooster is worth for your Mac for speedup, system performance and maintenance. So speed up your Mac with MacBooster.