The Android platform is already a hit with people from all across the globe.
Today there are millions of Android Fans. Every other day you get to see a new Android device being launched. There is a huge market for Android Apps and Games and people simply have a great time using them. There is no denying of the fact that the Android is a powerful platform that has given a new dimension to Smartphones and Tablets.
However, in the midst of Android success, there was a hard felt need of a viable and seamless solution for managing data and files on your Android phones and tablets. Moreover, people were looking for a versatile Android manager that can enable them to manage their Android devices through their PC.
In this context, Wondershare MobileGo for Android Software Application fulfills the long cherished desire of Android users for a seamless solution which can transfer data back and forth between your Android device and computer and thereby provides a viable solution for managing your Android smartphones and tablets on your PC.
Using Wondershare MobileGo for Android you can connect your Android Smartphone or tablet with your computer and can easily transfer and manage files, apps, music, pictures, movies and lots more.
Wondershare MobileGo for Android is wonder software for music, video and apps enthusiasts. Android devices were becoming a fussy place with people finding hard to manage their files and applications. Now, Wondershare MobileGo for Android has delivered power right into your hands so that you can enjoy working with your Android devices.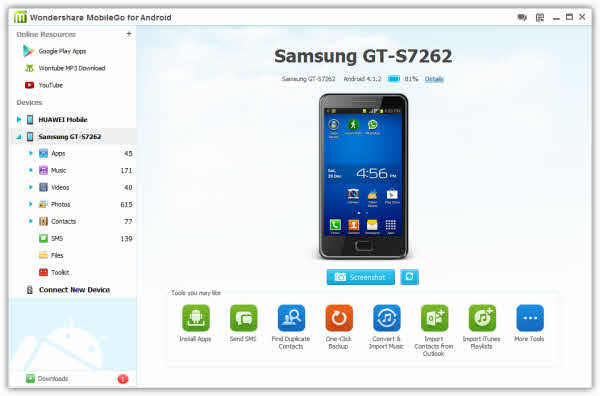 The Android Manager provides you an opportunity to retain 100% quality on your smartphones and tablets. Using the Wondershare MobileGo for Android you can manage almost any of your Android devices. It provides limitless Android device support in the Wi-Fi Mode and can recognize more than 900 Android devices the moment you plug in.
Once the Android Manager is installed on your computer, you get to access its simple and smart interface for managing your Android device. However, you need to connect your Android phone or tablet to the PC via Wi-Fi or through USB cable to actually realize its functionality.
The application's interface is nicely laid out which makes it easy for Android users to manage their files and other data. Its home screen shows overview of your device's storage capacity together with the contents of your storage card. You come to know how much space is being occupied by photos, movies, music and other content.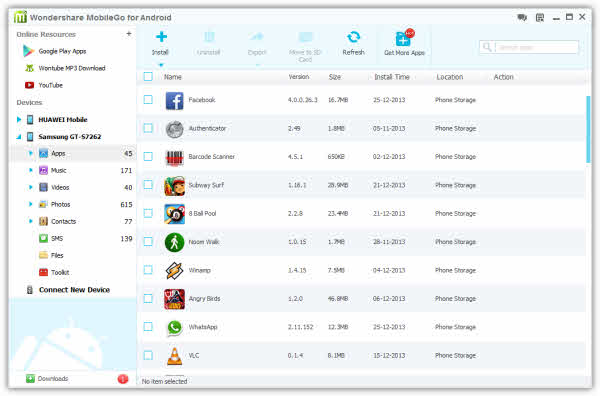 Moreover, Wondershare MobileGo for Android is rich in functionalities which make it "must-have" software for managing your Android device. Let's have a look at what all you can accomplish with this Android manager.
Well, you can back-up everything on to your PC with a mere click of a button. Files in the SD card and phone memory can be easily managed. Music and video enthusiasts can add their favorite media. App addicts can easily export download, install or uninstall any apps right from their PC. It can download videos and apps from Google Play Store and YouTube.
That's not all, as you can edit, transfer, add, or delete contact information and can access Outlook. You can even reply to SMS's using your PC. Restoring files onto your Android device is made easy with a click of a button. Using Wondershare MobileGo for Android you can convert music and video files into Android-optimized formats. The conversion is handled easily and quickly too. For example, video files with dat/mpeg/flv/asf/mov/wmv/mkv formats can be converted to mp3 or mp4 format. Using the Android manager you can even manage phone calls with your computer.
Although the feature list of Wondershare MobileGo for Android extends even further, I can safely say that the Android manager can be regarded as one of the best software solutions for managing your Android device. It has few shortcomings such as it does not sync photos from Outlook or USB backup is not so user friendly, but these lacunas can be easily overlooked after seeing its mammoth usability and rich set of functionalities.
So have a wonderful time using Wondershare MobileGo for Android.