Most of time you have encountered that you computer runs pretty slower it may be because you are running too many software at the same time, but it must frustrate you when you are not running any application, and your computer still runs slower. We have review software for you that will help you to optimize your PC speed. This software frees up your PC resources from the unnecessary program that are using it.
Auslogics BoostSpeed is software which frees up your PC resources and makes your computer perform much better.

Using this advanced and powerful system optimization tool, Auslogics BoostSpeed, you can easily clean, optimize and speedup your PC. This PC optimization tool comes with powerful modules and wizards which enable you to perform any kind of optimization for your PC.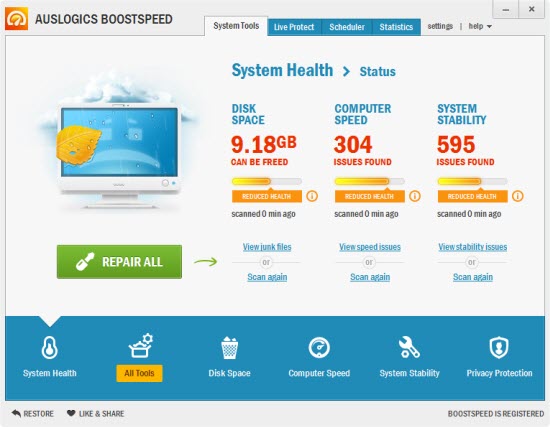 Its optimization tasks have been categorized into seven main categories such as Computer Clean Up, Optimization, System Control, Privacy and Security, Windows Tools, and System Information.
It also features one more category named as "Introduction" which provides tools for hard disk cleaning, defragmenting it, and for clean-up, as well.
Moreover, each of the Auslogics BoostSpeed section comes with lots of different modules. For instance, the Privacy and Security section has a tracks eraser, includes a file shredder and much more. The modules and wizards have been structured in such a fashion so that they are easy to use. For example, the Internet Optimizer is wizard based and implements changes with a minimum of your interference. So, if you have a cluttered PC with lots of junk files, then using Auslogics BoostSpeed will surely enhance your system's performance in a tremendous way. Thus, if you are looking for super fast and optimized performance from your PC then Auslogics BoostSpeed system optimization tool suite comes as a perfect choice.
Getting Started:
Installing the Auslogics BoostSpeed 5 is pretty easy just download the application from the link and run the wizard in your PC.
Now run the application on your PC it will ask for the system scan and there are some other option too if you don't want to perform a complete system scan you can also easily erase the browser history.
Erase windows history, clean up temporary files and optimize memory. There are other tabs too like System Advisor, Recourse Usage, Advanced tools.
Features:
System Scan: This Feature fix issue related to Registry Errors, Junk files and Disk error. Gives you the complete detailed log of all your registry errors, junk files, disk errors and fragmented files. You can fix all those errors in a single click we have performed this test on our computer it took around five minutes to resolve all issue related to junk files and registry.
System Advisor: System Advisor is a tool which analyze all the resources allocated to several programs of your system and create a log that tell where the resources are allocated and the key feature is that it advice you from where you can frees up some resources of your computer. Like "Your video card does not natively support Vista Aero effects. These effects put your CPU under a strain and dramatically decrease your computer speed." This is the great tools we have encountered, and it works pretty well. We have never thought disabling some graphic option will boost the speed of my computer.
Resource Usage: This is a resource monitor tool which gives real time monitor of system CPU, Memory, Disk space usage your computer at a single place. Great tool to get updated about the resources employed and track the performance of your computer.
Other Advanced Tools: There are also so many others advanced tools like Disk Maintenance, which cleans up, defragment and repair your hard disk, Free Up Space which removes duplicate files from your computer, Software Control, which control on startup programs with this you can easily remove unnecessary programs from startup, and many others advanced useful tool.
Final Thoughts: Auslogics BoostSpeed 5 is pretty easy to use and surprisingly fast it scans your computer and find out registry related issue, find junk files in your computer and defrag your hard disk within few minutes. This is a must have application for your computer it also offers you the license for three machines. This program will clean up, speed up and repair your system to make it run as fast and stable as new one.
We are giving away five free license of Auslogics BoostSpeed 5. To get this amazing software for free just download and try this software and comment why you need this software.