If you are looking for file compression and encryption software, then WinZip provides you with the perfect solution to manage large files. WinZip is the world's most popular Compression Software to handle tasks related to large files. And now WinZip has come with its latest version in the form of WinZip 17 so as to make your file handling tasks easier than ever before which includes Cloud Sharing functionality, as well.
Whether you require to zip or unzip files, encrypt files for protection, want to zip and send large files through email, want to share your files on Facebook, Twitter or LinkedIn, WinZip can do it all for you instantly. Using WinZip you can save a lot of your valuable time and can assure yourself that your files and information are protected.
WinZip is available both as a free download as well as in paid version too. You can have WinZip Standard for $29.95 and WinZip Pro for $49.95 only. It has been received with much enthusiasm from users across the world. Its popularity can be guessed by the very fact that it has already crossed the 1 Billion Mark in downloads.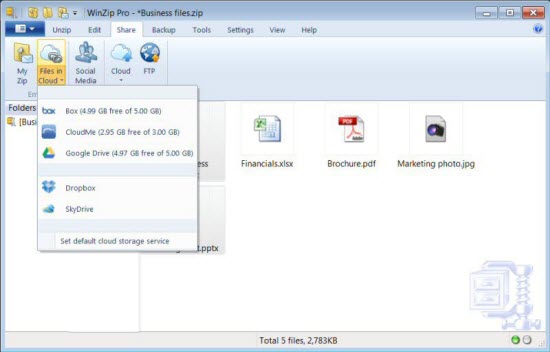 WinZip carries the usual features of WinZip Software and many new features, as well. With WinZip, you can compress (zip) large files and unzip compressed files including Zip, RAR, 7Z, TAR, ZipX, GZIP, BZ2, 7Zip, as well as many more file formats. It has ZipSend file delivery service to email large files easily.
With its Preview functionality, you can see the contents of a Zip file before actually unzipping it. It provides a high level of file protection with AES protection. In fact, it protects your files using government-level encryption. By running custom jobs, you can even backup all your important files and documents automatically. Together with cloud integration it also provides social-network integration, as well. WinZip is not only available for Windows platform (including Windows 8) but can also be used on other platforms, as well. WinZip is also available for Android, Mac OS X, and iOS
As far as its new features are concerned, WinZip comes with many online sharing features. It lets you connect to your cloud service like Google Drive. You can zip files before uploading them; open zip files that are saved in the cloud, and even can choose files from the cloud for zipping and sharing. It lets you zip the files so that you can share them on social media websites like Facebook and Twitter using online app ZipShare. It includes tools for creating multi-part zip files, UUEncoding, and for encrypting with a password. It also carries the Performance Scan Tool which checks for unwanted, temporary files, and as well as registry issues.
WinZip comes with an enhanced intuitive interface. Its user interface is very much similar to that of Microsoft Office Interfaces and carries a ribbon control bar. You get to encrypt, resize photos, watermark, and can even convert files and documents into PDF formats. You can add custom watermarks so as to protect your photos and files as well and can even resize images so that sharing them is all the easier.
All-in-all, WinZip is highly useful Software for file compression and a perfect solution for managing and protecting large files including Cloud Sharing.