While searching the internet for a download manager, you must have come across many of them but don't let anyone fool you, simply prefer the IDM (Internet Download Manager) this is the best one available amongst all. It integrates with your browser Mozilla Firefox, Opera and many others have its extension. It also manages the multiple files and put them in their appropriate folder.

Well, you may argue that most modern browsers are equipped with download functionality and do the job quite efficiently. Here, you are partially correct as they do not provide advanced features and management capabilities. With Internet Download Manager, you not only get super fast downloading speed, but also get superb control over all kinds of downloads.
Internet Download Manager increases your speed up to 5 times and offers you the flexibility to resume from where you left off without any interruption. It also works on the command line so if you are a power user than you will be able to manage it more easily. With IDM, you can schedule your downloads. It also checks for the virus.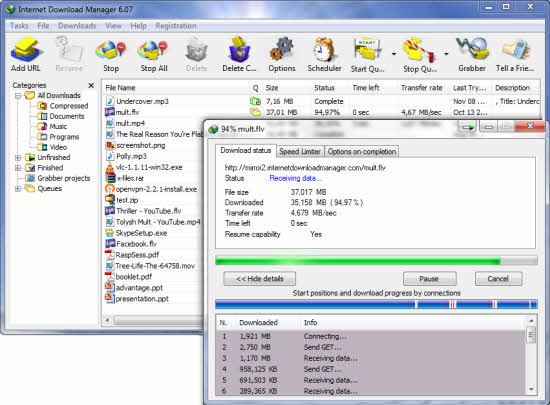 Internet Download Manager is easy to install. Moreover, the process of integrating with supported web browsers is fully automated. It automatically integrates itself into web browsers such as Firefox, Internet Explorer, Chrome, Opera, etc. IDM automatically handles all your download activity. It displays download information and automatically groups the download.
It even lets you enter a description. In case, if you want bandwidth for performing other tasks, IDM lets you limit the download speed. IDM automatically provides for download categories such as compressed, documents, or programs. With its loads of configuration options, you can further customize IDM according to your requirements.
Internet Download Manger Features:
Browser Support: Internet Download Manager almost supports the entire browser Like IE, Firefox, Opera etc. It can also be integrated with all the Internet application so as to take over download process via its unique "Advanced Browser Integration" feature. It also has Add-on in all the latest browsers.
Download with a single click: When you click on the download link IDM takes over the download process and accelerate download speed up to 5 times of the normal speed and it also offers you the flexibility to resume the downloads too.
Drag and Drop: you can simply drag and drop the download link to the IDM it will start the download automatically or you can also copy and paste the download link in 'New Download'.
IDM is multilingual: IDM supports multiple languages apart from English it also supports many other languages like Arabic, Chinese, French, German, Japanese, Russian, Thai and much more.
Built-in Scheduler: You can Schedule your download. You can queue you downloads, or you can also set your computer to shutdown when the download is complete.
YouTube Grabber: IDM offers you the easiest way to download videos from the net or the website like YouTube, MySpaceTV, Google Video and may others just with a single click. Whenever you watch any Flash video on the web, a pop-up button will come up "Download This Video" by just clicking the button your download will automatically start.
Download Limits: you can even set your download quotas features, so you go beyond the limit. That helps you to track your bills and manage them easily.
IDM offers you great flexibility while downloading it gives you none of the download managers is available on the internet is as fast as IDM. We recommend IDM as one of the best download manager on the internet. IDM is an award winning software it is best-suited software for all your downloading needs.