Many times we need to access remote computer like our friends PC to solve his computer problem or to do file sharing with them. You might even require to remotely accessing your home or office PC too. There may be other situations as well which demand remote desktop sharing. Your needs can be varied from retrieving a file to fixing a problem of a remote desktop PC. All these situations require you to use remote desktop sharing.

So what is the solution for you?
How can you achieve remote desktop sharing?
Well, to access remote desktop you can use remote desktop sharing software which can help you to share other PC.
TeamViewer is one such free and powerful desktop sharing software which helps you to access all your computers and servers remotely. TeamViewer is fast, secure, reliable and easy-to-use remote access software. TeamViewer is incredibly quick, has a simple user interface, and comes with cross platform availability. Its unique selling proposition lies in its simplicity and ease of use. It is widely popular and has millions of users worldwide.
With TeamViewer, it is very easy to share your desktop with your friend or remote control your friends PC. To access remote PC you don't need to be expert with TeamViewer you can access remote desktop with just few click and inputting accessing key. With TeamViewer, you can remotely control your Windows, Linux, and Apple PCs, as well as Samsung tablets and smartphones.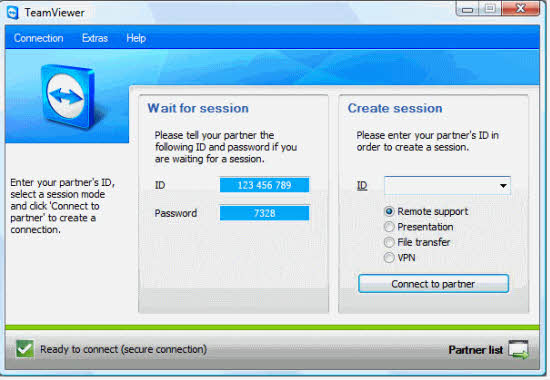 It allows you to set up a VPN (Virtual Private Network) Connection so that you can have complete control of a remote PC from your own desktop. However, both the machines need to run TeamViewer. With TeamViewer, you can even have virtual meetings with many participants.
It facilitates file transfer from your local computer to the remote PC and vice versa too. TeamViewer can work behind the firewalls so that you access the files without any problem. Its console is absolutely simple. All its tools for initiating an online meeting come in a single window. TeamViewer gives a user name and password for each machine. To create a connection you simply have to input each machine's numbers in the other. Using TeamViewer, you can access files, folders, programs of a remote PC from your main PC. You can change settings and can run various processes, as well.
Security has been one of the biggest concerns while using remote access tools, but you can rest assured on this front too as TeamViewer is an absolutely secured remote access tool. TeamViewer comes with SSL (Secure Sockets Layer) security feature which ensures that the data or file being transmitted is fully secure. Further, it requires no installation. You only need to run TeamViewer on your local and remote computer and just connect.
TeamViewer is available for about all OS platforms like Windows, Mac, and Linux. Not just that TeamViewer come for mobile devices like App for Android, App for iPhone and App for iPad. The basic program is free for personal use if you want to use TeamViewer for business then premium version is available which will cost you onetime fee. On the whole, TeamViewer is excellent software for remote desktop sharing. It is one of the simplest and the easiest tool you can have for remote desktop sharing.