FTP Client can prove to be a vital resource when it comes to working on the web, website publishing or maintenance, upload/download of images, documents, and other kinds of files, for sharing of files with your friends or co-workers or even for having a backup of local or remote files. FTP Client is one of the most essential tools that every webmaster, designer, server administrator should possess.
Although you have lots of options for possessing a FTP Client, what you really require is a solid, fully featured, fast, reliable and secure FTP Client to fulfil your needs and requirements.
Here under, we have come up with a collection of Five Best FTP Clients so that you can easily choose the best and the most suitable FTP Client for your requirements. Your search for a right FTP Client will definitely come to a successful end with these Five Best FTP Clients.
As you know, with the help of a FTP Client, you can transfer files between a local computer and a server over the Internet. As a webmaster, server administrator, designer, programmer or computer professional, you are frequently required to upload/download files to and from remote server. There may be times when you even require sharing your files with your co-workers and friends. All this, requires a solid, feature-rich and powerful FTP Client at your end.
The Five Best FTP Clients (showcased below) can be of valuable help to you as they present the best FTP Clients to you all in one place. So have a look at the Five Best FTP Clients presented below and we believe you will be able to find the right FTP Client for your needs and requirements.
5 Best FTP Clients
FileZilla is a very popular open source FTP, FTPS, and SFTP client. It is distributed as a freeware and is thoroughly reliable and fast in operation. FileZilla is available for both clients as well as for server. FileZilla works across various platforms including Windows, Linux, Mac OS, BSD, and more. It has an intuitive graphical UI and is very easy to use. FileZilla is also available in the form of a portable version so that you can use it on the go. FileZilla is a fully featured, reliable and fast FTP client in constant development.
Some of the Salient Features of FileZilla include:
Supports FTP, FTPS, SFTP
IPv6 support
Supports transfer of large files over 4GB
Drag and Drop Support
Tabbed User Interface
Transfer Queue
Powerful Site Manager
Supports Remote Editing
SOCKS5, FTP-Proxy, HTTP/1.1 support
Remote File Search
Synchronized Directory Browsing
Logging to File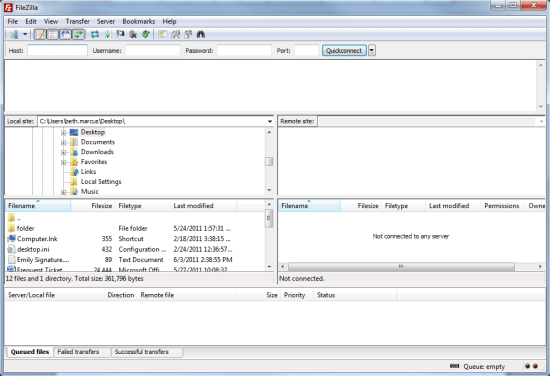 CuteFTP can be regarded as one of the best FTP clients for the beginners. It is one of the easiest FTP clients in business and a widely popular one too. It has got an easy-to-use, interactive and straightforward user interface. CuteFTP provides remote file editing feature which facilitates developers to make changes and fixes quickly. With CuteFTP users can easily drag and drop data from the Windows interface on to the site directly and it's FTP wizard then creates an FTP location.
Some of the salient features of CuteFTP include:
Supports a wide range of protocol options such as FTP/S (SSL), SFTP (SSH2), HTTP/S (SSL)
Provides fast and fully automated transfers
Backup, and Synchronization of Sites
Can monitor local folders
Remote Document edition
Thumbnail View of Remote Images
Drag and Drop files
Facilitates working with multiple remote sites
Password Manager
OpenPGP Encryption
One Time Password Authentication Protocol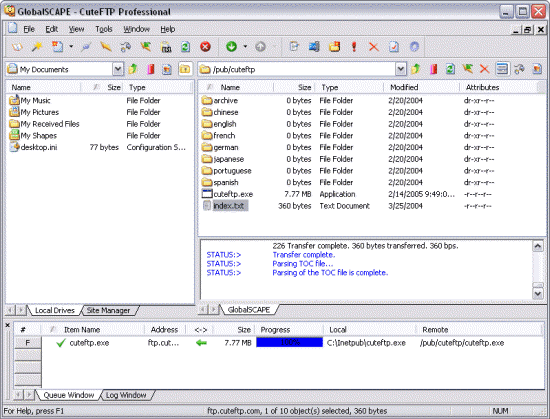 Core FTP LE comes as a secure and free FTP client. Using Core FTP LE you can easily maintain and update your site through FTP. It also provides secure file transfer protocol through SSL, SFTP, HTTPS, FTPS, TLS so that it becomes easy for you to upload files to FTP servers or download files from FTP servers. The strength of Core FTP LE is its ease-of-use, fast and reliable performance. It provides an excellent and efficient GUI which is tremendously easy to use.
Some of the salient features of Core FTP LE are as follows:
Secure FTPS, TLS, SSL, & STPS
Provides HIPAA compliant security
Fast and Secure Client Transfers
Supports Site-to-Site File Transfers
Browser Integration
File masking
Supports Remote File Searching
Support for International Domain
Command Line Support
File Permissions (CHMOD)
Advanced Directory Listings
Mode Z Compression
Full Drag and Drop Support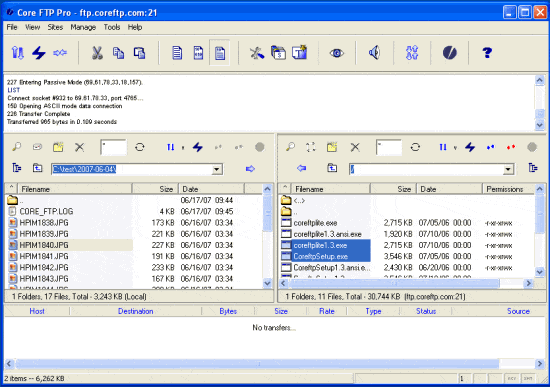 Windows Secure Copy better known as WinSCP is a free and open source FTP/SFTP/FTPS/SCP client for Windows OS platform. Its chief function is to transfer file between a local and a remote computer. It also provides for scripting and has basic functionality for file manager. WinSCP supports advanced features such as remote text editing and is truly lightweight, fast and reliable. It also sports a portable version too.
Some of the salient features of WinSCP include:
Easy-to-use Graphical User Interface
Supports Multiple Languages
Command Line Interface
Batch file scripting
Integration with Windows
Support for keyboard-interactive, SSH password, public key, Kerberos (GSS) authentication
Stores site information
Explorer and Commander Interfaces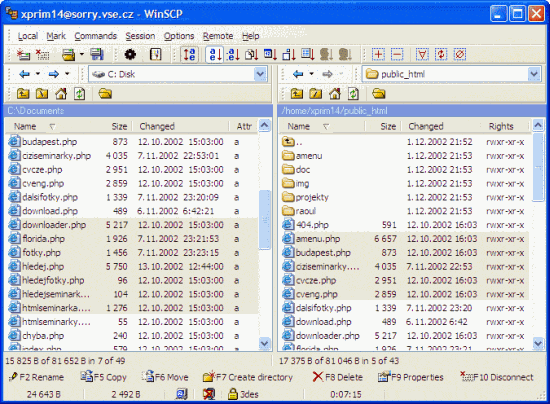 SmartFTP is an FTP/ SFTP, SFTP, S3, SSH, WebDAV, Terminal client. Using SmartFTP you can transfer files between your local computer and a server over the Internet. SmartFTP is a powerful, efficient, reliable, fast, and easy-to-use tool for file transfer. One can use SmartFTP for website publishing and maintenance, upload/download of images, documents, music and movie files, for sharing files with your friends and co-workers, and also for backup and synchronization of local and remote files.
Some of its salient features include:
FTP and FTPS
Integrated Editor
Modern Graphical User Interface
HIPAA 5010 Compliant
FIPS 140-2 Compliant
Multilingual
Advanced Schedule
Drag and Drop
Transfer Integrity
Transfer Queue
File/Folder Synchronization
Thumbnails View and Preview
Remote Edit of Files
Proxy / Firewall Support
FTP Command Line
CHMOD (Properties)
IPv6
MODE Z
URL Watcher
and much more…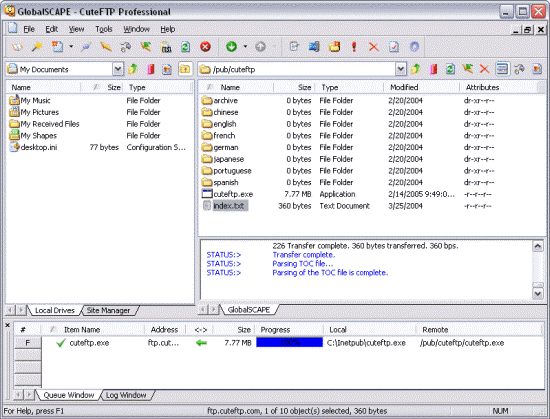 We hope that you would have found the collection of Five Best FTP Clients very valuable and useful. We look forward to your comments and suggestions.