If you have more than one Wi-Fi devices like desktop computers, laptops, phones, gaming systems etc but only one internet connection and want to share internet on all devices then why not convert your computer wireless hotspot.
It happens to most of us that we have one internet connection, and we have many more Wi-Fi enabled devices. We can connect all our devices to internet if we have Wi-Fi enabled router or similar hardware but if you don't have such similar hardware then how you can share internet on other devices. The answer is "Connectify Hotspot".

Connectify Hotspot is software that helps you to connect your devices through Wi-Fi with one another using a single connection.
Connectify comes as a Windows Application that helps to transform your home computer or laptop into a Wi-Fi hotspot so that you can share your internet connection with co-workers, friends, and other mobile devices.
With Connectify Hotspot, you do not require to use any additional wires, chargers, plugs or hardware so as to share your internet connection wirelessly with other devices. Using Connectify you get the freedom to connect your personal network to any number of Wi-Fi enabled devices including phones, laptops, gaming systems, and much more. It acts as a software router between your internet connection and the other Wi-Fi enabled devices connected to your system.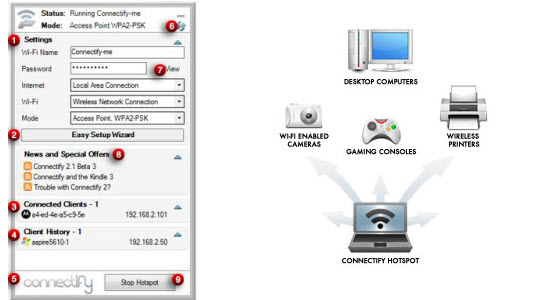 Connectify Hotspot is both free and paid software which is easy to download and install and is a very good replacement to heavy and bulky devices for sharing connectivity. Its free version is powerful enough so as to meet most of your personal usage and is loaded with a simple firewall program. Whereas its Pro version enables you to use your laptop as a repeater and enables you to share 3G or 4G connections, as well as Wi-Fi and Ethernet connections. However, Connectify Hotspot Pro is not a cheap product and costs $25 for a yearly license and $40 for a lifetime license.
Connectify Hotspot turns your computer or laptop with a wireless connection into Wi-Fi hotspot and shares your internet connections easily with your friends or can be easily used in business e.g. A single internet connection used in a hotel, home internet connection to your Smartphone. By using Connectify Hotspot, you are not only able to share internet connections but can also share files and printers between multiple computing systems without requiring physical access point or router.
Connectify is available for Windows computer and Android version is also available. There are endless things that you can do with your Connectify Hotspot.
The free software gives you basic opportunities like connecting your devices using single internet connection and enabling and disabling the connections that are using your connections. Whereas the pro version of Connectify offers these basic opportunities with the media sharing, firewall protection, using 3G and 4G networks and more.
The Connectify Hotspot is complete secure. Your password id completely protected and encrypted. Your connection is encrypted in default settings only.
Connectify is the complete solution for sharing your internet connections safely. There is only few such software available, and Connectify is a very good among them. Connectify is very easy to download and install, and the user interface is also extremely easy.