If you are one of those who gets annoyed to see advertisements on a mobile device, then you are certainly in for an Ad Blocker App for Android.
Here in, we go on to showcase six best Ad Blocker for Android.
These Ad Blocker Apps will prevent advertisements from showing up on your Android devices.
So, you get the Ad-free screen on your mobile device, once you install and activate Ad Blocker for Android.
These are the best Ad Blocker Android Apps that will make sure that advertisements don't show up on your mobile device.
Ads are everywhere whether you like it or not.
They pop up on your TV screens, on magazines and of course on the Internet.
You can't simply escape them.
Having said that, all advertisements are not bad.
Some advertisements are interesting and go on to provide useful information for many viewers.
However, as the excess of everything is bad, the rule holds good even for advertisements.
So, an excess of advertisements is also bad. It applies to net surfing, as well.
You simply don't want to spoil your experience when you are playing your favorite game or streaming audio/video online.
The unwanted ads get displayed on your mobile screen and spoil your whole mood.
Moreover, unwanted ads kill your browsing experience, and they function as a road-blocker when you are downloading something quickly.
You just have to struggle your way through ads and waste your precious moments.
Well, advertisements help webmasters to earn revenue – who toil hard to bring valuable and useful content on their websites regularly for you.
Still, advertisements function as a show-stopper and distract your attention while you may be busy reading a piece of content, playing a game or streaming video online.
Moreover, some sites go crazy with their ads and go on to bombard your mobile screen with numerous ads prompting you to 'purchase this item' or visit this site.'
This is where it starts irritating you, and you feel helpless.
So, it is best to restrict ads on your Android device so that you can see the web content without the much irritating ads.
By installing an Ad Block Android App, you can block any ads from showing up on your Android device.
However, you need to be careful while selecting an AdBlock for Android as downloading a bad ad blocker android can cause a whole new set of problems.
That's precisely the reason that prompted us to come up with the post. Here, you get best Android ad blocker that will not only block ads from showing up on your Android device but keep your device free from malware and other security issues.
So, let's get going and see the best Adblock for Android.
Here's the list of 6 Best Adblock for Android.
6 Free & Best Ad Blocker for Android
Adblock Browser for Android is the first app on this list of Ad blocker for Android.
Its Android version is available on their website.
In fact, Adblock Browser is one of the most trusted ad blocker apps for Android.
Its features are simply amazing.
Adblock Browser can block all annoying ads on the web by default. It blocks video ads on YouTube, Facebook ads, pop-ups, pop-under, and flashy banner ads.
It functions using a filter list. There are pre-made filter lists, or you can create your own. Moreover, Adblock Browser can be customized to suit your browsing needs.
Further up, Adblock Browser encourages the use of nonintrusive advertising rather than irrelevant ads. It has defined acceptable ads and has outlined appropriate ad placement and size. Ads which satisfy these criteria are visible. However, users can disable this feature and browse ad-free.
With Adblock Browser, you can disable tracking and browse the web more anonymously. Adblock Browser not only provides malware protection, but it also blocks domains which are known to spread malware. Plus, it can also disable social media buttons from websites.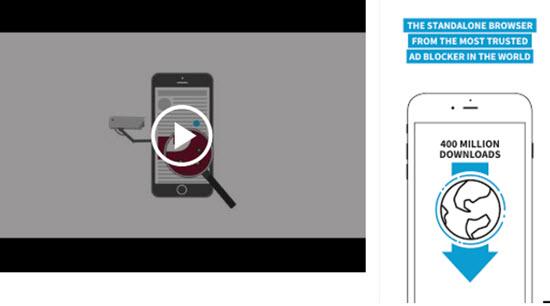 Adguard is one of the most advanced web filter and ad blocker.
It not only protects you from irritating advertising but also from malicious, and phishing websites, online tracking, and much more.
It handles all types of internet ads, saves bandwidth, speeds up page load, and protects your mobile device against possible threats.
Its unique technology filters the traffic on your device without ROOT privileges. Adguard goes on to block all types of ads, in browsers as well as in games and apps.
Moreover, it is easy to use: one button to protect your Android device.
Adguard also provides protection from phishing and malware.
It speeds up a load of web pages. Adguard guarantees the protection of your personal data.
All-in-all, it makes Internet safe, clean and comfortable for the user.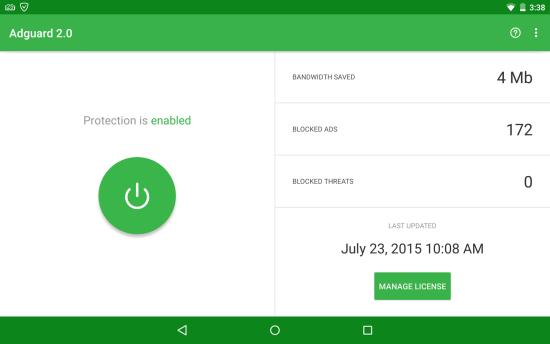 With Free Adblocker Browser, you get to have ad-free web experience so that you can easily view content that matters to you. Free Adblocker Browser blocks ads, banners, ad videos, and pop-ups. It also prevents advertisers from tracking your behavior and goes on to save battery and data volume. It is one of the best mobile browsers.
Here are some of its notable features:
• It blocks all kinds of annoying ads.
• Super fast browser with Adblock.
• Blocks ad-cookies from third parties.
• Provides secure browsing experience.
• It's Adblock technology saves battery and data volume.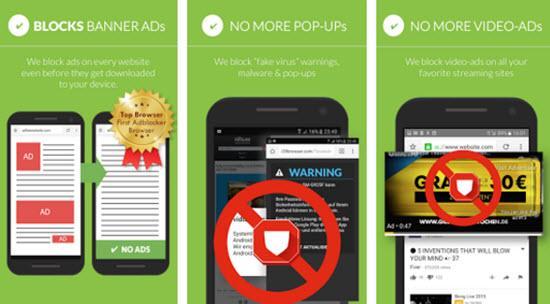 Adblocker Browser is one of the best Android Browser with Adblock capabilities. Using Adblocker Browser, you get ad-free web experience and can view content without any annoying ads. Adblocker Browser blocks all kinds of annoying ads whether it is ad-videos, pop-ups, banners, or pre-loaded ad videos.
You get secure browsing experience. It saves battery and data volume using Adblock technology.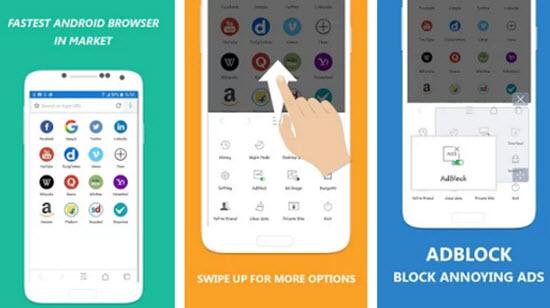 Adguard Content Blocker is a free and open source Adblock for Android. It blocks all ads only in Yandex Browser and Samsung Internet Browser without having to root your device. Adguard Content Blocker speeds up website loading times. However, it doesn't block ads in any other apps.
Adguard Content Blocker can also be customized according to your browsing needs. You get to choose from over 20 language-specific and general filtering rules.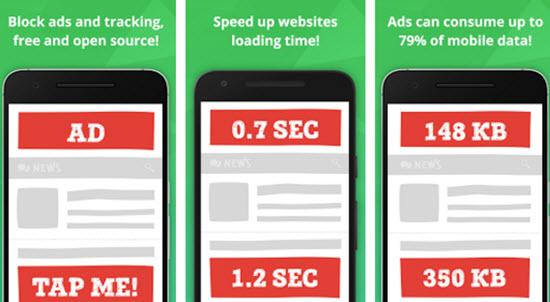 Brave Web Browser is an Android web browser with built-in Adblock, tracking, and security protection. With Brave, you get ad-free and seamless browsing experience.
Further up, Brave is known for its fast and secure browsing experience available for Android. So, Brave delivers lightning fast browsing without pop-ups, malware, and other nuisances.
Brave speeds up page loading time improve performance and protect from ads infected with malware. It delivers up to 4x speed increase on Android thereby facilitating battery and data optimization.
Some of the highlights of Brave include:
* Built-in Adblock
* Blocks pop-ups
* Tracking Protection
* Data optimization
* Script Blocking
* Battery optimization
* Https Everywhere (for security)
* 3rd party cookie blocking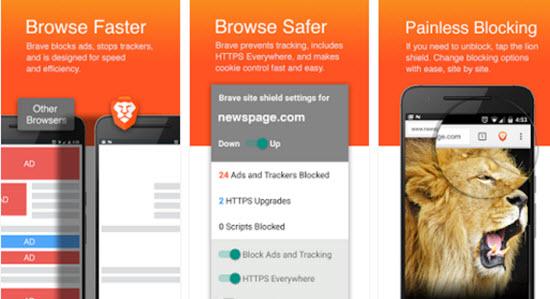 We hope that the presentation on 6 Best Ad Blocker for Android has helped you in selecting the most fitting ad blocker Android according to your requirements. If you liked the post, don't forget to share it with your friends and colleagues. Do let us know your comments and suggestions.