An Antivirus and threat protection tool is must for your computer system.
This is not an exaggeration but a reality for every PC user.
And I surely believe that you too would agree with my above statement.
Moreover, without a proper threat protection suite, your system remains vulnerable to all kinds of security issues including viruses, malwares, Trojans, and other online threats.
What you need is a powerful, advanced, and comprehensive security suite for your computer system so that you can safely work on your system.
If you too are looking for such an antivirus and network security software, let me assure you that you are perfectly at the right place.
Hereunder, I showcase one of the formidable names in computer security and protection and that is none other than FortiClient Antivirus and network security software.
Although I have used many Antivirus software for my computer, I can safely say that FortiClient comes in line with the best Antivirus software that you can install and use on your system.
I say this because of its extensive and rich set of features that FortiClient comes with.
Other than being a regular antivirus software, FortiClient also functions as a web filtering and network optimization tool. It acts as a firewall and has been empowered with many parental controls.
This makes FortiClient a comprehensive package as far as virus defense is concerned together with acting as a network security software empowered with fully customizable parental controls for your computer system.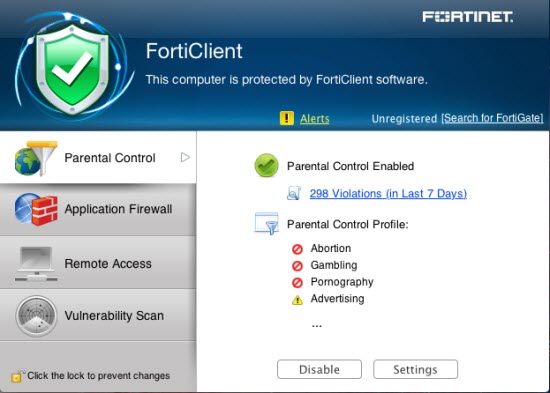 So, using FortiClient will ensure that you don't have to worry about your computer security. You won't be worried about malicious files affecting your computer system. Neither you require keeping an eye on your kids as to what they are accessing on PC.
Let us now move on and dwell in detail on what FortiClient has in store for us.
With FortiClient, you get a constant virus protection for your PC which is popularly known as on-access or resident protection for your PC, and that too absolutely free. So, with FortiClient in place you can get rid of antivirus software which charge you for their yearly updates. FortiClient provides automatic updates, firewall, scheduled scans, web filtering, as well as comprehensive network security.
FortiClient functions to extend the capability of FortiGate's Unified Threat Management so as to ensure security to all endpoints on your network. FortiClient integrates all your devices including laptops, desktops, smartphones, and tablets with your FortiGate. Every device; be it local or remote, stationary or mobile are integrated with FortiGate.
This results in uncompromising security for all your users which enhances their work efficiency. FortiClient acts as a complete internet security suite and is ideal for home usage.
FortiClient comes with Antivirus engine, intrusion prevention technology, endpoint application detection, WAN optimization, Pre and Post-Execution Behavioral Analysis. It also provides Endpoint Monitoring and Control, Anti-Rootkit Protection, Single VPN Configuration, Personal Firewall protection and much more.
FortiClient is being offered as free antivirus and can be used by consumers, small businesses, as well as large enterprises. If you seek a comprehensive security solution for your PCs and laptops, Fortinet's Antivirus and network security software is a name to trust and rely upon for all your computer security issues.
Moving on to its installation, FortiClient installing is pretty easy and is done within few minutes. Its set up file is small and is about 10MB which is small when compared with other antivirus software. Having said that, its first update may take a long time to finish as it has to download the latest antivirus engine and definition.
Then you would definitely like its interface as it is neatly laid out, simple and easy to understand and use. Its left hand side bar carries all the main features being showcased in a categorized format.
Moreover, it requires little configuration, and you don't need a powerful computer to run FortiClient. It is compatible with all the Windows Operating Systems including Windows XP, Windows 2000, Windows Vista, Windows 7, Windows 8, etc. Running a FortiClient full system scan just uses about 30% of your CPU capacity on average.
The scanning is fast too. It provides real-time antivirus scanner which does the job pretty well. You can schedule weekly virus scans and can also run manual scans when you want. To further reduce on the scan time, FortiClient has a database of "safe files not to scan". Talking about its detection capacity, with FortiClient you get a pretty good rate of detection which makes it a formidable and powerful Antivirus software. However, Fortinet has an ample scope of improvement when FortiClient detection of the virus capability is concerned.
FortiClient comes studded with parental controls which provide considerable flexibility with respect to system monitoring and regulation. With FortiClient, you can block websites with specific URLs, or content category. Talking about its downside, FortiClient network optimization is only available for FortiGate devices, and it neither has any silent mode for full screen or gaming mode. With FortiClient, you even cannot access a shared folder on a local network.
Bottom Line
Having analyzed its pros and cons, I can safely conclude that FortiClient is a powerful and comprehensive antivirus software with versatile parental controls and network security features. Moreover, FortiClient comes as a free Antivirus and Network Security software which makes it even more appealing to you.