I strongly believe in popular Sayings and Idioms and have always tried to evolve my life around them. One such popular Saying that has been close to my heart and I want to share it with you goes like this, "Health is Wealth".
Although the Saying is composed of just three words but it has indented a deep impact on my life. I hold it dear and have come to realize that life can only be enjoyed when you practice a healthy lifestyle.
One important aspect related to health is "Weight Management".
Without Weight Management, you cannot imagine a healthy life for yourself.
And you would be happy to know that weight management can be practiced right from your mobile handset.
It's a blunt fact.
Today we are living in the world of mobile apps and through a Weight management App you can easily manage your weight and can stay fit and fine and healthy.
No need to join costly weight management programs or put hundreds of dollars learning weight management tricks and techniques. With Weight management App at your service, you can readily embark on a journey to a healthy lifestyle.
Hereunder, I showcase to you one such smart and powerful weight management App called Noom Weight Loss Coach.
With Noom Weight Loss Coach, you can be sure of a healthy life for yourself.
Now, let's move on and learn more about this fantastic Android, and iOS App Noom Weight Loss Coach. But before I do that let me assure you that with Noom Weight Loss Coach you get all the tools and guidance you require to lose weight. With Noom in place, you will not need any other Weight Management App for structuring your weight for a healthy living.
Noom Weight Loss Coach comes as a personalized coach which will help you to form healthy habits through the meal logging, daily tasks, and exercise tracking.
So, if you are dying to lose weight, don't worry just use the Android/iOS App – Noom Weight Loss Coach, and you would be on track to weight management for your body.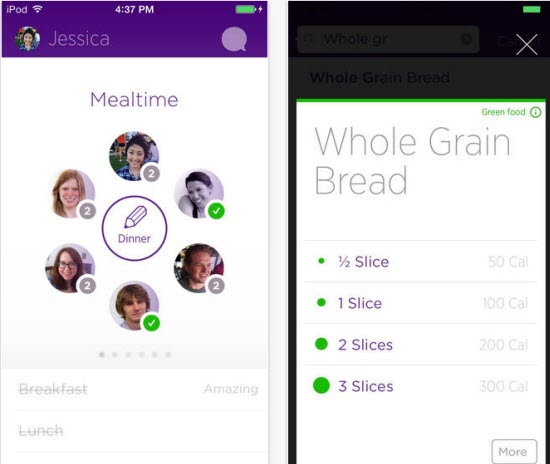 Moreover, Noom has earned the reputation of being the most trusted Android, iOS App for weight loss. The App has been designed with a supportive and encouraging approach so as to make your weight loss spree an easy and enjoyable task.
It would be an encouraging sign for you to know that its users have lost average of 10 lbs in 2 months. So, you see that the Noom App is capable of delivering results. You just require approaching your weight loss on a regular and disciplined manner.
As it name signifies, Noom Weight Loss Coach not only tracks your calories and workouts, it also coaches and mentors you for weight loss. It provides step by step instructions while workout. With Noom Weight Loss, Coach you stay motivated and approach your weight loss in a happy manner. It would be apt to say that Noom teaches you how to lose weight.
You would simply love Noom!
And all this happens right from your Android, and iOS Phone or Tablet.
Noom provides a set of tools which make it easy for you to log meals and workouts. It even comes with an integrated pedometer. With its perfected search algorithm, you can log meals in a matter of few seconds. It has color coded logging which teaches you which foods are healthy for you.
Noom maintains a robust food database which has listed nearly one million food items including local cuisines and popular restaurants. It even remembers favorite foods for you which makes logging fast. Moreover, Noom's intuitive and beautiful design will further motivate you to take on your weight loss regime even more sincerely.
It even goes onto deliver health and wellness related articles to you on a daily basis. Noom performs exercise tracking both indoor and outdoor. That's not all as its user support forums provides an opportunity to connect with others, share tips, and ask questions. You can even share your weight loss journey in your Noom Group.
Noom is supported across several platforms and provides convenient home screen widget. It provides an opportunity to plan to follow meals like Morning Snacks, Breakfast, Lunch, Afternoon Snacks, Evening Snacks, Dinner, etc. You can add unlimited meal menus. You can also view recipes with calories meter it and has been empowered with many other useful features.
The Bottom Line
All in all, Noom Weight Loss Coach is a comprehensive weight loss Android, iOS App that you would love to install in your Android, iPhone Smartphone and Tablet. If you wish to lose weight and that too without investing money on costly weight management programs or by giving heavy fees to Dietician, then Noom Weight Loss Coach iOS, Android App can be your perfect answer to weight management.
Noom's intelligent weight loss coaching will help you to lead a healthy life. It provides nutritional guidance and exercise coaching which will make weight loss a child's play for you. Noom manages the whole regime of weight loss smartly. Noom is highly effective in the sense that out of 10 active Noom users; 9 lose weight. That itself is a sign that with Noom Weight Loss Coach you are destined to lose weight.