If you have an iPhone and encounter problem while sharing your photos and other types of files with your friends and family who is using iPhone or Android phones, then Bump is a solution for you. Well, Bump is a file transferring App that works on both iPhones, as well as Android phones. You can transfer files or data from one mobile device to another by just tapping the devices together.

As it is more popularly called, you can bump files and photos from one mobile to another. It is really easy, fast and safe. All you need is an internet connection and need to install the Bump App on your mobile device.
If you want to share photos, contact information, applications, music, calendar and social networks between two smartphones but are not able to find any easy way to share, then Bump is the easiest way for you. With bump, you can share files with any other Smartphone by bumping both the devices. Bump offers all features you need to share files between two smartphones.
With bump, you can send files from – "iPhone to Android", "Android to iPhone", iPhone to iPhone" and "Android to Android" or you can say that sharing between "iOS to iOS", "send files from iPhone to iPhone", "iOS to Android" and "Vis-à-vis".
Moreover, the Bump App is available free for both Android and iOS platform.
How it works- simply bumping two phones together. Just open Bump, hold your phones, and gently bump your hands together — Bump will magically do all the rest. Bump is magic in action.
Bump works on network connection, so data service is mandatory for Bump to work if you are connected to the Internet via a cellular service Bump will use your data plan. Your standard data plan rates will apply, or you can use your WiFi connection. It means we don't need Bluetooth connection for bumping.
How to share?
Sharing is pretty easy with Bump. All you need to do is to open bump app on both of your devices and bump it together you feel vibrations on both of your devices, and you will see devices name and photos appear on both of devices press accept now start sharing. You are done, and if it is not so than you need to bump it again until you the confirmation message on both of the devices.
With Bump you just not only can share apps, photos, contact information with bump now you can even add a person from your social network to bump network and chat with them anytime anywhere and discover mutual friends with someone with just a bump (from your address book and social networks) existing features are still there but now in Bump 3 you cannot share applications among iPhones, iPad and iPod touch.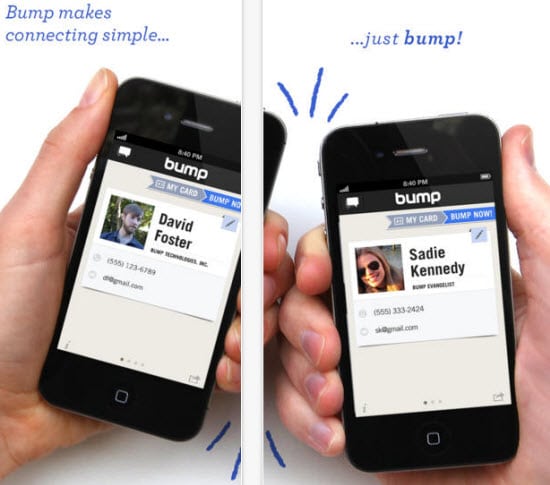 If you love to share stuff with your friends it is must have app for Android and iOS devices, it is the easiest way to send files from iPhone to other phones, and the great thing is it's free for both OS. It allows you easy sharing and chatting and builds your own bump social network.
Download Bump for Android
Download Bump for iOS Devices