Fishing has been one of the favorite pastimes for ages.
So much so that fishing has become an addiction for many people for which there is no known cure.
Many people are seen skipping their job just to go to for fishing.
Such is the love, liking, and madness that people possess for fishing.
Moreover, it has been seen that fishing has evolved over time in the sense that it has continuously adopted new techniques and tools which have made fishing easy and exciting.
Fishing has successfully adopted new types of bait, rod, line, and many other tools and equipment. The latest additions being Fishing Apps which have made anglers' bag ever more powerful.
The Fishing Apps are there to help you make your fishing a more fulfilling experience. They provide everything from fishing guides and logs, to solar and lunar timetables, social networking tools, knot guides, and more.
Here, we bring to you 7 Best Fishing Apps for Android that helps you to heighten your fishing experience.
So, if you are a fishing lover, check out these amazing and wonderful fishing apps. They help you to plan trips, create contours, and check the sea-surface temperature and more.
Make your mobile device a fishing 'Genius' with these best fishing apps for Android. By using these Fishing Apps, you would go to love every moment when you go out for fishing.
A wealth of information is waiting to be explored.
So, head straight over to these Fishing Apps for Android and see how they can help you to make your fishing more exciting.
They are loaded with tips, tricks, and information.
We have done the hard work already and have picked the best fishing apps for Android so that you would not have to devote your precious time searching for the best fishing apps.
Get ready to witness the best in Fishing Apps for Android.
Here's the list for you.
7 Useful Fishing Apps for Android
Fishbrain is one of the largest community-based fishing apps. It allows anglers to chat about hot fishing spots, show off their catches, and report on various findings. It also allows viewing reports and catches from other anglers in your area so as to find out where the hot bite is. It also offers a built-in logbook which helps to track your catches.
Once you sign in, the Fishbrain fishing app provides you a crowdsourced database of more than 1.7 million fishing locations. The fishing app helps you to find out where to fish, what bait is working, and what fish are biting. It also comes in a pro version which serves information such as what kind of bait to use, fishing forecasts, and better location services. All-in-all, Fishbrain – Fishing App – is worth a shot.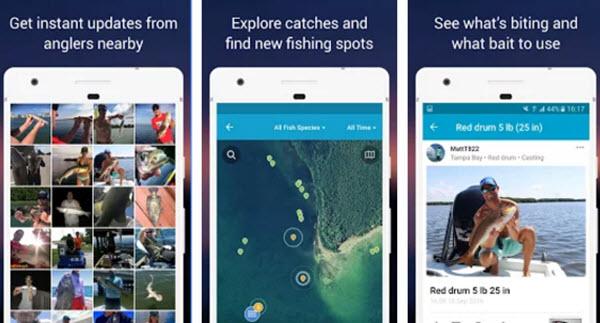 The Fishing Points app is suitable for saving and finding your favorite fishing locations, trotlines, and trolling paths. Use the Google Maps or offline mode with nautical charts. It is useful for every angler, whether new or experienced, in open seas, lakes or rivers. It helps to plan and prepare for your fishing trip by providing you best fishing times via solunar data, tide prediction, and weather forecast.
Fishing Points app allows creating of fishing logs, as well as you can save the details of every catch including photos, weight, and length. Its navigation assistance is awesome. You can save fishing locations, hotspots, waypoints. Go on to record trolling paths and trotlines. You can find saved locations with GPS Navigation System. It provides current weather conditions together with hourly forecast. It offers tide prediction charts, as well.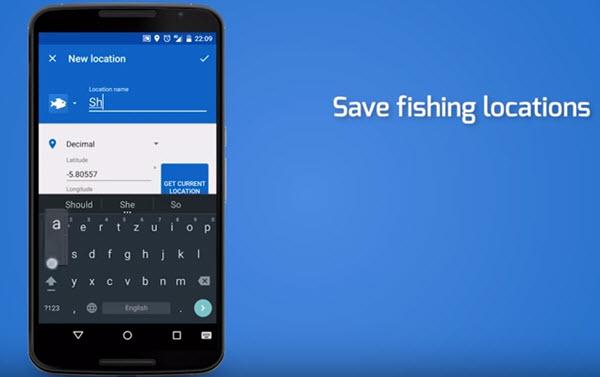 The Deeper – Smart Sonar app comes as a perfect planning tool for outdoor activities such as fishing. Using the Deeper app, you come to know when to fish, where to fish. You even come to know where the fish are hiding, photograph them and tell the world about it. It provides you the opportunity to start fishing the smart way. It is suitable for amateur as well as professional fishers alike. Deeper is a perfect portable wireless fish finder app. You can use the app for finding the location of fish, the depth, water temperature, bottom contour, and much more.
You can use the Deeper app for sea, lake, or river fishing; in summer or winter. Using its innovative technology, you go on to improve your fishing experience. It provides a detailed fish activity calendar based on solunar forecast data, current weather reports, a customized fishing log, an integrated camera function, as well as an integrated map function. The Deeper App comes integrated with social media sharing option so that, you can share your fishing stories and pictures easily and quickly.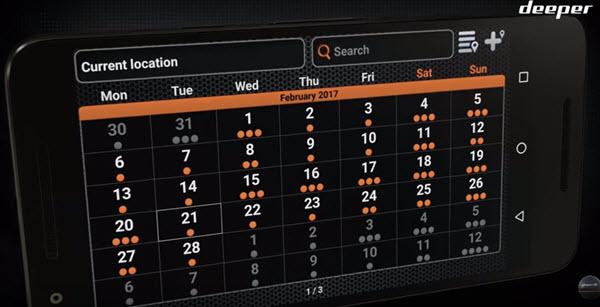 The Google Maps App is very useful for planning your fishing trip. It provides details for real-time GPS Navigation, traffic, and transit. You get details about millions of places with reviews and popular times. It helps you to reach your destination in less time with real-time updates and information.
It serves real-time navigation information, ETAs, and traffic conditions. It enables you to help others discover places by sharing reviews, photos, and more. You can even locate pit stops along your route such as coffee spots and gas stations.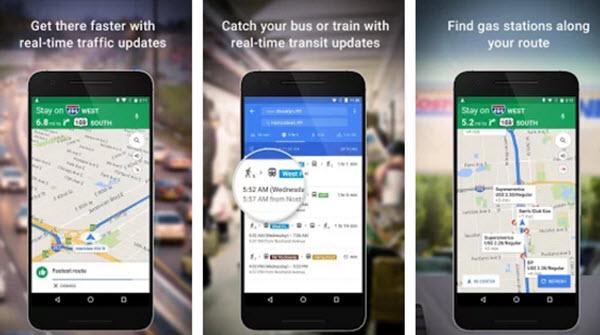 Being a successful fisherman requires you to be aware and champion in most popular fishing knots. So, here's an app which functions as a quick reference for some most popular fishing knots. The Useful Fishing Knots App provides a number of most popular fishing knots. You come to know different ways of tying fishing lines together, making a loop or attaching a hook, weights, floats, lures, and other baits.
When you are aware of different fishing knots and know when to use them, you tend to become a more successful angler. Each fishing knot described in this app comes with pictures, description, and step by step instructions on how to tie it. All information is stored offline, so you do not need an internet connection for using the application.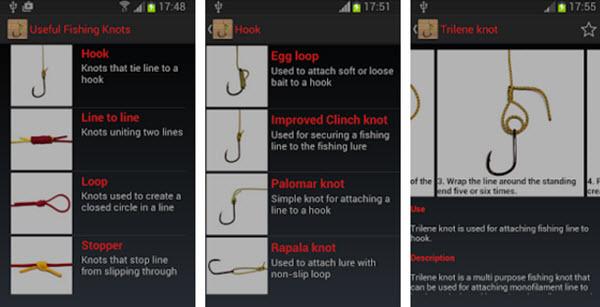 Pro Angler is one of those fishing apps which you would surely like to have in your arsenal before you go out for fishing. It can rightly be called as the whole package in one place. It provides location-specific reports and fishing advice from handpicked team of veteran captains. It also offers fishing techniques for individual species as well as tide charts and weather data. What's more, you get over 15000 GPS Hot Spots, Radar Weather, Tides, location reports, fish species in over 500 locations.
It furnishes detailed species guide and angling techniques. You get information regarding State and Federal Regulations. It has been studded with information regarding all major Offshore, Nearshore, and Inshore fishing locations in Florida. It provides information regarding Tides, best times to fish Solunar Info, and real-time Marine Weather updates. All-in-all, Pro Angler endeavors to make fishing an enjoyable experience.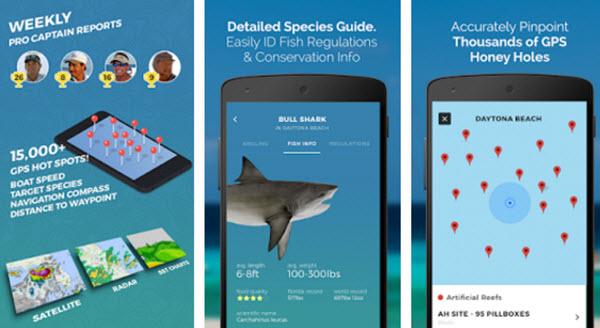 GoFree Hooked fishing app makes fishing a delightful experience for you. It has been designed for all anglers, irrespective of the fishing skill level, onshore and offshore, in freshwater and saltwater fishing environments. It enables you to log fish catch locations, save fish catch photos, record fish details, and notes about the catch.
It enables you to share fish pictures and images with your friends and loved ones via email, text, or social media. With GoFree Hooked fishing app, you can keep track of your fishing success. It allows you to review fishing trips and specific catch locations on a map. You can study fish details and keep notes to monitor your progress. You can even revisit your best fishing spots and monitor your performance through your private fishing logs.
So, GoFree Hooked functions as a complete fishing app and makes fishing a remarkable experience for every angler.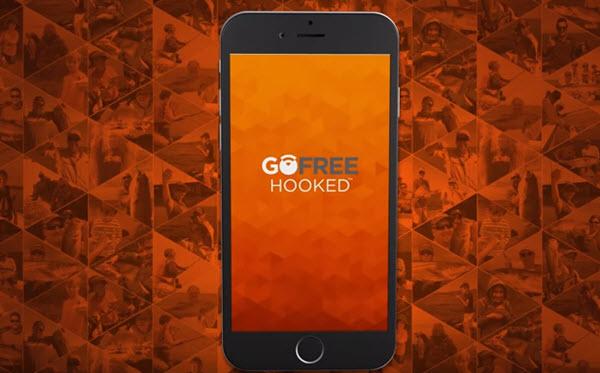 So, when you head for fishing next time, remember to empower your Smartphone with one of these Fishing Apps. We hope that this presentation on 7 Best Fishing Apps for Android proves immensely useful to you.