It is a good habit to back up your computer data. You would never like to lose your important data, and files. Backup ensures that you always have your important documents, files, and folders with you. Likewise, you also need to backup your photos, images and media rich content. These are invaluable for you. They are lifetime memories, and you just can't afford to lose them.

However, most of the time you end up with creating a pile of copies of your digital photos which you don't even know you have backed up or not, so you are not able to delete them even though you want to. But to find these duplicate copies and compare them visually could takes hours of hard work.
However, digital media whether they are photos or videos consumes lots of disk space. It's a sheer wastage of disk space if you have piles of copies of your photos, videos or digital media files. If you have free disk space, your computer might run faster. This disk space can also be utilized for something else.
The solution lies in using software which can detect duplicate images and videos and can free up disk space for you.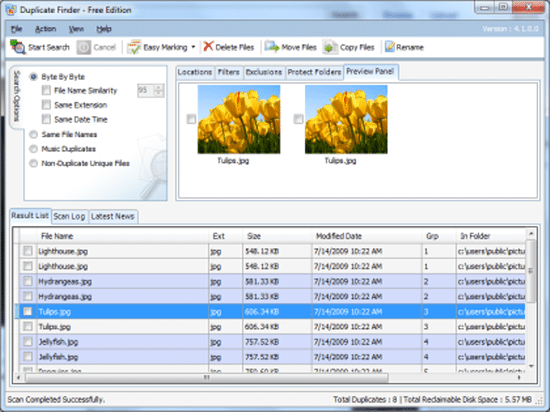 Duplicate Image Finder is one such competent software which can detect duplicate photos and videos and free up space on your hard drives.
So if you have piles of duplicate copies of photos or videos and want them to be removed from your hard drives, the solution lies in using this excellent and powerful software called Duplicate Image Finder. It is fast, simple to use and with easy controls. The software employs advanced algorithms, which enables it for quickly finding similar images and videos and remove them from your hard drives.
So it does not matter, if you have similar images in different formats, image sizes or bit depth, Duplicate Image Finder can easily detect duplicate images for you. You just need to specify what percentage image similarity would be used by the software during the scan. When the scanning is completed, the program lists down all the images with their duplicates. It automatically marks the smaller resolution duplicate images for deletion.
With a few mouse clicks, you can then easily delete all the duplicate images and/ or videos and free up valuable disk space.
How to Find and Remove Duplicate Photos
Software named Duplicate Image Finder helps you to find and remove the duplicate copies of your photos in your computer keeps the resources of your computer free which helps to increase the performance of your computer. This software is fast and saves you many working hours.
Features of Duplicate Image Finder

Two powerful search engines
Search based on 'byte by byte' and 'CRC32'
It can detect and delete duplicate images (pictures, photos, videos, movies)
Find files with same contents, same name and zero size.
Supports several removable devices such as iPhone, iPod, Mp4, Zip, Flash Drives, Mp3 Players, PSP, etc.
You get the option to add multiple folders/drives for scanning
Facilitate searching over the local PC and also over network
You can find duplicate images from a selected set of folders or from the drive. You can even select the network drive.
You get the freedom to deselect important folders, which will not be included in scanning altogether.
You can resume it in between and can continue it afterwards
Job Session and Results can be saved for later review.
Export the results in HTML and CSV formats.
All-in-all, Duplicate Image Finder helps you to organize your photo collection better, helps you to keep your computer's disk space free and with all this it increases the performance of your computer.
Download Duplicate Image Finder