Have any idea or concept in your mind?
No need to hold it any longer in your mind or fear losing your valuable idea as now you can just draw it on your Android, iPad or iPhone using Mindjet app.

Using the Mindjet App you can easily enter ideas, take down meeting notes, enter tasks into sensitive visual maps that help you quickly organize concepts and prioritize action items. Mindjet is compatible with Android and iOS 5+ and is a thoroughly easy to use Mind mapping App for iOS and Android users. Moreover, it is a highly interactive mapping app which is absolutely free app.
Using Mindjet you can instantly create new maps or even import them from Mindjet Mind Manager. You just need to slide your finger for creating new topics and tap and hold a topic to create its child or a sub-topic. It is easy to navigate.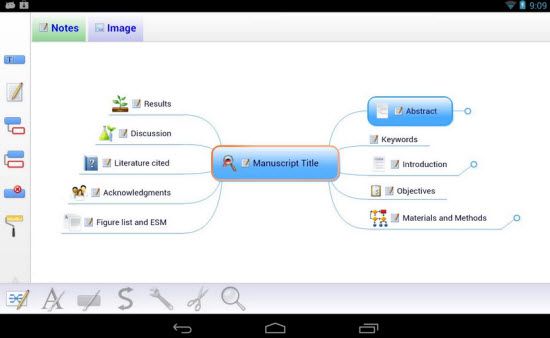 Mindjet has been studded with a unique touch based call and response functionality. This feature allows showing up the arrows with just a single tap or hold. It provides a new parent or child topic when you slide your finger in any direction. To choose edit functions, you have to double tap with the current topic. The editing options can be done quite easily with just few taps and even you can convert your branches into new maps.
By tapping twice, you can change the formatting or the shape of a node. The app also provides accessibility to Mindjet and connects where you can save your maps and can see all folders and files stored in Mindjet Connect. You can even create maps and can send them through email. Moreover, you can synchronize your maps directly to Dropbox.
Users get to have a simple interface that carries a toolbar. The toolbar hides when you do not use it or slides out when you need it. The interface is perfect as far as mind mapping is concerned and allows dumping all your ideas and views. The animation you get to see in Mindjet App is absolutely clean and robust. There are ample choices for arrows, line color, icons, line thickness, and topic shapes so as to make mind mapping a pleasing experience.
Its large map navigation with pointing of the current location and easy drag and drop feature makes it highly suitable to represent your idea via map. Mindjet app can be useful for creating top down hierarchy according to priorities and even can help you out in understanding the idea.
All-in-all, Mindjet is a splendid and awesome mind mapping software for Android and iOS devices. So if you are an Android or iOS user and looking for a mind mapping app that is clean, easy to use, intuitive and responsive, then Mindjet App can be your perfect choice. With Mindjet App, you can quickly capture your ideas and thoughts. It is a fantastic mindmapping app for business professionals who need to brainstorm for a project, for students, and even for any trivial user who needs to note down his ideas or tasks.
Some useful features of Mindjet App have been listed below:
Create child and sibling topics in one tap
Edit cut, copy, paste, and delete topic
Drag & drop topics with the feature of Undo/Redo
Zoom, expand and collapse branches
Export maps to PDF via email
Assign colors and icons to topics and add notes, links and relationship lines
Auto-layout topics and automatic canvas resizing with different map styles
Download maps stored in Mindjet Connect onto your device and access to PDF, Word, Pages, Excel, Numbers docs stored in Mindjet Connect
Download Mindjet App for Android 
Download Mindjet App for iPhone
Download Mindjet App for iPad