If you love looking at the sky and search for stars and planets, then Google Sky Map is for you. If you are amazed and wonder what the little dots that illuminate the night sky is all about then using the Google Sky Map Android App will help you to know the planets, stars and constellations that fill up the night sky. Google Sky Map is free mobile application for your Android devices. Google Sky Map will help you to find stars and planet right from your mobile phone.
Google Sky Map turns your Android device into a night sky. It identifies stars and planets that appear in the sky and show you their location on your mobile. This app use built-in compass, GPS, and clock of your device and display an annotated Sky Map of the area it is facing. If your device do not supports compass, then this app will only work in manual mode.
It syncs with the GPS locator on your Android phone correctly point out your location and shows up the sky map. You have to point your Android phone up, and the Google Sky Map shows up the location as well as the name of the Astronomical objects figuring in that portion of the night sky. Aligning your phone with the sky can be a little bit tough but on the whole it is a thoroughly useful Android App with which you can scan the night sky.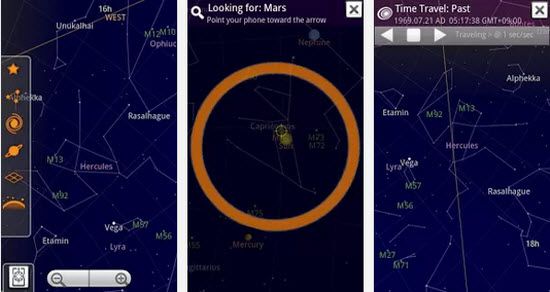 What you can do with Google Sky Map
Well, you can easily download and install Google Sky Map in your Android mobile devices. You need to open Sky Map and point it towards the space. It then brings before you an augmented reality of the night sky showing you objects of the sky such as stars and planets. Google Sky Map adjusts automatically to find out celestial objects facing your device's screen.
You have the option of zooming in and zooming out so that you clearly view the various objects of the night sky. Google Sky Map uses layers as you get to have in Google Earth. It has a menu which displays different layers. You can choose to view different layers such as planets, deep sky objects, planets, and constellations. You can choose to make these elements visible and even can make them invisible, as well. You also get to have manual as well as automatic navigation modes.
Using the search function of Google Sky Map, you can even find the locations of stars and planets relative to your present locations. It has another very interesting feature. You can input the name of a planet or star and the app then would direct you to the object of your interest. Google Sky Map even lets you manually explore the sky by simply touching your mobile screen.
So the Google Sky Map figures out a celestial object as well as can find the location of a particular celestial object. You get a labeled map of a particular section in the sky when you point your Android phone at it. When you want to search for any specific star, you simply have to enter its name in the Google Sky Map's search bar. The search bar has been preloaded with planets that you can search by choosing them from the drop-down list.
All-in-all, Google Sky Map is a great cerebral toy app to have on your Android phone. Although navigating it in the Auto Mode can be a tough ask, but overall it is a fantastic mobile app for those who are interested in astronomical objects or love to browse the night sky.