Volcanoes, typhoons, earthquakes, tsunamis, hurricanes, floods, tornadoes…
All have one thing in common. They are dreadful and fearful natural calamities. We virtually have no control over them. Nonetheless, we still can safeguard the lives of many including our loved ones, if we can be alerted beforehand. Modern technologies can effectively detect the occurrence of such dangerous natural events much before they actually happen.
How about using a computer application which can monitor such disastrous natural hazards and provide you detailed information so that you can take evasive action?
In fact, such an application would be highly useful for one and all.
Well, Earth Alerts is one such powerful Windows based weather monitoring application that is capable of monitoring natural calamities from across the globe and that too in near real time. Earth Alerts comes as a free Windows Application which provides information on volcanoes, tornadoes, earthquakes, wildfires, tsunamis, and more.
It provides critical information required to safeguard you and your loved ones from disastrous natural calamities. Earth Alerts come with an easy- to-use user interface. Its interface has been neatly organized. You get to have lots of professional and quality, weather information that is easy to read and understand.
Information is mainly presented to the users in a text-heavy format. However, Earth Alerts also serves the users with alert notifications, maps, imagery and reports. You come to know what extent of damage is likely to happen. It also informs about the extent of damage that has been caused by such natural hazardous events.
Earth Alerts makes use of various online resources to provide you with real-time information about the natural disasters occurring anywhere in the world. This includes areas close to your place or any vastly remote corner of the world. It utilizes information provided by organizations such as U.S. Geological Survey, National Weather Service, etc.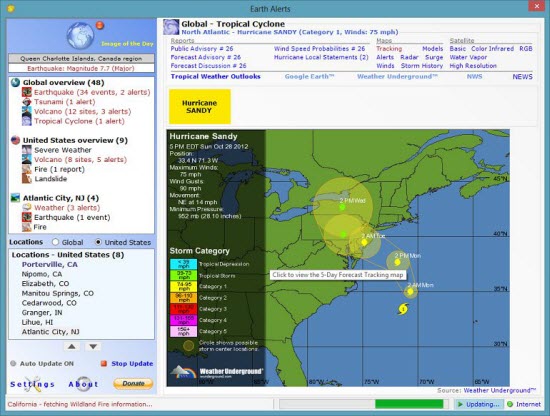 Using Earth Alerts is really simple and easy. You need to choose specific natural calamities for which you want to have information such as tsunamis, cyclones, earthquakes, volcanoes or any other natural hazards. You then need to select the locations of your interest. Selecting locations is really easy. You need to enter the name of a city or else can even enter a zip code. The application then detects the location for you. Earth Alerts then fetches all the necessary information for you automatically and presents you in convenient formats such as maps, images and reports. In case you don't enter a location, Earth Alerts then presents you with an overview of global activity.
So if, power of nature fascinates you or if you want to monitor various types of natural calamities then the powerful Earth Alerts Windows-based application can be a perfect choice for weather monitoring. However, Earth Alerts is not meant to be a weather forecasting application. It has been designed to monitor and track severe natural calamities rather than to give you update on your local weather conditions or daily weather forecast. Moreover, Earth Alerts is available as a free Windows Application and provides you with plenty of detailed information on drastic natural calamities.