For the masses! As they advertise correctly, the creators of Movavi bring you a simple fast and quick to learn Movavi Video Editor Software, which enables you to perform many amazing tasks. From editing, ripping, splitting, saving to mobile devices, burning, copying and creating backups the possibilities are nearly endless.
Ever had that desperate desire to download the video you just saw on YouTube and became an instant fan of? Well, now you no more have to search for miscellaneous software's which enable you to download videos off YouTube, instead Movavi video editor has an embedded feature which will allow you to perform this task by simply pasting the URL of the respective video that you want to download.
Even though Movavi Video Editor feels as it is complete, alas! It's not. It's a fairly 'ok' type editing tool which lacks a few features, but is really user friendly and beginners would love to use this software even though chances are that they will soon outgrow it. But given the price of the software which is quite low compared to others, the lack of these features are well justified.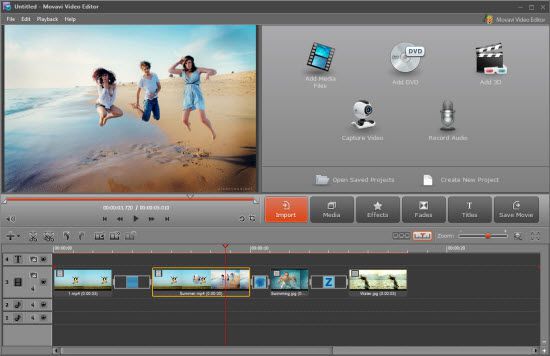 On the flipside, Movavi Video Editor has a well designed interface which is easy and simple though the finishing touches are not that well off. The best part about this is that the user can have an unlimited number of tracks to work with. This makes things easy in handling complex projects.
It is when the users start to look for advance features that Movavi Video Editor begins to experience hiccups. Even though, it offers a decent variety of transitions and effects, but when compared to many other applications available in the market, they fall short. One function called the automatic enhancement also does a marginally good work as better results have been seen by other software's which are available.
But the biggest disappointment came when it was discovered that there is no possibility to have picture-in-picture effects nor was there a provision for any sort of keying of videos. However, there was an interesting feature which is eye catching: the capability to record the activities on the screen known as the screencast. This feature comes in real handy when you need to demonstrate video tutorials about various things and have to publish it online.
Movavi Video Editor Features
It is simple, easy to use, cheap video editing software
Edit video, overlay soundtracks and customizable titles
Work with movies, music and pictures; record video and audio
It provides various filters and scene transitions
It lets you automatically create slideshows having stylish transitions
Professional-grade filters and special effects
You can enrich your videos with overlay text titles
It comes with built-in screencast functionality
It supports almost all the popular image, audio, and video formats
Video and audio transitions
You can edit 3D Videos
Automatic slideshow creation
It enables you to capture footage from external devices
It provides automatic tools so that you can enhance your footage quality
Multiple ways to share your video creations: upload to Facebook, YouTube, Vimeo, etc.
It is compatible with Windows 8
The Verdict
On completion of your project, Movavi Video Editor can save the finalized output in a variety of formats that you desire. You could also use default formats, which have already been provided to suit your mobile devices without having to tweak any settings. One notable drawback; however is that the user will not be able to work with HD footage or Blu-Ray discs which is a bit of a letdown.
All in all, the Movavi video editor, is best for beginners who need to get the work done quickly and do not need any complex functions. With Movavi Video Editor, you can edit, burn, rip, convert, copy, download online video and can even save to mobile devices. Moreover, it has user friendly interface and is thoroughly easy to use and gets the job done quickly.