With the advent, of instant messenger services mobile chatting has become a craze these days. Lot of us enjoy online chatting with our friends and especially so through our mobile handsets. Chatting on-the-go is fun, and a mobile effectively achieves this for you.
Today there are many mobile messenger applications which you can download to chat with your friends.
But they come at a cost.
How about a free mobile application which would enable you to chat without any cost?
Yes, surely there is a powerful and free mobile messenger application which you can use to chat with your friends anytime and anywhere.
With KakaoTalk free application for Android, iOS, Blackberry, Samsung and Windows based mobile devices; you can chat with your friends or can do group chatting for free. KakaoTalk free mobile app is a phone number based messenger service that enables iPhone and Android users anywhere in the world to chat one-to-one or in a group. Whenever users receive messages they are instantly notified with Push Alert. All-the-more, you can even share pictures and videos with your friends too.
KakaoTalk is loaded with rich and powerful features, which make it, a world class and easy to use mobile chatting application. Kakao Talk has made mobile chatting really exciting. It presents a fabulous layout and provides many fun icons too. However, your friends need to be signed up on Kakao Talk if you want to have chatting with them. Kakao Talk provides the facility to do a solo chat with your friends as well as you can also engage in a group chat. You get a decent call quality in Kakao Talk Messenger App. Plus: you can even optimize the app using its setting menu. The App also provides advanced notification settings. You can change themes as well as create new themes too.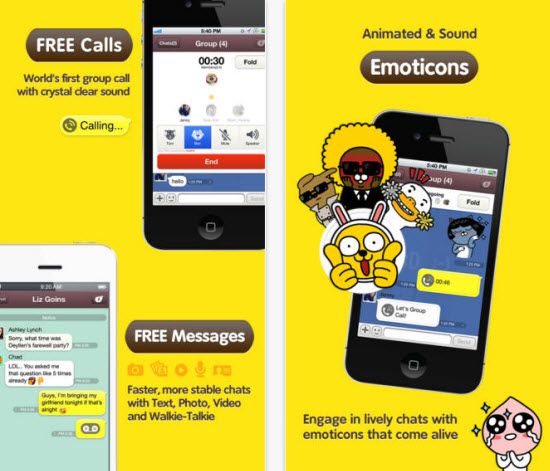 Presently KakaoTalk is available in three languages, that is, English, Japanese and Korean. You can search your Friends in the Friends Menu. You need to register your friends so that you can find them in the Friends Menu. Moreover, KakaoTalk registers your friends automatically by using the phone numbers from your contact list. You can do one-to-one chats as well as group chats.
Through KakaoTalk, you can view your friend's photo as well as status message by clicking friend's mini profile. You can set a picture as a background image for your chat room. It lets you save your chatting records as a file. You can also safely keep pictures and videos too. Its Lock feature protects your personal information.
If you are a chatting lover, and always look forward to chatting with your friends on mobile then KakaoTalk free mobile chatting app can be a perfect choice for you. KakaoTalk runs on iPhone, iPod, and iPad and requires iOS 3.1 or later. It also supports all Android devices which run on Android 1.6 or above, Windows and BlackBerry phones too. So if your family members and friends have signed up for Kakao Talk, then you can very well expect to have a fantastic time with this application. Kakao Talk is thoroughly a great, feature-rich and advanced mobile messenger or chatting application.