Talking about Contact Book Applications, what chief features would you like to have in it. Well I am sure you too would like to have a Contact Book which is powerful yet easy to use and should be fully equipped to perform all the major tasks related to a contact managing application. Then E-Z Contact Book application presents to you a free, easy and powerful Windows based program which is capable of storing and managing contact information. E-Z Contact Book has been built on the lines that a Contact Manager need not necessarily be a complex tool to be regarded as a handy and useful tool.
E-Z Contact Book functions as a personal contact address book, phone book, email book, as well as customer database or even as a business directory. It can manage phone numbers, addresses, email, faxes, web pages, and customer notes – all in a well organized and structured manner. It even lets you organize information in groups based on relationship types such as friends, family and business. The program helps you to keep track of your family members, friends, business associates, and anybody else.
E-Z Contact Book also allows you to send emails, make calls with Skype and open web pages too all in one click. E-Z Contact Book features a simple and intuitive interface coupled with powerful and quick "wildcard" searching feature. Using this software you can easily track your friends, family members, business associates, and customers too.
E-Z Contact Book has an intuitive and easy-to-use interface so that you may have no problem using it. You get to add contacts within the All Contacts heading. You just have to create a new group within it. Then for each contact, you get to add personal, as well as business contact data, birthday and notes. This makes it easy to find all your contact information. All your contact information is well organized.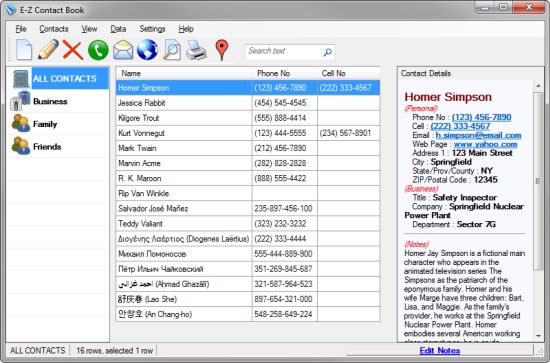 It has many other interesting features too. As an essential component, the program provides a search feature which enables you to search your contacts' information. E-Z Contact Book enables you to click a contact's email address to launch a default e-mail application. You can also click a web address to launch the related website. Interestingly you can even click a phone number to make a call. However you must have Skype installed for it. You can also see the location of your contact's address as it automatically executes Google Maps. As for the help documentation, you get to have a well written online help file too.
On the whole E-Z Contact Book is very well structured, feature-rich, powerful and easy-to-use contact management software. It is a contact manager par excellence which helps you to store and edit important information like phone numbers, emails, URLs, addresses, birthdays, notes, etc. It has all the necessary features that you would love to find in a Contact Manager including some useful extras. On top of it all, it comes for free so that you can always test it capabilities, performance and ease of use.