Is Driver updating a problem for you?
Does your driver need updates?
Do you find it difficult to scan your computer for broken, missing or out-of-date drivers?
You may not know when your driver needs updates?
Or do you want to identify proper executable for your system?
If any of the above problems plaguing your computer system and you wish to resolve driver updating problem without shedding any sweat, then let me assure you that with Slimware Utilities SlimDrivers Free you can easily keep updated your drivers.
Moreover if you want to keep your system with up-to-date drivers then with SlimDrivers Free you can easily have the latest drivers on your computer system and that too without facing any nuisance or fuss. With SlimDrivers Free, you have the latest drivers installed on your system easily, quickly, and in a fast manner.
Hereunder I have come up with a briefing on the features of SlimDrivers Free. So let us move on and get a thorough overview of the features of Slimware Utilities SlimDrivers Free.
SlimDrivers Free not only identifies when your drivers need updating, it even initiates driver install automatically. SlimDrivers Free makes sure that you get latest drivers each time. It performs system scanning for missing or out-of-date drivers and installs the latest one's for you.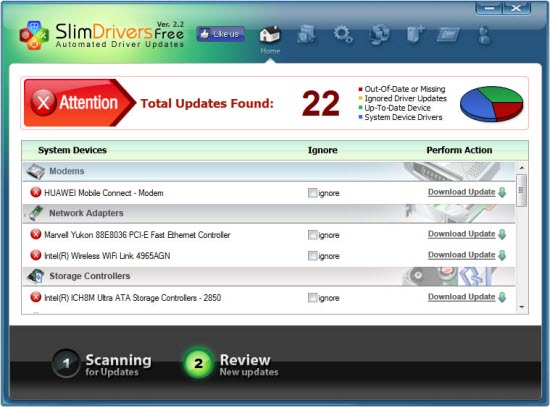 The proper executable is identified for your system, and driver installation is done automatically. With SlimDrivers Free, you never have to worry when your driver needs updating.
As you would have experienced that free, powerful, and useful driver applications are very rare to find and if by chance you come across one of them, the restrictions bundled with them make them virtually useless for you. Such applications are of no good for you. However, with SlimDrivers Free there are no such restrictions. That is the reason why they are most useful free application for a driver update.
SlimDrivers Free deliver real-time scanning and cloud technology to give you automatic updates for PC drivers. It has earned the tag of being the first cloud based application which provides drivers maintenance and updating.
You get instant optimization of the interaction between your PC and its system components and peripherals like printers, USB Ports, Game Controllers, sound and graphic cards, as well as other hardware devices.
The system is thoroughly scanned so that the correct drivers are identified and then the (latest) drivers are retrieved through the cloud. This is done automatically whereby the latest and the precise drivers are installed on each of your individual PCs.
SlimDrivers Free brings in advanced technology for PC optimization and repair. It provides Cloud Based Driver Management. So instead of coming up with a pre-set of drivers it depends on dynamic information cloud to retrieve new driver definitions for you.
Optimizing your PC (for latest drivers) is done easily through SlimDrivers Free as it uses a slimmed down update process. It even enhances computer performance, user accessibility and PC function.
With SlimDrivers Free, you get perfect control over PC drivers. You can update old drivers, find out outdated drivers and can even restore broken drivers simply by pointing and clicking.
With its automatic repair feature, you get a rapid repair of driver-related errors. Its update and install process takes out any unforeseen errors and incompatibilities. SlimDrivers Free implements latest driver update technology whereby it coordinates checks with Windows System Manager, Windows Device Manager, and Windows Update Online.
With SlimDrivers Free, you get up-to-date definition for your PC components in the cloud. SlimDrivers Free even allows you to have USB copies of SlimDrivers onto flash drives. The cloud data is retained in its proprietary database format so that users have offline access to generally common features of SlimDrivers Free. So with SlimDrivers Free you get an opportunity to clean, improve and optimize your PC and that too easily and in a fast manner.
With its crowd-sourcing, you are set to revolutionize personal computing. The scans are fast and are done with just a click of a button. The scanning includes all drivers on your machine that might be out-dated and locations are identified for update downloads which are available.
SlimDrivers Free brings to you intuitive and straightforward interface. Its interface provides a large button to initiate the scan. Once scanning is done, you get to have a list of programs with available updates and the updates can be downloaded right from the app. SlimDrivers Free even allows you to have a restore point which helps you to recover your software intact up-to that point.
As far as it's down points are concerned, its downloads may take five to ten minutes which may be a bit frustrating for you. Another aspect which you might not like about SlimDrivers Free is that it features lots of banner and pop-up ads which tend to promote paid products and programs by its developer Slimware Utilities. Whereas SlimDrivers Free only lets you download updates manually.
Bottom Line
On the whole, SlimDrivers Free is a tremendous app which provides you an easy way for driver updates on your PC. It checks for available updates for all of your drivers on your computer. Not only this, SlimDrivers Free also manages download and installation process for you. With SlimDrivers Free you don't need to check for outdated programs and updates. The SlimDrivers Free app can be used to streamline the driver update process and runs all programs smoothly. With SlimDrivers Free, you can keep updated your drivers.