There are loads of content available on the Internet. Be it text, images or videos. You will find lots of good stuff matching your interests. But it usually happens that because of the busy schedule you are not able to find enough time to read the articles. Yet you need not worry as the Pocket app is here for your rescue to solve this problem.

Now you can save for later with Pocket App. If you have saved your content in Pocket, you can then easily view, and read it later at your leisure. It does not matter whether you are using a mobile phone, tablet or computer as Pocket can be installed on any of these devices. And more importantly you do not require an Internet connection to read the articles which you have saved in the Pocket App. So that is absolutely wonderful with Pocket.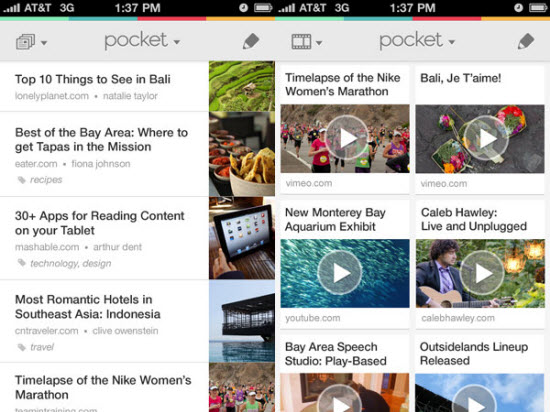 Actually the Pocket App is the new incarnation of ReadItLater, a service app for saving your content for reading it later. On the whole, the purpose and the working of Pocket and ReadItLater is the same. So Pocket lets you bookmark your content. You can do this either from a browser or through the sharing interface on your mobile device and can then read the content later. So when you open up Pocket you will get to see the contents you have saved in it. You can read the content as a full web page or you can also choose to read just the relevant text and images related to the content.
Pocket automatically syncs across all devices such as iPhone, iPad, Android, Kindle Fire, Windows Mobile, Blackberry or your computer so that you can view the content anytime and from any device. You can install the Pocket browser extension for Google Chrome and can save items with just one click. Saving content to Pocket is really easy. You can even install the Pocket Bookmarklet.
You just have to push the bookmarklet in the bookmarks bar to add pages to the Pocket list. You can also send the link which you want to read later to [email protected] and Pocket will add it in its list. Pocket has been integrated with over 300 applications across many platforms such as iOS, Android, Web, etc so that you can save to Pocket using the app of your choice.
The Pocket user-interface provides you a choice of the list view and the tile view. The list view includes tiny thumbnails whereas the tile view shows titles (in more than one size). Pocket lets you filter the content according to text, images or videos. So if you have set the filter as videos, Pocket would show videos as well as articles that have videos in them. Pocket also does not require the ReadItLater users to create a new user accounts which are good for the existing user base of this multi-device app.
All in all, Pocket is a simple yet a very useful app. And, what's more, now it is available for free. Its UI simply fascinates and it has a much cleaner look and feel than its previous version, ReadItLater. You can definitely use Pocket if you browse a vast amount of information over the web and want to save it for reading it later in your own comfortable time. It is a great app to have in your Smartphones and Tablets, as well. So get started to save for later with Pocket App.