Scared of losing your VHS memorable moments and thinking of what to do to keep them safe and alive forever? Have a collection of VHS tapes of movies and want to share them with your family members and friends or want to upload them on your social network but stuck up on what to do. Want to improve the video quality, edit the videos and augment viewing experience of your most treasured video tapes.
Here is a solution that can solve all your video converting problems and above requirements and can give you the elasticity to increase the features of your VHS tapes. All you need is the Roxio Easy VHS to DVD 3 Plus which lets you, easily convert VHS to DVD Movies for you.
The main advantage of Roxio Easy VHS to DVD 3 Plus is its easy usage and simple interface. You can create your digital videos from VHS tapes by following just few easy steps. To convert a VHS to DVD or VCD or any other Digital Video formats first you connect a Video Cassette Player or Recorder (VCP or VCR) or you're Camcorder by RCA out to the USB capture device. Now connect the capture device to your PC's USB port and start Roxio Easy VHS to DVD 3 Plus. Roxio Easy VHS to DVD 3 Plus captures the video first then it offers multiple features to improve the digital video output.
Roxio Easy VHS to DVD 3 Plus offers you with tremendous features to improve the digital video output quality. It offers you with features to trim and cut video clips so that you can include only the clips of your choice. You can even create Hollywood-styled DVDs containing navigational menus.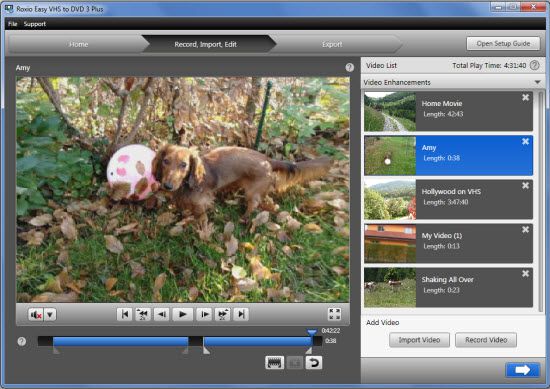 Lets you burn DVD discs from your VCR or Camcorder Videos. It provides you the perfect platform to convert your VCR home videos to DVD in the fastest and easiest way.
Roxio Easy VHS to DVD 3 Plus has many new features to its credit. Now you can automatically split home movies that are too big to fit on a single disc and burn them across multiple DVD. Stabilize your shaky home videos, improve color balancing and lighting. You can add rolling credits to movies and can also add transitions between videos. Also, you can now reduce video noise that is usually common to old VHS tapes. All these unique features let you give the power to create DVD movies from VHS tapes and Hi8 or V8 videos.
Another added featured in new Roxio Easy VHS to DVD 3 Plus is the that you can easily manage your splited big home movies in a single disc easily and quickly and then can burn them into several CD's and VCD's. It also creates music playlists with export and cross-fade to the moveable devices.
Roxio Easy VHS to DVD 3 Plus converter lets you create quality digital music files. It has features with which you can automatically adjust recording audio volume for great sound quality. Even you can convert your analog LPs and cassettes to audio CDs or MP3s. You can also auto identify tracks and add title, artist, genre information and add reverb and other sound effects.
You can even go for Disc Label Creation with Roxio's converter software by creating personalized disc labels, DVD case inserts and booklets and can choose from high quality professional templates. Share the digital files created from Roxio's converter application. You can upload movies to YouTube and Facebook. Lets you easily convert your audio and video files to play on most popular mobile devices including iPhone and iPod.
Minimum System Requirement for Roxio Easy VHS to DVD 3 Plus
Microsoft Windows 7 Home, Microsoft Windows Vista, Windows XP
Verdict:
Roxio Easy VHS to DVD 3 Plus offers you the easiest way to capture and convert your VHS in multiple formats with so many enhanced features, which lets you edit, stabilize shaky videos, improve color balance and lighting, add transitions between videos and many more key features which others do not have it also offers you to create your own customize disc labels. With all these features Roxio Easy VHS to DVD 3 Plus, will keep all your memorable moments alive and keep them safe forever.
Roxio Easy VHS to DVD 3 Plus is easy to use a video converter. With this, you can easily capture video from your old tapes quickly and easily. This convertor has so many features which help in easy conversion. It is also compatible with almost all the devices.
It's easy usage, compatibility and so many features make this Roxio Easy VHS to DVD 3 Plus an amazing software.
Get Roxio Easy VHS to DVD 3 Plus for Windows
Get Roxio Easy VHS to DVD 3 Plus for Mac