You can increase your computer speed by defragmenting your disk. There are numerous free disk defragmentation software available which can help you to increase your computer speed. Smart Defrag 2 is one such competent, advanced and powerful Disk Defragmentation Software.
However, you might be wondering why do you need to defragment your computer hard disk at all?
Actually files are created on your computer system regularly. Files are being created manually, or files are created when you install any new software. This uses disk space. Many times we install and remove software from our computer thus disk space is used and free when we install or remove software. A major cause of slow, unreliable and unstable PC performance is due to Disk fragmentation.
Sometime Windows is not able to allocate enough contiguous space to store a complete file as a unit, but instead puts parts of it in gaps between other files. Larger files and greater numbers of files also contribute to fragmentation and consequent performance loss. Defragmentation attempts to overcome these problems.
Microsoft Windows offers a free disk defragment software which lineup files and speed ups your computer performance. There are some limitations with Windows own defragment software. It is slow and not able to automatic defrag. There are much free and paid defragment software available which can do much better job than Windows own defragment software. Smart Defrag Disk Defragment Software is one of them.
Smart Defrag Disk Defragment Software
Smart Defrag is a free disk defragment software. It is an extremely fast and efficient defragmentation software. This helps faster file loading and high disk performance. Smart Defrag 2 works automatically and quietly in the background on your PC, keeping your hard disk running at its top speed. Smart Defrag is award-winning free defragment software, 100% safe and clean with no adware, spyware, or viruses.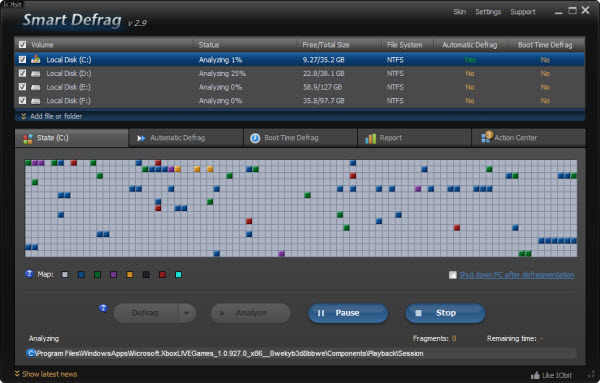 Features of Smart Defrag 2 Disk Defragment Software
You get Superbly Fast and Efficient Defragmentation
Smart Defrag 2 employs IObit's powerful defrag engine and the latest "Boot Time Defrag" technology, which has not only given it the most advanced defragmenting ability but has also provided it with the world's fastest defragmentation speed. It's been specially designed for modern, large hard drives, which eliminates the long waiting time. Many defragment software are slow, but with Smart Defrag you can quickly defrag your hard drive.
It has been designed for Top Disk Performance
With Smart Defrag 2 you just not only get simple defragmentation but it also streamlines your file system. Smart Defrag 2 places the frequently used files and directories into the fastest area of the disk so that your computer runs at top speed with utmost stability.
Always-on Automatic Defragment Enhanced
Smart Defrag 2 functions automatically and quietly in the background, thereby continuously keeping your computer fragment-free.
"Boot Time Defrag" Technology
Smart Defrag 2 uses a new "Boot Time Defrag" technology thereby allowing you to defrag files during the system boot process. These files cannot be defragged or are not safe to move once the system has been boot-up.
Smart Defrag 2 supports Windows 2000, Windows XP, Vista, 7 and Windows 8 (32 and 64 bit).
Overall Smart Defrag 2 is a powerful and feature-rich free disk defragment software which helps to enhance your PC speed.