One of the most annoying and troublesome conditions arrives when you find out that you have lost your important data and other files on your system.
To avoid such a situation in your life, you invariably require comprehensive data security in place for your system.
You need a proper and thorough data backup and disaster recovery software installed on your system.
This backup software should be capable of performing total backup and data recovery so that you can be sure to have all your important data with you whenever you need it.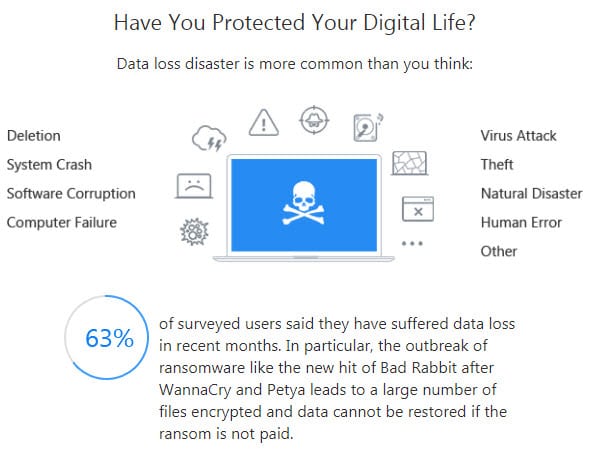 EaseUS ToDo Backup software is the perfect answer to all your data security and backup issues.
Today, we share with you EaseUS ToDo Backup Review and Coupon Code so that you can know in detail about this software and get the most useful promotional deals and discounts on EaseUS products.
Get the opportunity to make attractive savings when you make purchases at EaseUS. Here, we have listed EaseUS coupons, promo code, and discount codes using which you are guaranteed to receive all kinds of amazing deals, discounts, and special offers on EaseUS products.
EaseUS offers a range of backup software suite for home, business, as well as service operators.
The EaseUS ToDo Backup ensures that your business runs smoothly with all crucial data protected so that your business continues to grow healthily.
The EaseUS ToDo Backup Software backs up entire PC/Laptop easily thereby safeguarding your system from potential disaster.
EaseUS even offers a complete backup toolkit for delivering maximum data protection against any disaster for IT Admins, technicians, and consultants.
The EaseUS ToDo Backup Software goes on to backup and recovers everything important.
Here, we have shared EaseUS ToDo Backup Home Review.
We have also come up with EaseUS ToDo Backup Free Review.
We start with EaseUS ToDo Backup Home Review.
EaseUS ToDo Backup Home
EaseUS ToDo Backup Home offers a clean interface.
Its appearance and organization will surely impress you.
Moreover, its workflow is also intuitive.
So, EaseUS allows you to concentrate solely on creating the backup job easily.
The icons have been labeled clearly, so you don't have to guess what's what.
You will find that EaseUS is fast at backing up files and folders. Plus, it aced all its imaging tasks (single partitions, disks, system, and sets of files).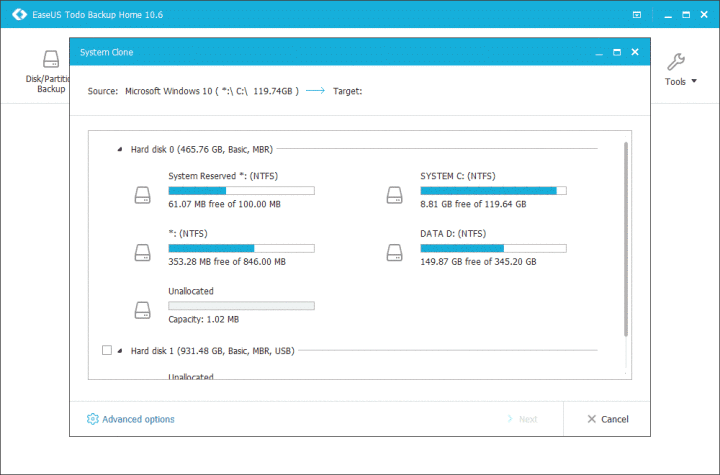 Some of its other notable features include a drive clone function that helps to optimize sector offset for SSDs. There's also a disk wiping (secure delete utility).
Plus, you get an optional boot time recovery feature, as well. It allows you to select the EaseUS option at a boot prompt so that you can restore your system without a boot disc.
EaseUS offers both Linux and Windows PE boot images which can be burned to CD or installed to a USB drive. You can even write an ISO for burning with another program or can boot from across the network.
It is the best cloning utility creating complete images of your computer to clone entire system, disk or partition.
It offers the Smart Backup function for backing up the Windows system libraries (documents, pictures, etc.). It also has a dedicated email backup function (limited to MS Outlook only).
One of the major highlights of EaseUS ToDo Backup Home is its support for wide variety of backup destinations, including hard drives and SSDs, network locations, optical discs, FTP sites, and even Dropbox, OneDrive, and Google Drive.
The best thing about EaseUS is the fact that it creates only a single background process and prevents the slowdown of system boot times.
So, EaseUS ToDo Backup Home allows you to save your system and important information fast. It restores what you have lost in time when a disaster occurs.
With EaseUS, your data is always safe. It offers easy backups for Windows PCs when data loss accidents occur.
It offers Complete Backup Modes for full, differential, incremental, and schedule backups to make sure data security.
It backs up Windows system thereby making sure that the system keeps running without breakdown. It even offers HDD and SSD backups.
It offers file-level backup and safeguards documents, photos, music, video, audio, file folders, and network shared files. It saves all important emails in Outlook.
It also supports backup to popular cloud storage, such as Dropbox, Google Drive, and OneDrive with high efficiency.
EaseUS ToDo Backup Free
EaseUS ToDo Backup offers one of the best free backup software for Windows that you can have in place for managing all your data security related problems.
EaseUS ToDo Backup not only provides all-in-one data backup but also recovers your system from disaster. It is being used worldwide by more than 2 million users and supports Windows 7, Vista, XP and 2000.
About EaseUS ToDo Backup Free
One of the prime features which a user gets in EaseUS ToDo Backup Free is its interactive interface and easy usability.
A good backup utility must combine maximum user friendliness with excellent functionality.
The EaseUS ToDo Backup makes its excellence in all the above parameters and comes as a "must have" application and the best free backup software for Windows to have on your computer.
The software performs complete backup & recovery with multi-ways.
It offers one-click to restore the system to dissimilar hardware without reinstallation, incremental/differential disk and file backup, network shared file backup, dynamic volume backup, as well as automated schedule backup thus providing your system complete security and protection.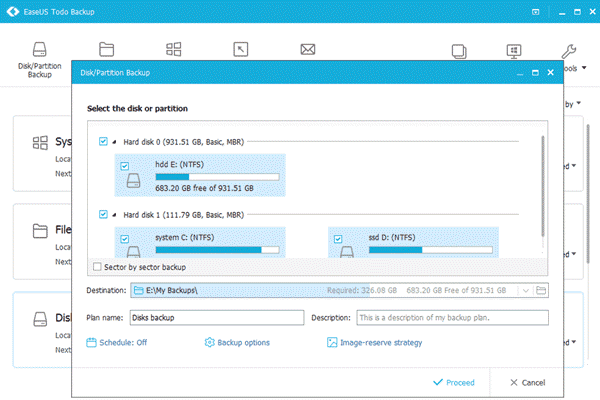 The key features of the software are:
Disk and Partition Image: The EaseUS ToDo Backup software backups the entire system and installs applications in moments without interrupting the work thus ensuring the instant recovery of your PC instead of reinstalling Windows and software.
Restore System to Dissimilar Hardware: To-Do simplifies the system migration by way of restoring the system to dissimilar hardware configuration for hardware replacement under WinPE recovery environment.
File and Folder Backup: It makes a copy of specified files and folders or by file types to secure your data, including documents, pictures, music, emails, etc.
Incremental/Differential Backup: This feature captures the changes and keeps the back up in differential and incremental manner for disk and files giving full backup and saving time and your disk space.
Besides the core feature the software also provides you with much more functionality like:
You can change a backup task or plan and execute the changes immediately, delete image files, and even convert a disk image.
You can restore important files from the backed up image and perform disaster recovery just by simple clicks.
You can fully protect network data, including network shared file on NAS and Windows, with full backup, incremental backup, differential backup and schedule backup, etc.
Its Disk Cloning feature will help you to migrate your operating system and data to a new hard disk when it's time to replace the old one.
You can change the priority of a backup process to make it run faster or slower and can even set a password to protect your image file and prevent other persons from accessing the backed up file.
The new highlights of EaseUS ToDo Backup include support to Windows8 Consumer Preview, remote backup and recovery management (Only for commercial version), E-mail Notification via multiple email addresses and others.
Thus, all the above features of EaseUS ToDo Backup software makes it the best free backup software for Windows.
This software is a complete data protection utility for your PC which will not only give you the complete backup but also will recover your system during the crash.
All you get is fully fledged protection that too free of cost.
EaseUS also offers much more data backup solution for the advance requirement.
Besides the EaseUS ToDo Backup Home, EaseUS has products for business users, such as the EaseUS ToDo Backup Workstation, EaseUS ToDo Backup Server and many more.
EaseUS ToDo Backup Coupon Code
If you are looking to purchase EaseUS ToDo Backup premium options including EaseUS ToDo Backup Home, EaseUS ToDo Business Backup Software like Workstation, Server, Advanced Server, or Technician, then we have featured EaseUS ToDo Backup Coupon Code.
It's a smart way to shop for the best data backup and recovery software from EaseUS. Simply use the coupon code at the checkout, and you can get a big discount on any of its business or home data backup products.
So, its time when spending much less on your favorite items when you make purchases for EaseUS products.
EaseUS offers amazing data backup products, and you can have these awesome products at incredible prices when you use EaseUS coupon codes.
You can crack an amazing deal when you use EaseUS coupons and promo codes. These EaseUS coupons can be applied to both online and in-store shopping.
So, get ready for an amazing shopping experience with EaseUS coupons and promo codes.
Make sure to use this EaseUS coupon code and get attractive savings. Otherwise, you will regret it.
Simply use the EaseUS coupon codes at the checkout to avail exclusive discounts and deals.
So, take advantage of our EaseUS promo codes for great savings and discounts on your purchase.
This discount deal runs for a limited period, so you better hurry!
It's your best chance to save money and make shopping attractive as you purchase any of its home or business data backup and recovery software.
We hope that the EaseUS ToDo Backup Review has given you much insight into this powerful and easy-to-use data backup software.
So, make the most out of this wonderful deal by using EaseUS ToDo Backup Coupon Code.
Save 20% on EaseUS ToDo Backup Home use Coupon Code – APPG-GTXP-VDRY