If you think Linux doesn't need antivirus and anti-malware solutions, wait a second.
The fact of the matter is that no operating system is 100% immune to virus attack.
Linux systems can fall victim to malicious code.
Although Linux is the last thing on a hacker's mind, still there is no absolute when it comes to security.
So, the blunt truth – Even Linux can be vulnerable.
Here, we share some of the best tools for Linux platform that excel in protecting you from viruses, malware, and rootkit.
We have listed 10 Best Antivirus for Linux.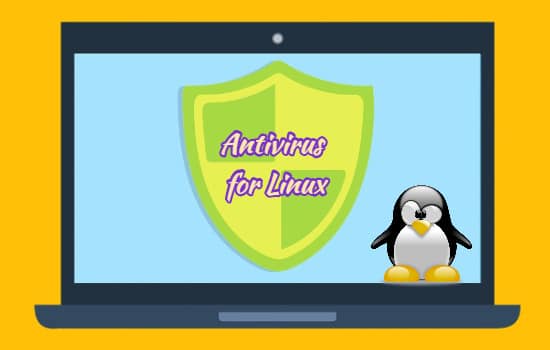 While malware for Windows is extremely common, there is very little Linux malware that exists in the wild.
It is perhaps the primary reason why most Linux users ignore an antivirus on Linux.
Moreover, Linux is safer than Windows.
Let's see why.
For Windows desktop, you head to Google and search for the program that you want to install.
You may like: Best Antivirus Software for Windows
However, when you want to install programs on Linux, you access the package manager and download it from the Linux distribution's software repositories.
These repositories contain trusted software that has been inspected by the Linux distribution.
So, with Linux, there is no running and downloading of arbitrary software.
Moreover, Microsoft is still fixing serious security problems with Windows. However, with Linux, you get security features such as AppArmor and SELinux.
Lastly, Linux has been the domain of geeks who are more computer-literate. Compared to Windows, Linux is not easy a target.
However, there is every reason to stay secure on Linux.
As we have stated above, no operating system is 100% secure from virus attacks.
There are some basic securities practices that you can to follow for staying secure on Linux.
Here, we have listed some tips for staying secure on Linux:
You need to keep your software updated: You need to stay up-to-date with the latest security patches. Browsers and their plugins (Java and Flash) have been the top targets for hackers.
In fact, the biggest malware problem on Mac OS X was due to Java plugin. The same vulnerabilities can happen on Linux systems, as well. Well, you can update all your software on Linux with a single, integrated updater.
Beware Phishing: Phishing can be as dangerous on Linux as it is on Windows. It is the way where hackers create websites that pretend to be other websites.
However, Chrome and Firefox browsers on Linux do offer an anti-phishing filter as they have on Windows. But the phishing filter does not catch everything. You can do well with an Internet security suite for protecting against phishing.
Don't use Commands that you do not trust: The Linux command prompt is very powerful. However, you should develop a habit of asking yourself whether you trust the source before you copy-and-paste a command. It could be a deadly command that you should never run on Linux.
So, Linux isn't perfect.
It is potentially vulnerable to virus and malware attacks.
Moreover, you need an Antivirus on Linux when you are running a Linux-based file server or mail server.
If you don't use an Antivirus on Linux, the infected Windows computer will upload infected files to your Linux machine.
The antivirus software scans for Windows malware and deletes it.
So, it's a good practice to use antivirus software on Linux desktops.
Now, let's move ahead and know the Ten Best Antivirus for Linux.
Here's the list for you on Antivirus for Linux:
10 Top Antivirus for Linux
ClamAV is a "high performance" virus scanner that can be run on a Linux desktop and even on a Linux server. Its "high performance" aspect comes from it being a multi-threaded scanner and very good with CPU usage.
It is, without doubt, a very popular option for keeping viruses off your Linux machines. Its free, open source and versatile toolkit for Linux based systems. It is highly efficient in detecting Trojans, malware, viruses, and other threats.
It is perfectly suitable for mail servers and on-demand scanning.
It supports almost all mail file formats.
It can be run from command line or with the ClamTK GUI.
Plus, installing ClamAV is simple.
However, it does not include real-time scanning.
Some of its salient features include:
It's cross-platform and works on Windows, Mac OS X, and Linux.
It is easy to install and use.
POSIX compliant.
Portable
Free
Open source
Works from the command-line interface.
It provides a virus database update.
It supports on-access scanning (Linux only).
It can scan within archives and compressed files.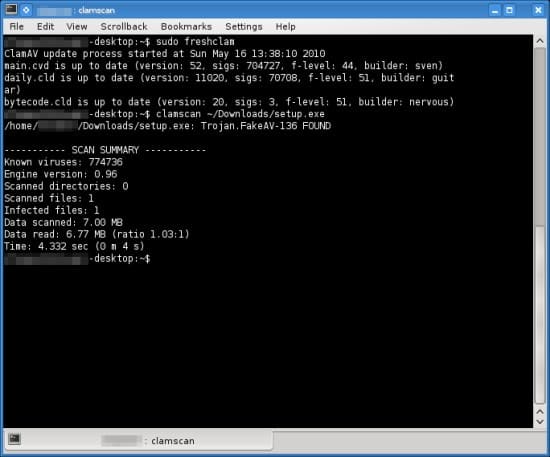 Comodo is a well-known name in security software for many, many platforms. The Comodo Antivirus for Linux helps to prevent all viruses and online threats. It offers "proactive" protection to find and stop known threats as they happen.
It is a very powerful, cross-platform anti-virus and email filtering software. Comodo Antivirus for Linux is best for virus protection. It comes with additional features for the fully configurable anti-spam system.
It is best known for its special architecture support and even for its cross-platform feature. It also comes with email scanning feature which is not available in other application. Comodo has Windows firewall feature with 32-bit and 64-bit architecture. It comes with email filtering and real-time plus on-demand scanning.
Best of all, it also works on server side like OpenSUSE and Red Hat Enterprise Linux Server.
So, Comodo Antivirus for Linux is an excellent free antivirus for Linux program.
Some of its salient features are:
Free
Easy to install and use
Real-time protection
On-demand scanning
Antispam support
Supports cross-platform
Offers server-side protection
Regular updates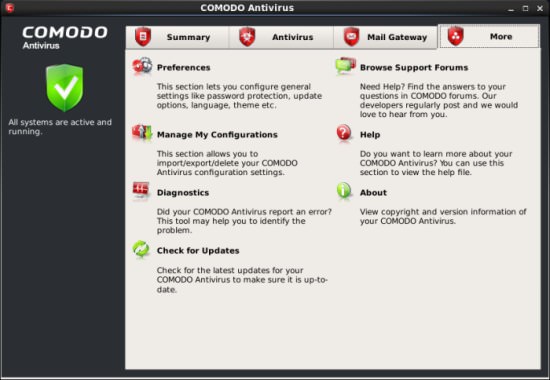 Sophos Antivirus for Linux is an awesome free antivirus solution for Linux based systems.
It's a non-open source solution from a company that is best known in the antivirus sector for quite some time now.
Sophos comes with a free Linux scanner that performs an outstanding job. Sophos Antivirus for Linux can perform on-access and on-demand scans for viruses, malware, and Trojans.
It prevents your Linux machine from becoming a distribution point for malicious software.
Sophos Antivirus for Linux can detect, block, and remove Windows, Mac, and Android malware.
It even includes a real-time scanner. It's a deal maker for desktops that share a lot of files.
Sophos Antivirus for Linux has a top emphasis on performance.
It's a lightweight free antivirus for Linux that offers relatively small updates. Usually, they clock in around 50KB.
Some of its salient features include:
Free
Lightweight
Easy to use
Easy to install
GUI support
Detects and removes worms, Trojans, viruses, and malware
Cross-platform support
High performing
Blocks and removes non-Linux malware
Wide platform compatibility
So, Sophos Antivirus for Linux is a good scanner and worth a shot.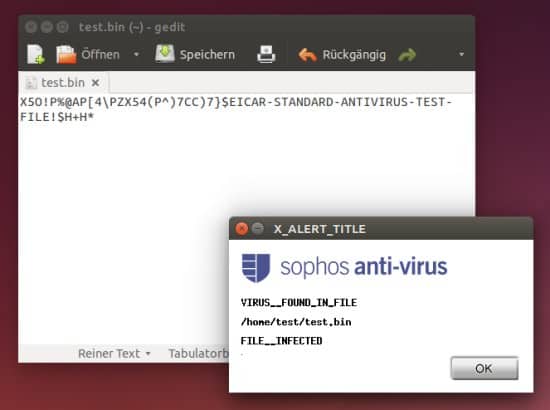 Bitdefender for Unices comes as a powerful and versatile anti-virus solution for Linux and FreeBSD.
It offers easy to use GUI and powerful command line interface supporting OS scripting tools. It protects both Windows-based and Unix-based disk partitions by scanning for viruses and malware.
It offers both a graphical user interface for accessing the scanner directly from the application menu lists, as well as a command line interface for more advanced users.
With script and extension-based integration, you can configure your favorite file manager, email, or news client for easily using Bitdefender Antivirus Scanner for Unices.
It can unpack and scan inside archives. Scanning progress of archived files is fully visible with individual file scanning statuses.
Bitdefender Antivirus Scanner for Unices minimizes the risk of further infection and allows safe analysis by quarantining infected files into a protected directory. You can even remove the suspected files to the quarantine area that are identified by the heuristic analysis.
Some of its salient features include:
It supports desktop integration.
It enables scanning of archives.
It comes with an intuitive GUI and Command Line Interface.
It can quarantine infected files into a protected directory.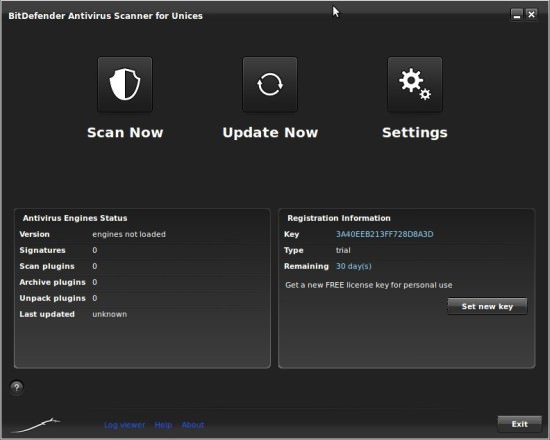 The AV-Test has rated the ESET NOD32 Antivirus 4 as the best antivirus for Linux or Ubuntu. It offers cross-platform antimalware protection for your Linux machine.
It's a home as well as industrial level solution.
ESET employs award-winning detection technology giving you fast, powerful anti-malware protection. So, ESET makes you enjoy Internet with its award-winning security whether you are surfing, gaming, or working online.
ESET Antivirus for Linux goes on to protect your online identity and private information. It protects your daily surfing. It's simple and easy to use. You get all the vital security information and actions right at your fingertips.
However, the software is not totally free.
You can start with its trial version.
Its features are at par with the best out there for protecting your Linux-based system. It is best at the malware detection built for Linux only.
The ESET NOD32 Antivirus for Linux includes:
Antivirus
Antispyware
Device Control
Cross-platform protection
Low system footprint
Simple, easy to use protection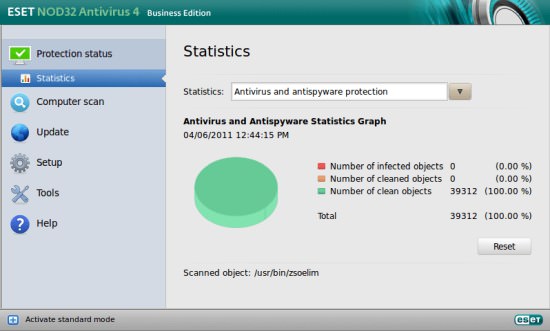 F-Secure Linux Security is competitively priced and offers fast, accurate antivirus engine.
It's a user-friendly and remarkably accurate antivirus solution for Linux systems. It has a clear and simple interface. It offers highly rated protection.
In fact, F-Secure Corporation has a 25-year history of antivirus development.
It is best to combine F-Secure with your favorite URL filter, firewall, and other security packages you need.
F-Secure is most suited for antivirus scanning.
It offers most simple and straightforward interface.
However, it also performs a full system check-up and an in-depth rootkit scan. It even comes with a quarantine manager, a scan scheduler, and a few basic settings.
Its most interesting feature is the F-Secure DeepGuard. It uses a cloud-based system for detecting brand new and unknown files and monitors them for suspect behavior.
You can run a quick scan.
It deals with any threats automatically and shows its verdict.
Even a novice user can use F-Secure Linux Security right away.
F-Secure come with a free 30-day trial.
Overall, F-Secure manages its core antivirus function very well.
This product can be a smart choice if you are looking for a speedy, accurate, and user-friendly antivirus for Linux.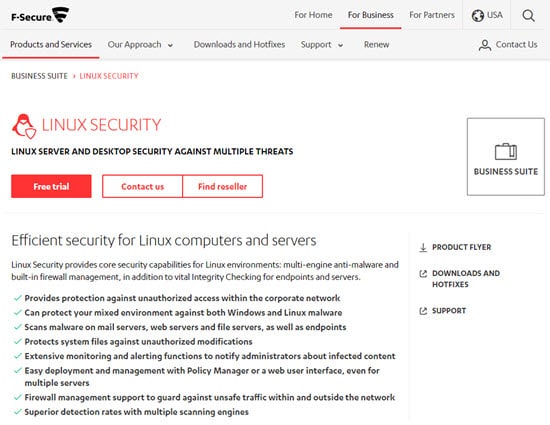 F-PROT is a very renowned antivirus for Linux.
F-PROT Antivirus for Linux can be used at home or industrial level. For home users, F-PROT is completely free.
The F-PROT Antivirus for Linux supports 32bit and 64bit software architecture as Linux antivirus software.
It can detect over 21 million known viruses and their other variants with on-demand scanners and scheduled scans.
It is portable and can perform scheduled scanning.
So, the F-PROT Antivirus for Linux can detect different types of viruses, Trojans, and even boot sector viruses.
It uses new scan engine behind the scenes.
Its interface is powerful and lightweight.
Its superb scanning ability, a massive database, and the fact that it's free which makes F-PROT a great option.
Features include:
Free
Portable
Can detect over 21 million threats and their other variants
Scans for boot sector viruses
Scanning feature for internal drive and drivers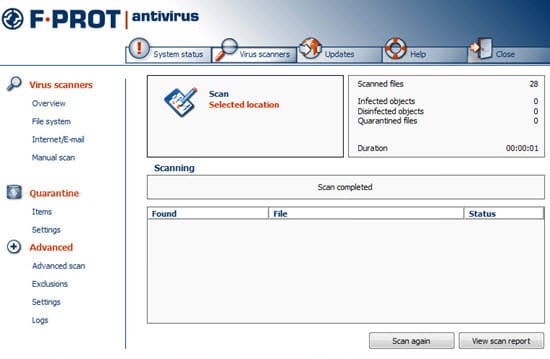 As you can make out from the name, Chkrootkit works on root and is the best option for rootkit available in a Linux system.
It's a free and open source program that operates through a command line interface.
It is extremely lightweight and portable.
It can easily be burnt to CD or USB.
Its latest release offers backdoor and botnet detection, Linux.Xor.DDoS malware scanning and malicious TinyNDS detection.
Features included are as follows:
Lightweight
Rootkit detection
Can be run from a Live CD
Command-line interface
Avast Core Security is designed specially to protect your Linux email servers, file servers, or even the entire network.
It's a command-line utility for on-demand scanning.
Avast Core Security offers the best possible protection in real time.
It supports your 64-bit Linux server.
It can protect files right on your server and can save the precious power of your workstations for creative work.
Avast Core Security has been made to deliver performance.
It can protect your files efficiently both on Samba and NFS.
It can scan and filter all web and email traffic on the network.
It supports HTTPS, POP3S, and IMAPS protocols using certificate resigning.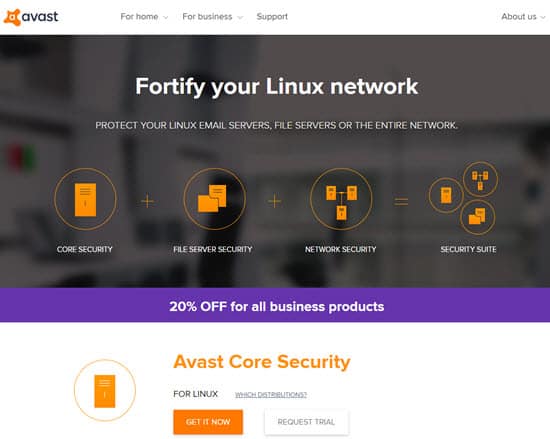 Rootkit Hunter is another good option for the rootkit.
Rootkit Hunter is extremely lightweight and open source security monitoring and analyzing tool for POSIX compliant systems.
Rootkit Hunter is available for Linux and FreeBSD.
It works as a scanner for every kind of threat to a Linux system from backdoors, rootkit, and other local exploits.
It detects and removes all kinds of virus and Trojans.
So, Rootkit Hunter is best for Linux rootkit detection.
It uses the command line, backdoors, and various exploits.
The Rootkit Hunter uses SHA-1 hash comparison for detecting malicious entries.
Rootkit Hunter is written in Bourne shell, and so it is compatible and portable with most UNIX-based systems.
Features include:
Lightweight
Portable
Rootkit detection
Command-line interface
Easy to use
Fast
Supports SHA-1 comparison for detecting malicious entries
With this, we come to the end of this presentation on 10 Best Antivirus for Linux. We hope that you found it extremely useful. Please share the post with your friends and colleagues. We welcome your comments and suggestions.