Whether you are a professional or even a neophyte, each one of us wants that the video he or she has created should be of top class quality and should stand apart from rest of the other videos.
What you want is accomplished video-editing software that would ease out the complex and varied tasks of editing a video for getting a high-quality video output that matches your perception, captivates your imagination and is interesting and exciting for you and others, as well.
CyberLink PowerDirector Video Editor is just the right kind of video-editing software that has all the capabilities to give you the desired effects in your videos. It is fast, easy to use and has a full range of photo, audio, and video editing features.
Apart from speed, ease of use, interactive and intuitive interface, rich-feature set in video editing, you also require viewing the edits you have done to your video and that too quickly enough.
This is the area where you see Windows based video editing software – CyberLink PowerDirector Video Editor – having a substantial superiority over other video-editing software. CyberLink PowerDirector can be great video-editing software to have as it can be easily used by the occasional as well as professional users.
Below we highlight some of its key features so that you can get a complete overview of its deliverable and other capabilities.
CyberLink PowerDirector comes with 360-degree video editing Mojo. It allows you to break out 360-degree video into a separate module. You can import footage or create a 360-degree project and edit it using its powerful design tools and can include titles, effects, and transitions.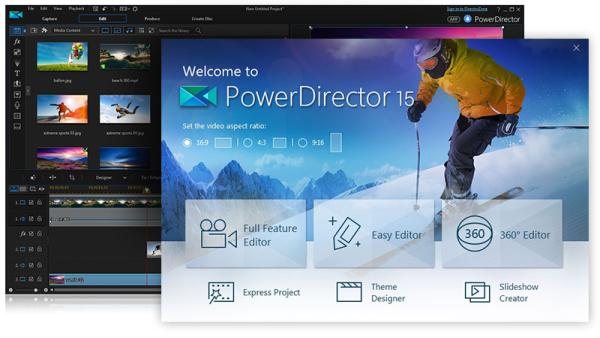 The application allows you to export your project to a 360-degree file format so that you can view it on YouTube or Facebook. Using the View Designer, you can go to select parts of 360-degree footage and incorporate it into standard videos and output in familiar 2D.
CyberLink PowerDirector offers a new 9:16 vertical ratio mode. You can even switch from 4:3 to 16:9 or 9:16 directly in Edit mode without using any of the project settings for changing formats.
With the Mask Designer, you can apply transparency for creating intriguing titles and effects. The Video Blending feature allows you to merge various video clips on different timelines. You can also do color corrections and choose specific video sections to focus on.
CyberLink PowerDirector also offers Action Camera Center for correcting camera shake and camera profile corrections. You also get new stop-motion and pan & zoom effects, plus can do time alterations such as slow motion & freeze frame.
Interface
The interface is something which you get instantly inspired with as you go on to explore CyberLink PowerDirector Video Editor. There's plenty of action waiting to be uncovered as you go along getting yourself acquainted with the flashy but well-organized interface. The interface boasts of a dark look. The strategically use of icons and colors makes the interface a highly user-friendly one.
The menu bar's functions such as the Capture, Edit, Produce and Create Disc are all nicely laid out. The classy layout of the media bin and video viewer (atop the timeline) is also appealing.
Alongside the media library, you get a column of controls such as special animation effects, all kinds of text, plus 3D, transitions, audio, voice-over recording as well as subtitles. The timeline offers a storyboard view, together with the addition of audio and video tracks, as well as a whole movie viewer.
Flexible and Versatile Editing Tools
CyberLink PowerDirector Video comes with more than 300 video editing tools and effects which are capable of creating splendid videos. It provides tools such as free hand drawing tool, particle effects, and particle designer tools.
It also supports third-party plug-ins such as NewBlue from which you can give many spectacular video effects. It can also perform multi-layered HD video editing in a very efficient way.
Professional Audio Tools
CyberLink PowerDirector supports perfect sound quality and provides and has advanced audio editing features. With its Beat Marker, you can precisely position your transitions and effects.
It gives one-click audio normalization so that you can get a smooth and even sound quality in your final production output. It produces 5.1 Channel Surround sound qualities, and with its WaveEditor,® you can reduce noise levels, make adjustments to the volume, pitch, and speed of the audio files.
In-built TrueTheater Technologies
Enhance the video quality with CyberLink's TrueTheater technology. You can upgrade SD videos to HD level of quality.
You can also improve the color and brightness effects and can do all sorts of video enhancements such as remove graininess, the lower shakiness of the images, etc.
Create your Movies
CyberLink PowerDirector is empowered with automatic video and photo enhancements which let you combine your content and PowerDirector's high-quality template designs to create stunning movies.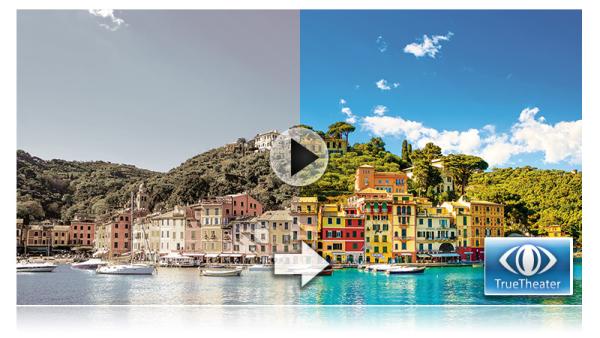 Immensely Fast Performance, Rendering and Previewing
With its fast and superior technology, you get unmatched video effects rendering. Its new integrated H.264 media encoder can process your videos with great speed and deliver high quality.
3D Editing Features
CyberLink PowerDirector has 3D editing features too. Its let you create top quality 3D movies with a fully featured editing support like 3D effects, 3D menus, 3D titles, 3D particles and many other functions.
Apart from the above capabilities and features of CyberLink PowerDirector, it has many other noteworthy and useful highlights too including sharing your videos online and the ability to burn movie disc, etc.
Sharing
CyberLink PowerDirector allows you to directly upload your movie to Facebook, DailyMotion, and Vimeo. It also offers support for Direct upload of 3D and 360-degree files to YouTube.
CyberLink PowerDirector Variants
CyberLink PowerDirector is available in two variants.
The variants include:
PowerDirector Ultra which can be used for home video editing. It is priced at $59.99 only.
PowerDirector Ultimate is designed for SOHO Video and Studio Hobbyist. It is priced at $69.99 only.
The PowerDirector Ultimate gets some additional features such as the Wedding Pack, Holiday Pack 7, NewBlue Video Essentials 6 &7, NewBlue Titler Pro, proDAD Adorage 2, and proDAD VitaScene 2 LE.
Pros using CyberLink PowerDirector
The program helps beginners to learn the basics of video editing. It also takes care of the needs of more advanced users.
Neat and clean user-friendly interface.
Motion tracking.
Swift Performance.
Screen recording.
Allows edit and export of 360-degree footage.
Specialized action cam tools.
Blu-ray disc authoring.
Content-Aware Editing.
Cons
No Mac version of this software is available.
Verdict
So we see that CyberLink PowerDirector is powerful and fast video-editing software. It can be easily used to give various kinds of editing effects including 3D editing, playback and rendering too.
It provides a straightforward and interactive interface to do all kinds of editing work to produce superb audio and video output.
It has many advantages as far as video editing is concerned and only lags in face recognition and Storyboard view as it does not support these two features. All-in-all, you can expect a high-quality performance from CyberLink PowerDirector Video Editor.
CyberLink PowerDirector Deal
CyberLink PowerDirector is a winner amongst video editor software. It's power packed performance, rich feature set, ease of use makes it one of the most sort-after video editing tools in the marketplace.
Now is your big chance to avail CyberLink PowerDirector Deal that provides a big discount on this world class video editing software.
If you are looking for a CyberLink PowerDirector Discount, then you are perfectly at the right place.
Here, we have listed CyberLink PowerDirector Coupon using which you can get a big discount on this software and save tons of money.
Use the CyberLink PowerDirector Coupon Code listed below and gets a big discount on this world class video editor application.
It's the only place where you get CyberLink PowerDirector Discount.
So, hurry as the CyberLink PowerDirector Discount runs only for a limited period. Make the most of this CyberLink PowerDirector Deal and save a big sum of money.
It offers the best discount, and it's an exclusive deal available only at AppGinger.
This offer will last only for a limited period.
So, don't lose out.
Get CyberLink PowerDirector at a never before price. These are the best deal to get a big discount on CyberLink PowerDirector. Simply get going and avail this once in a lifetime deal on CyberLink PowerDirector.
Save 80% on Combo Offer PowerDirector + PhotoDirector for only $79.99
Upto 75% OFF on CyberLink PowerDirector Ultimate and Ultra