With Virtual DJ Software, the next time you host a party at your home or club, you are destined to bring home the 'WOW' factor!
Well, Einstein said, "make it simple, but not too simple."
This DJ software is nothing less to match that quote.

The usability is so fast and painless and also offers amazing and automatic controls with an option of going fully manual as well for those of you who really need to tweak out the sound. To top it all of Virtual DJ also has the ability to recognize the genre of music playing so it can adapt its mix to suit the tempo, pitch and key.
Design wise, Virtual DJ Software offers an ocean of intuitive and easy settings. Music tracks can be easily downloaded into the database by using the search feature. Some songs, which you need, might not be in your repository. These songs can be streamed directly from the internet and can be used as per your requirement.
Some other notable features include the compatibility with the iTunes playlists and to MP3 encoder to ensure high fidelity of compression for audio files. The new FAME algorithm enables for automatic transitioning between tracks and also calculates and syncs with the BPM. Effects can still be included in automatic mode without experiencing any delay.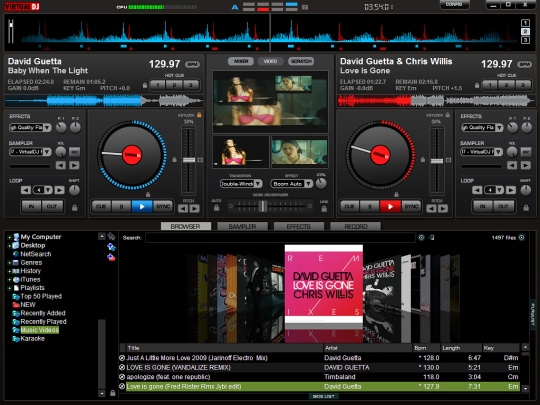 Showing off your talents to your friends and the world on YouTube just got easier as you can broadcast DJ sets on the internet or also burn them on to a CD using Virtual DJ's inbuilt burning feature. You also get the freedom of playing CDG+MP3 so that you have graphics with music. What's more? Well, automatic hot swap of HDD's, easy use of files deep within the hard drive, line-in for MIDI for devices and the list just continues.
The main feature, which sets this software apart from others, is the ability to portray a simple and straight forward approach while, under the hood it possesses a lot of complex features which many advanced DJ artists might be looking for. However, this is the charm of Virtual DJ, where not only the advanced DJ's can have a platform to work on, but also newcomers can entertain and keep the party going by using the karaoke feature where you could play text, music and also video on a projected screen.
Performance wise, this software is unbeatable. With an array of plug-ins and automatic beat-aware LOOP functions, the potential of a creative genius will never be bounded. The WOW effect is guaranteed! The help and support offered is quite comprehensive. What is impressive is the availability of hundreds of tutorials online and also people around the world who have been previously acquainted with the software. So no matter what kind of glitch you face, there will always be professionals around to help you out.
Be a starter or an advanced user, Virtual DJ will never let you down!