Eternity warrior is a RPG (Role Playing Game) by GLU. Like other GLU game this is a freemium game that is available for both Android and iOS users. Eternity warrior 3 game is the sequel of Eternity Warrior, which was released on July, 2011. The game is full of action and entertainment.

Eternity Warrior takes place in Dungeons (dark and cold place) where unusual things happen. Dungeons are places which are best described by the absence of light and warmth. It's a place where evil often takes refuge. It's where a hero has to fight and overcome the evil powers. The game locale is the dungeons itself.
This makes Eternity Warrior a dreadful frightening, exciting and interesting game to play. The storyline is adopted from its predecessor game the Eternity Warrior. The battle for Northern Udar continues. It's been 100 years when the First Demon War took place. Thanks to the warrior, and fighting skills of Eternity Warriors who had averted the demons threat successfully. However, the demons have consolidated their power in the Demon Towers.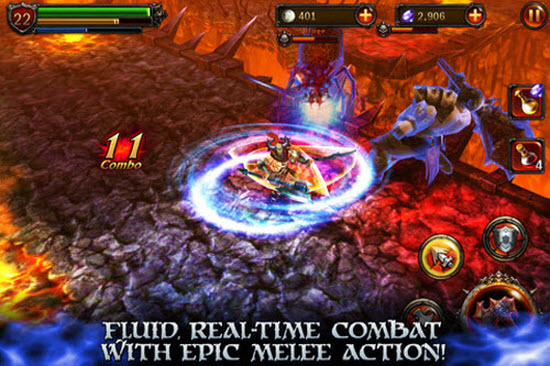 Your task is to defeat the deadly demons and cleanse the Demon Towers. Eternity Warrior successfully evokes the feeling of the classics like Diablo. The mobile environment does not come as a hindrance as you are completely drenched into the excitement of playing a warrior game – Eternity Warrior. The hero has to move to various levels by killing many demons where some are generated from land. All you can use to kill these demons are numerous arms and weapons. You need a number of arms and weapons as you across levels.
Eternity Warrior 3 best part are its 3D graphics, which makes this a game a fun to play. The aim of the game is to go to next levels by killing the demons. Through your way to next levels, you have to collect all the coins, weapons and gems. With the help of the coins, you can purchase many other weapons.
This is an easy to play game as this all you have to touch your screen from various angles, and you can go through it. Another amazing feature is that it is a multiplayer game in which you can team up with other online players to kill the demons. The best part of this game is its graphics.
With so many amazing features, Eternity Warrior lacks in many aspect. It has no storyline the game keeps on going without any aim, when playing online with other players the games drops out in the middle because of overcrowded server if you need weapons to kill the demons which are attacking you more furiously in higher levels you have to purchase these weapons by paying a very high price.
Eternity Warrior in overall is a good action game full of entertainment. As every app has some or the other cons same with this app, but it is easy and fun to play. Moreover, as you play on, Eternity Warrior comes on as an addictive game that you can just afford to play on and on.
Highlights of Eternity Warrior:

Real Time PVP
Co-op Multiplayer – It provides online multiple player modes
Adapted for Android as well as iOS Devices
Awesome HD Visuals
Fluid Real Time Combat Feature
You can upgrade your gear. Collect Armor, weapons, and other Loot as you move up the levels
Free to Play
Download Eternity Warrior for Android
Download Eternity Warrior for iOS Devices