No doubt Google is a master in search, and they try different ways of search. Google offers various search tools from web to desktop and for your Smartphone also.
As now Smartphone has so many features in it. You can fill up so many songs in them, but the main problem comes when you need a particular song you need to scan your complete list for a song. Google gives a unique way of finding these things with its free application Google Gesture Search.

Google Gesture Search is free app, which helps you search your Android phone by drawing gestures on the touch screen. The Gesture Search of Google is not limited finding a sound track only, but you can also scan your contact, a bookmark, an application just by drawing or writing the initials on the screen.
So for your Android Device you can use Google Gesture Search for easily accessing your applications, bookmarks, contacts, music and settings by simply drawing numbers or letters. It is tremendously efficient in the sense that it successfully refines your search as you go on adding gestures. Gesture Search improves it performance further by taking inputs from your search history.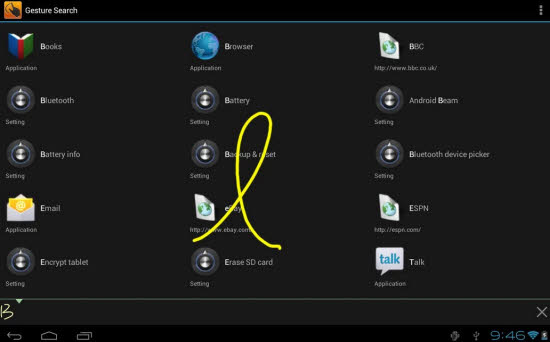 If you have long contact list, lot of apps, bookmarks, music track etc and finding something from this lot of items it can be a difficult task, so Gesture App by Google helps you in finding your things. You can make your results searching absolutely easy by using Google Gesture Search. In simple terms, Gesture Search employs handwriting recognition. You simply have to draw numbers or letters on your mobile screen using your fingers and the app searches your phone to help you find contacts, music, applications, and lots more.
However, in order to use Google Gesture Search, you have to launch the application first.
Gesture Search improves itself by learning from search history.
Like other Google app Gesture Search is very easy to install and use. After downloading and installation are complete, all you have to do is a bit of settings, settings of what all you want your Gesture Search to search in your Smartphone. You can even set the control for writing speed to be fast, medium or slow. It helps the application to determine how soon you have finished writing a letter. You can have the Google Gesture Search App from the Google Play Store or can get the application from Google Lab Website by scanning the QR code.
Whenever you need to search anything using this app, there will be a blank window open on your Smartphone. Just write the initial of what you want to search it will show all the contacts, tracks, bookmark starting with that initial on your screen. Search gets refined when you write the second letter on the screen.
Gesture Search indexes contacts, bookmarks, applications and music tracks. You can exclude certain types of contents in Settings. Gesture Search recognizes both, text and numbers.
On the whole, Gesture Search is a simple and yet useful Android Application that makes searching results really quick and easy.
Download Google Gesture Search App