The biggest worry that always remains a matter of big concern for the smartphone phone users is the battery backup of their phone. More the powerful is your mobile; quickly it consumes the battery power.
Android mobiles are known for high battery consumption and mostly last for only one day after full charging. If you want to save your phone's battery, then there are some apps available in Android market, which will alleviate this problem.
Battery Saver apps helps in saving your Android phone battery by killing the background apps, setting the brightness at low battery, giving you suggestion how to manage low battery, slowing down the processor when the phone is not in use and many other way.
The most popular FREE apps regarding battery saving apps are listed below. Each app has its own way of saving the battery.
5 Battery Saving Apps for Your Android
JuiceDefender is a powerful battery saving app particularly designed to extend the battery life of your Android phones. It efficiently and automatically manages the most battery draining components, like 3G/4G connectivity and Wi-Fi.
You can customize this app through a clean and instinctive user interface and once done it runs by itself, improving battery life in a fully automatic manner. Moreover, it integrates flawlessly with power control widgets and shortcuts, without affecting the manual settings.
So if you forget to close your running applications or network connectivity then JuiceDefender will do it automatically.
JuiceDefender Battery Saver can easily manage Mobile Data, processor speed and Wi-Fi and keep power consumption of your battery under control. You can even schedule regular Synchronization process's, allow or disallow the connectivity for specific apps and much more.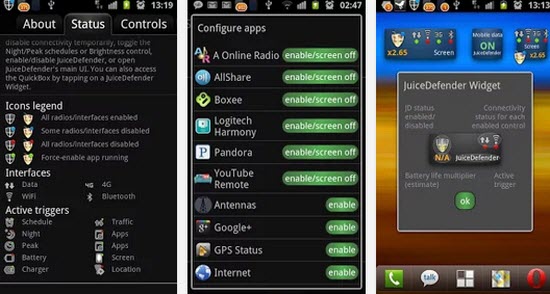 Do you want to make your battery stronger? Dr.Battery can help you to save power.
This app improves your battery life up to 30%-50% and makes your phone faster and smoother. With battery saver, you can also kill tasks quickly and reset your phone easily. It shows battery health, temperature, talk time etc. Plus it informs you about the killing of unused tasks.
Battery Doctor is the best Battery Improver/Battery Booster/battery saver tool. As your Battery Helper, it helps you to improve battery life. It also displays the remaining time (battery's running time) for: TalkTime (2G/3G/4G), audio Time, video Time, Web Surfing Time and Idle Time. With the quick setting, you can extend Battery Life (boost Battery Life) to improve your Battery Performance.
It also acts as a Task Killer/advanced task manager:
The task killer like ATK allows you to kill processes on your Android quickly.
It includes features like Memory booster/ram booster, Notification in the status bar, one-click task killer widget, etc.
Thus, it serves as a full package for saving your battery and allowing you to maximize your phone usage.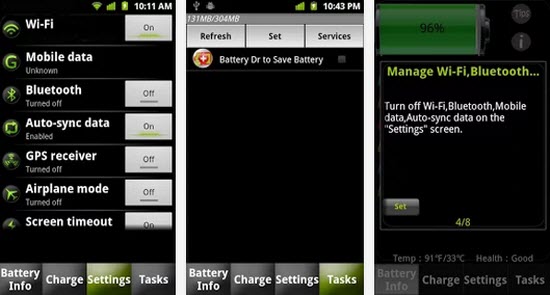 Easy Battery Saver is a battery saver app for Android which helps in increasing the life of the battery as well as saves at least 50% of your phone battery. This app has a very easy to use interface but a powerful management system for the battery.
This battery saver app saves the battery by dealing nicely with the screen brightness, time out, contrast and mobile network connectivity. Moreover, I this app you can set the sleep setting which will save you battery while you are asleep.
Easy Battery saver app has four modes for saving the battery. General saving mode, in this mode the app will control the screen brightens, basic network control and saves battery while you asleep. Intelligent saving mode, it has eight different modes of saving the battery and saves more battery than in general saving mode. Standby saving mode, in this mode the app will keep the phone on standby so that there is some battery if you need to make a call or attend an urgent call. Fourth, advanced customized mode. In this mode, you can set the levels as per your needs and preferences.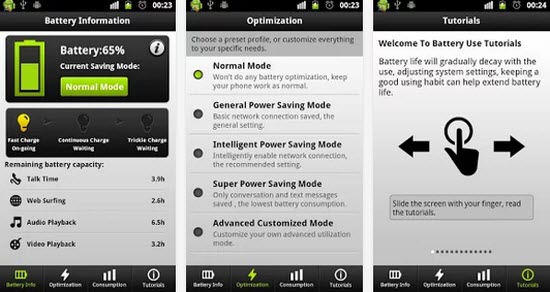 Du Battery Saver&Switch Widget is a free battery saver app for Android. This app helps in extending the life of the battery up to at least 50%. It is the best way to preserve your battery when you need it the most by just one simple touch.
It protects the charging of the battery against the power hopping apps, poor charging and some of the phone setting which use a large part of the battery. Du Battery saver is very simple and convenient to use.
Du Battery Saver&Switch Widget has some excellent features. For instance, it shows the exact battery that is left and even turns the battery to sigh to red when the battery is below 20%, different power saving mode for extending the battery backup, guides you with the favorable charging practices, shut down the app automatically after some time which are left open and reduces the speed of the phone processor when the screen is locked which saves a large part of the battery.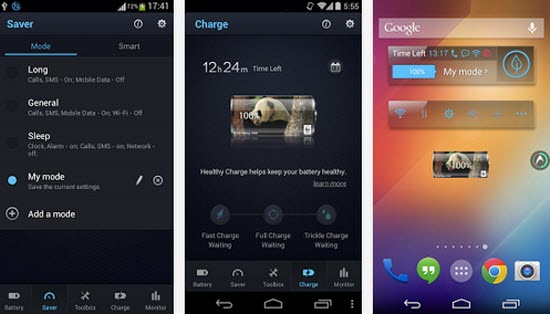 NQ Easy Battery Saver is another battery saver app for Android. This app speeds up the performance of your Android phone as well as extends the battery life. You can fully optimize this app as per your needs and preferences.
It has a very easy to use interface on which 12 buttons are listed which gets open by a simple touch. You can adjust all the things that effects your battery in with one simple touch like adjust the brightness, on/off the GPS, Bluetooth, mobile date, Wi-Fi, screen control and more.
NQ Easy Battery Saver tells us the current battery level and time duration for the left battery on various parameters. This app keeps a check on the running apps and tells the amount of battery the running apps are consuming and kills the background process and apps. Even, you can lock those apps that you do not want to kill.